Imagine going 70 mph in a 19' 9" long by 6' 5" wide vintage 50s speedboat! That's way faster than a classic 20' 10" Chris-Craft Cobra. Like a Cobra, this Ancarrow runabout is nearly flat-bottomed. You'd definitely want an extra cushion under you if you encountered much of a chop.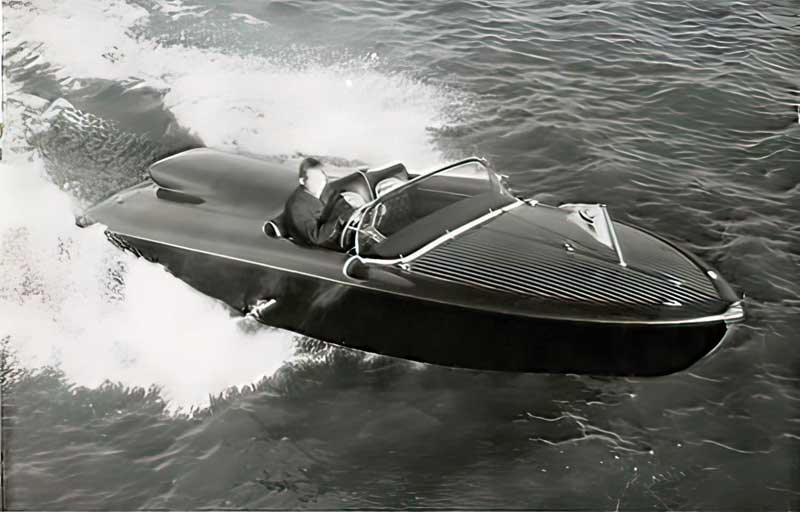 To deliver that amazing speed, she has a replacement 427 supercharged Ford engine with a vee-drive. This Consul model's original stock engine was set-up for a 60-mph boat. Imagine how incredible it was back in the 50s for pleasure boaters to travel at these speeds.
The Consul hull was designed for high speed and high performance. Her vee-bottom has built-into-the-hull, anti-trip chines that are excellent for cornering or changing direction in a wave. Plus, she has trim tabs that have been added for more control. 
White oak framing on a boat has been a popular construction method then and still is today. This oak is durable, stiff, strong and hard, holds fastenings very well, and is rot resistant. The Consul model offered white oak framing with Makore African Mahogany hull sides and either five- or seven-ply African Mahogany boat bottoms.
This Consul runabout was the hit of the 1959 London Boat Show. She held onlookers breathless and in awe as the fastest boat at this event. Here's how Ancarrow Marine described it: "Yes, speed's her forte. Speed, and the build to take it... smoothly, easily, with no bounce or back-talk. Those pure, flowing lines seem to put her in motion... even at rest." 
Wealthy, worldly boat buyers surged to obtain one of these boats from the small company in Richmond, VA, that built them.
Newton Ancarrow was the founder and genius behind the company and the boats that bear his last name. He was a chemical scientist who graduated from the University of Richmond. After college he applied his chemical science expertise, working initially at American Tobacco. Later he took a position with Experiment, Inc. where he tested rocket engines. 
Here's how he ultimately became a master boat builder who had Aristotle Onassis and the Sheik of Qatar as customers.
Ancarrow was a native of Richmond, so he grew up around boats on the James and Rappahannock Rivers. He started boatbuilding after looking for boats that would measure up to his criteria for speed, safety, comfort, and quality. At the time, the boating industry didn't believe that meeting all those criteria was even possible. Ancarrow felt otherwise.
By the mid-1950s, Ancarrow became frustrated by boat companies that either would not or could not guarantee the top speeds that their sport boats could achieve.
He segued into the boating industry. He introduced the Aquilifer model (a big sister to the Consul), that became a huge hit internationally. And he founded Ancarrow Marine after acquiring a New Jersey boat building company. 
Ancarrow had a single aim: to build and sell boats to those who simply wanted the best. His boats were known for being fast and luxurious—attributes that appealed to the world's wealthiest boaters. He also hand-picked craftsmen "who know, love, and can build great boats." 
One of Ancarrow's top engineers with a penchant for speed was Norman Lauterbach. Although Norm's nephew, Larry Lauterbach, is best known in the world of powerboat racing, Norm was a longtime boat racer in his own right. He was an Unlimited race boat driver in the late 40s and early 50s and also won the 1948 Cambridge Gold Cup. 
Fast forward to the Consul, which Ancarrow Marine advertised in 1959 as the newest in its 'Fleet of the Future.' "Speed as released by a tornado... kept under control by superb engineering."
Details truly set the 427 apart from other Ford engines back in the day. The iron block of the newer, supercharged Ford engine had the same 3.78-inch stroke as the original 390 series to facilitate high-revving power, with an enlarged bore to 4.23" and a 12.5:1 compression ratio. In addition to a high-nickel alloy used for additional strength, the motor featured a thicker cloverleaf cylinder mold, crankshaft cross-bolts for the main bearing caps, main bearing webs, and solid lifters for its camshaft.
Newton was definitely passionate about his vision. "Just good boats. The best boats." 
By Chris "Seabuddy" Brown