What kind of boat does Stanley Boardman, the chief judge of the Antique & Classic Boat Society's Chesapeake Bay Chapter, use in and around the Bay? A Boston Whaler. And a rare one at that. A 30th anniversary 15-foot model.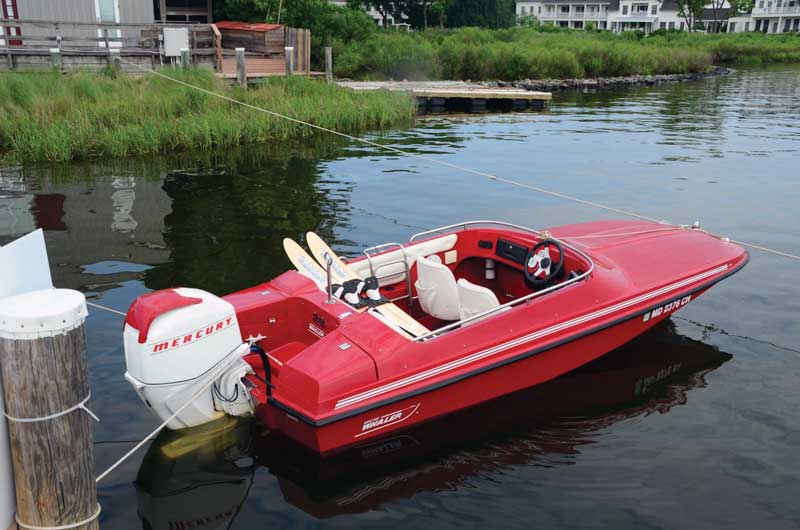 Whaler named this model Mischief. She is a sport-boat version of the Boston Whaler 15-foot hull. She has a deck (with a good amount of non-skid area), seats for five (two upholstered bucket seats and a rear upholstered bench seat), a dashboard with a glove box, plus two rear deck-based storage compartments. Whaler also included a ladder and a ski-tow pylon for good measure.
She was the model that Boston Whaler produced for their company's historic milestone in 1989: 30 years of boat production. Whaler wanted a signature new model to attract attention to the company's entire line-up of boats. They started the company with a 1958 13-foot model.
The production run of the Mischief anniversary model was primarily in 1989 with a few more built in 1990. Overall, Whaler produced only 235 of this model, featuring Mischief in Whaler's three signature hull colors: 139 were produced in red, 72 in tan, and 24 in white over that two year period.
Over the years they have built an array of models in various lengths. The 13-foot Whaler made its debut at the 1958 New York Boat Show. It was sold under the brand name Boston Whaler and was built by the Fisher-Pierce manufacturing company in Braintree, MA.
The Boston Whaler Nauset was the first center-console. She was a 16-foot, seven-inch model and was introduced in 1961. Whaler soon began to produce government and military workboats, some of which were used in the Vietnam War. By 1964, Boston Whaler's distribution was expanded coast-to-coast. 
Whaler's first Montauk entered the market in 1974. Five years later the company introduced the 1979 Outrage V20. Then a new 33,000 square foot boat production facility was opened in Norwell, MA. 
By 1987 Boston Whaler had an additional facility in Edgewater, FL, where the company is headquartered today. The plant has expanded several times over the years to meet the growing demand for the ever-popular Whaler boats. The 25-, 27-, and 31-foot models were the first to be manufactured in the Florida facility. The 15-foot Mischief —unveiled there in time for the company's anniversary model year in late 1988—led Whaler's 1989 offerings.
After Boston Whaler was acquired by Brunswick Corporation in 1996 for $26.6 million, more models and lengths were introduced. Its Edgewater, FL, plant is around 550,000 square feet now. For model year 2022, Whaler is currently building boats that range between 13 to 42 feet in length.
After six decades of innovation, Boston Whaler remains the legend. 
In a 1961 Life magazine ad, Boston Whaler founder Richard Fisher sat in a floating 13-foot Whaler with a crosscut saw cutting through the hull athwartships. He sat in the back half and used an outboard to drive only that half. Pretty impressive to drive half a boat without a bow that doesn't sink!  
Today their 42 is so large that it takes two tons to swamp it. The 13 has a swamped capacity of 1500 to 1600 pounds. She will stay afloat even while swamped with up to that weight aboard.
Stanley's Whaler was painted in Imron red as were parts of the engine by Lilly Sport Boats in Arnold, MD. The color of the boat matches the gelcoat that Boston Whaler sprayed on it in 1989. She runs on a matching re-painted 50-hp, four-stroke Mercury outboard.
The boat is kept outside on a lift during boating season in the summer months. A quick spin or swim is easy as the rig is always ready to go in the summertime.
The local West Marine store is Stanley's source for the waxes, cleaners, and other maintenance items. Stanley added a Garmin navigation system and the Mercury smart gauges, as well as the LED lights to keep him informed.
The boat and motor rig are expected to be displayed in-water at the Antique & Classic Boat Festival in St. Michaels, MD, on June 17-19. 
By Chris "Seabuddy" Brown