This boat is a blast! Bruce Ogden and I ran around the West River powered by a 90-hp outboard at up to 40 mph at wide open throttle. Sharp turns and other spontaneous maneuvers were great fun on a quiet day in the middle of the week when we had the river all to ourselves. These nimble Whalers are great for some kid-like fun.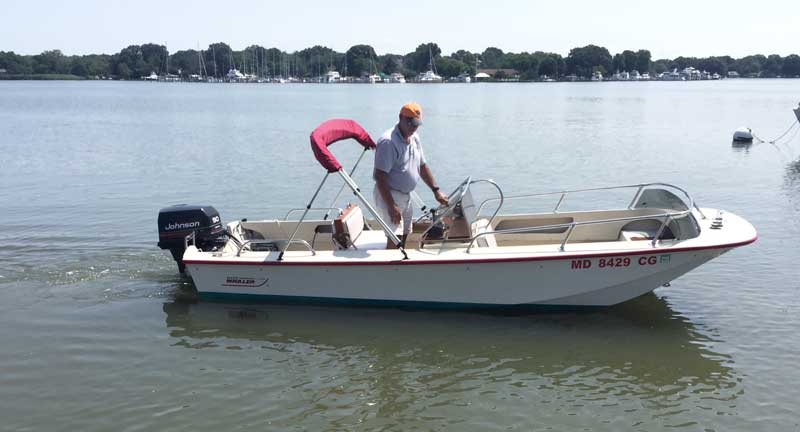 Boston Whaler made more than one model of its 17-foot boats. For this test ride I was on a rare Newport model that sports a red insert in the rub rail that surrounds the boat. It's been updated on Bruce's boat and sure was a sharp-looking detail. This boat also has an extra fiberglass molding that runs the length of the regular inner cockpit, providing bow seating for two in front of the center console as well as other interior details. In front of the seats is an area for anchoring gear as well as bow lines.
Speaking of fun, I tried out the front seating in addition to the shared helm seating. The front seats bring back memories of "jump seats" and were even more fun than sitting at the helm. Yet they're also deluxe with their own windscreen, an ideal deflector that's slightly smaller and lower than the windscreen for the helm station. 
Bruce bought and restored this 16-foot, seven-inch boat and outboard motor. The boat is a 1975 model year—he bought it packaged with a 1995, 90-hp Johnson outboard in an out-of-state sale. He keeps it on the West River, behind his house. Bruce loves old boats and owns three other classics besides his Whaler. Did I mention that he loves old boats?
In 1958, Fisher Pierce, an electrical apparatus company founded in 1938 by Dick Fisher and Bob Pierce, took the 1958 New York Boat Show by storm with the first 13-foot Boston Whaler, and retail sales began. The factory was located in Braintree, MA, but moved to Rockland, MA, early on. This first design was influenced and modified by C. Raymond Hunt. Dick Fisher sold Boston Whaler in 1969 and ended his consultant period in 1972. In those days it was easy to add dealers since open 13-foot boats with these unique features weren't available from other boat builders.
By 1987 a plant in Edgewater, FL, was purchased from another boat builder so they could build more as well as larger Boston Whalers. Models went as big as 25 feet. By 1989 the company was sold again, this time to Reebok for $45 million. In the early 1990s Bob Dougherty peeled off from Boston Whaler to start Edgewater Boats, essentially down the street from the Florida Whaler plant.
Peter Van Lancker became the new chief designer at Boston Whaler. His designs featured in the 1991 brochure replaced the early Whaler designs. Since these new designs cost more to manufacture and the boats were heavier, they did not sell as well. But as production and market acceptance of these boats grew, sales did improve. Nonetheless, Boston Whaler was still a small company in the Reebok portfolio with sales less than 16 percent of Reebok's total revenue.
Boston Whaler was sold again in 1993, this time for just $20 million, essentially for a $25 million-dollar loss after its three years under corporate ownership by Reebok. The new parent company was Meridian Sports which also owned Mastercraft, a competition ski boat builder. 
1994 saw the original 13-foot and 17-foot Whalers still in production along with 19-, 21-, 24-, and 27-foot boats. Under Mastercraft, Whaler boat sales were around about $50 million that year. To reduce overhead, the Boston Whaler Boat Company closed all of its Massachusetts operations. Designer Peter Van Lancker left.
On May 31, 1996, Brunswick acquired Boston Whaler from Meridian Sports for $27.4 million and still owns it today. Brunswick also owns Sea Ray, Bayliner, Crestliner, Cypress Cay, Harris, Lowe, Lund, and Princecraft boats, in addition to Mercury engines and other subsidiaries. Whaler now builds boats in sizes ranging from 11 to 42 feet.
The Edgewater, FL, location has been expanded many times since then. It has about 364,000 square feet now, with more needed. Future Boston Whalers and Sea Ray boats are now destined to be designed there. 
By Chris "Seabuddy" Brown