It was 1961 when this chapter of a family story began for me. I was 13 years old and in search of a partner to help with a plan I had hatched based on the discovery of an 11-foot speedster in my dad's garage.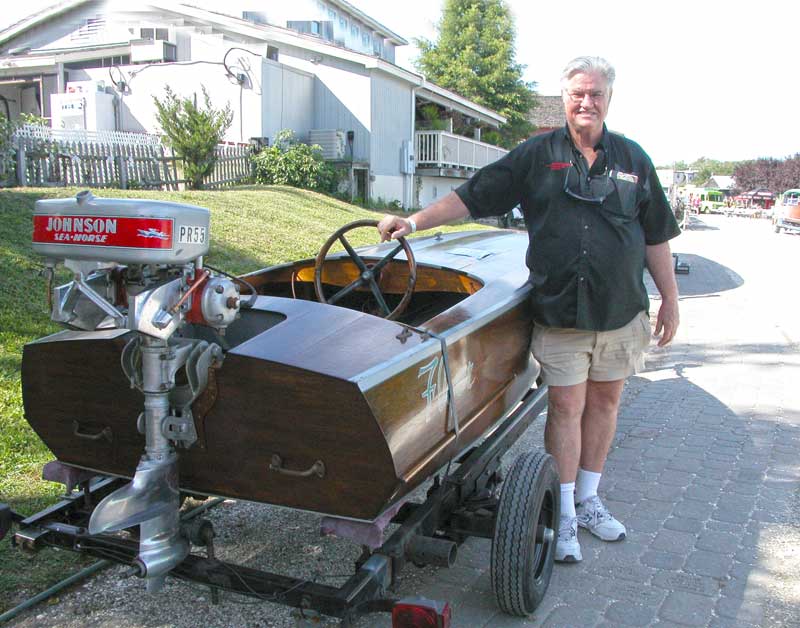 The speedster (also called a "flyer") had originally competed in circle-course races back in the 1920s, powered by its 22-hp Johnson gas-powered outboard. My goal was to make her seaworthy again and enjoy a fast ride using a 40-hp Evinrude instead!
To complete this project I would need some financial assistance from my dad, along with the know-how of a more experienced boater. That partner turned out to be Uncle Charlie, my father's younger brother. So, this is a story of a restored racer that an uncle and his teenaged nephew (me) overpowered "to go fast." 
Charlie was the bachelor uncle who lived next door. Like the rest of my family, he was in the summer resort business along the Jersey Shore. He was 10 years younger than Dad and had a carefree attitude toward life that someone without the responsibilities of raising a family often enjoys. 
Plus, Uncle Charlie loved boating. His playful demeanor, coupled with his offer to share the project costs with me so that I didn't need to ask Dad for much money, gave me everything a 13-year-old speed-loving boater could ask for! With two boats in our extended family designed for speed, yet underused, it was up to me and Uncle Charlie to go boating.
The speedster was a class racer until it was put in storage 40-plus years ago. The photo here is of a sistership to ours. Combining my funds with Charlie's, we refreshed it with fiberglass work and fresh paint. But the 22-hp gas outboard engine never did start. If we wanted to enjoy this speedster, we needed Plan B. 
The only other engine as an option was the 40-hp Evinrude, a 1960 Lark II model outboard. But it was already mounted on the Sea Mac, a boat Dad acquired for family waterskiing. 
The speedster had a long foredeck and a single-person cockpit. That cockpit was dominated by a large steering wheel and little else. There was no seat or seat back. Just a few boards to kneel on. The rope and cable-steering system connected an engine to the wheel. That was it. No instruments. No tachometer. No speedometer. No water gauge. Just a bare cockpit, ready to receive the mount of an outboard and run!
Uncle Charlie and I really wanted to use that speedster. Our idea was to mount the 40-hp Evinrude on her and go faster on Barnegat Bay than she had ever raced competitively on Greenwood Lake back in the 1920s. Fortunately, the Evinrude had the correct shaft length. Plus the speedster was a short boat. It was simple to bolt the Evinrude onto the speedster and hook up the steering pulleys so that the shift and throttle could be handled at the motor's head. We left the Evinrude's remote controls undisturbed and still mounted on the Sea Mac.
It was indeed a fast combination! We never lost an informal head-to-head race on the bay. Uncle Charlie would lie back when a likely candidate was spotted and hold back at first. Then, when the other boat thought they had us, he would open it up and soundly beat them, all done in friendly fun.
The speedster's single-person cockpit design forced me to lie down on the foredeck while Charlie drove the boat. I had a throw cushion under me as the only piece of padding. I would toss the cushion overboard and retrieve it later when the ride was too rough.
After two weeks of intense racing, the lightweight speedster was rapidly breaking apart. The uprights between its bottom and the deck became hard protrusions into the foredeck where I rode lying down. They eventually broke through the deck and rubbed my hip raw from the vibrating wood uprights. 
But oh, was it was great fun and sweet success for those memorable two weeks! More than 50 years later, I remember it vividly, as if it were yesterday.
By Chris "Seabuddy" Brown
---
For more Classic Boat articles, visit our Boatshops page.