After a public nomination period and a PropTalk staff vote, Claire Neubert of Hampton, VA, has been named the 2019 PropTalk Volunteer of the Year. Here is her nomination letter from Tanner Council at the Chesapeake Bay Foundation: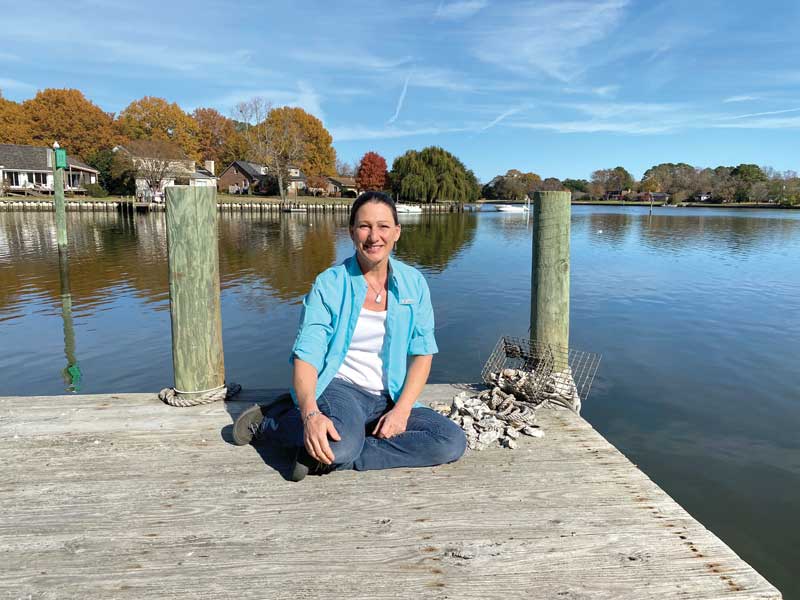 "Claire is one of the most prolific volunteers we have ever worked with in the Chesapeake Bay Foundation (CBF) Hampton Roads office. Claire has been an active oyster gardener with CBF since 2006. To date, she alone has raised over 8000 oysters (filtering 400,000 gallons/day), providing habitat for other Bay critters. In 2014, Claire joined the Volunteers as Chesapeake Stewards (VoiCeS) adult education course, where she was truly head of the class. From there, Claire seemed to be an omnipresence within all our Hampton Roads programming. Claire overcame her initial hesitancy to engage in advocacy work to become our greatest advocate in the City of Hampton! 
"Claire is essentially an extension of CBF staff, present at virtually all of our public events, usually in a volunteer capacity, as well as a recruiter and mentor for many other volunteers with CBF. Claire is the epitome of a CBF volunteer as she works literally every day for environmental education, restoration, and advocacy. 
"Claire regularly meets elected officials at all levels to advocate for clean water and is regularly published in the Daily Press editorial section. As past chair of the Hampton Waterways Restoration Project (under City of Hampton), Claire led a wide variety of conservation initiatives. Claire's work led to a lucrative 'small watershed grant' to partner with other environmental organizations and Hampton University. With her help, we went from eight Hampton oyster gardeners in 2014 to 56 in 2019. 
"Claire has facilitated oyster reef transplants with hundreds of local children. Claire recruits all the Hampton restaurants for our shell recycling program. She recently became the 'CBF Peninsula Oyster Ambassador,' connecting with all gardeners on the Peninsula. 
"The oyster reef construction Claire spearheaded has provided a place for all oysters grown in the Hampton River to be planted. Every oyster is filtering the water and providing habitat. Claire produced an educational sign which was installed overlooking the reef. A ceremonial tree planted along the shore with a bench provides a place for members of the community to gather and reflect on this precious resource. The wildlife viewing has improved for members of the Elizabeth Lake Community since reef construction: more fish, crabs, oysters, cow nose rays, and even the occasional dolphin swim up river to check out this new habitat. 
"When Claire mentors new gardeners at the public locations, she continually educates on the importance of oysters and everything else that improves water quality on a local and watershed wide scale. Claire has become certified as an Eco Tour Guide, allowing people to take kayaks out to enjoy the Hampton River for its constantly improving beauty (as well as shoreline experiences to connect people to our waterways)." 
Humbled by the award, Claire says, "Anything I do is with the help of so many people. If I tried to name all the people to thank, it would be impossible."
Congratulations, Claire! Thank you for making the Bay a better place.