Before launching the new Introduction to Marine Outboard Engine Systems course, Chesapeake College director of skilled trades Tom Ellis had been approached by industry professionals about offering courses to meet the needs of local marine service businesses. Ellis surveyed 80 members of the Marine Trades Association of Maryland (MTAM) and found "compelling proof that there is a critical need for local training to prepare marine technicians who are skilled in the service and repair of engines and auxiliary boat systems."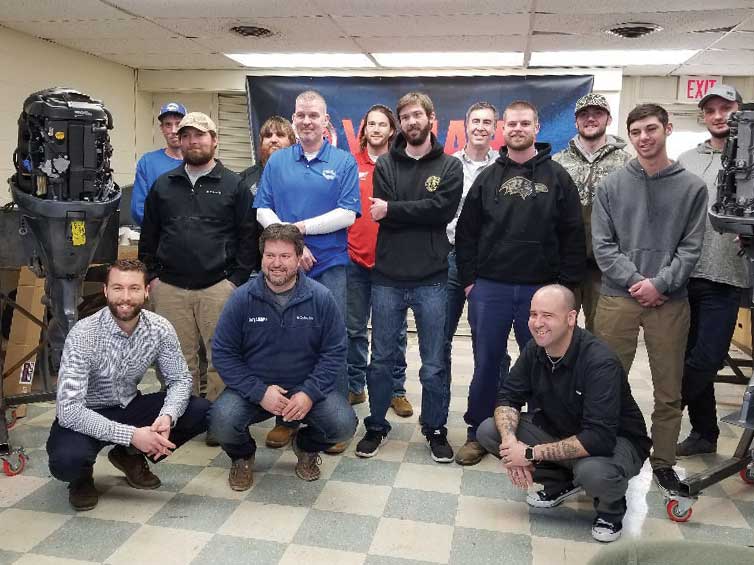 Eighty percent of responders said they struggled to find trained and experienced applicants. One of the most notable responses was from the survey prompt to share any advice, thoughts, or interest regarding a Marine Service Technician program at Chesapeake College. "Please do this as soon as possible," it read. "This industry is dying because we do not have a workforce training pipeline of young people with basic skills."
The college moved forward with the plan to offer a Marine Engine course using curriculum provided by Yamaha and a generous donation from Wye River Marine in Chester, MD, to establish a Marine Technician Lab. Once registration opened, the first two class offerings filled up within six days. 
The instructor, John McNally, U.S. Coast Guard Machinery Technician Second Class, brings with him 16 years of marine experience. "The class has been a mix of book work covering theory, principle, and operation of outboard motors and hands-on lab time where the students actually get to tear the engines down, inspect, measure, and reassemble," he says. "It is going really well. The students are all very interested and excited about the program and the wonderful donations we have received in the form of tools, engines, and equipment." 
Ellis is encouraged by the strong start of the Marine Engine course. "We are already working on partnering with additional manufacturers and organizations to expand our course offerings, specifically in the areas of diesel engines and auxiliary boat systems," he said. "I am laying the groundwork for creating a one-year accelerated Marine Service Technician Certificate that will prepare students to be skilled, well-rounded technicians for a broad range of entry-level marine industry positions. We are also developing various continuing education courses that will offer advanced-level training for current marine technicians." 
This Project is funded by the State of Maryland's EARN Maryland Grant Program and administered by the Maryland Department of Labor, Licensing and Regulation.