In this day and age it can be hard to truly unplug and simply be in the moment. For adults, we know what it was like before iPhones and Facebook, but for many children, they know no other way. Spending a full weekend on the family boat with spotty service might seem daunting for them. But it doesn't have to be. We chatted with a few boating families right here on the Chesapeake who share their tips and experiences to help make this summer one for the books.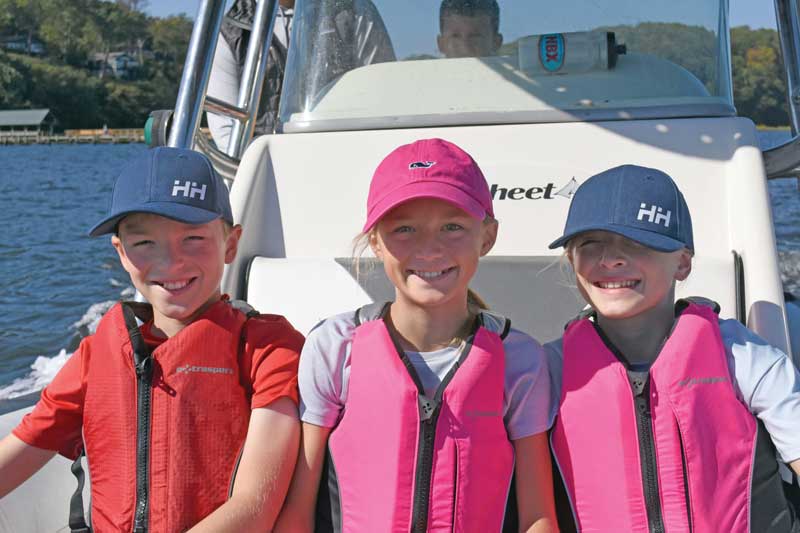 The Bonacci Family
Tony and Anja Bonacci of Annapolis, MD, have three kids: Luca (six), Anna (10), and Finley (13). "We are pretty lucky in that all of our kids have a natural love for boating," says Tony. "They have all been on boats since they were infants, and they get excited to just get out there… the ocean, rivers, calm or rough, warm or cold—it's just something about being on a boat that gets them pumped up. They love every minute of it."
When asked what a typical day looks like on the family boat, Tony says: "We are on the water a lot. And to make sure that the family continues to enjoy boating so much, we make sure to mix things up—do different things. Our 35 Express Gone Phishin' is kept at Sunset Marina in Ocean City for a good chunk of the summer to fish offshore for tuna, mahi, and marlin. The kids love getting out to the deep, sometimes more than 75 miles from the beach, and reeling in the big fish… especially our youngest Luca. I'd argue he is borderline obsessed. 
"We mostly use our center console, Knotty Girl, around the Bay for raftups with friends, getaways to St. Michaels, or even something as simple as a quick ride up to a waterfront restaurant for crabs or dinner. Mixing it up keeps it exciting for the kids. We are on the water at least four to five days a week in the summer months, so variation is key."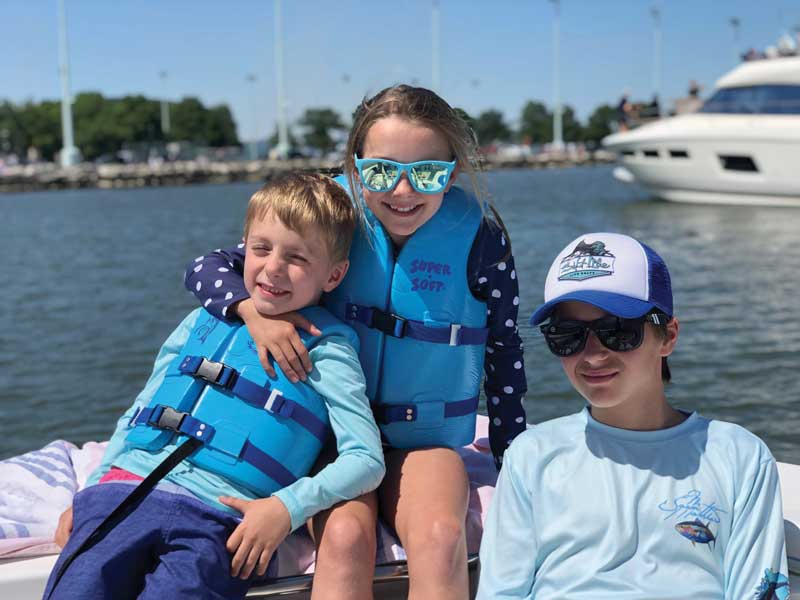 How about must-bring items on the boat? "My wife Anja has become the champion of packing for when we hit the water," says Tony. "I usually leave it to her, and she makes sure the kids have all they need. The best way to prepare is to think of a day on the water like a road trip, but without any exits to pull over if you need something: Plenty of food and drinks, sunglasses and sunscreen, towels, good music, and good company. We try to keep the kids off any sort of devices when boating… if you can't enjoy a day on the water without an iPad, you shouldn't be on the water. And never forget a fishing rod. The day you do will be the day you run right past a school of breaking fish."
Another key aspect of boating with children, or anyone for that matter, is safety. And the Bonaccis have made sure to discuss safety with their children from an early age. "Lifejackets are always on when underway or when on the deck. Everyone takes a seat when pulling into or out of a slip or docking, and we are always checking that our radio and radar work and following the rules of the water. 
"None of our kids have yet taken boaters safety courses, but this is absolutely something that they will take in the future. I know that the Annapolis Yacht Club offers hands-on boaters safety courses meant for kids in the summer months, and this summer our older two will probably attend. If you practice safe boating and follow the rules, just like in any other learning environment, the kids are like sponges and will do and act as you teach them."
The last thing we asked the Bonaccis was whether they had any words of wisdom for families new to boating. Here's what they had to say: "Make it fun. Enjoy your time together. Explore new places, meet new people, and try new things. The Chesapeake Bay, its surrounding waters, and our oceans offer so many different opportunities to have fun as a family. Cruising, fishing, 'redneck yacht clubs…' do it all. And most importantly, let the kids drive. The Alan Jackson lyric goes 'I was king of the ocean, when daddy let me drive,' and it's true. It'll be memories your kids will never forget, and neither will you."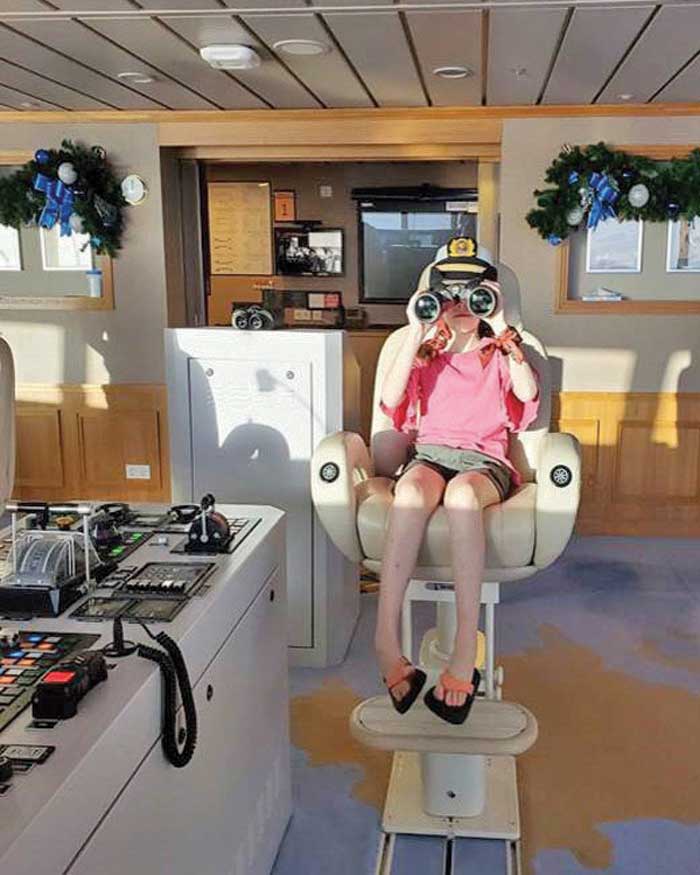 The Iversen Family
Jake Iversen serves as the general manager of vessel activities for Watermark, managing the operations of 13 vessels in Baltimore and Annapolis. Jake says, "I try to save weekends for family time, and my daughter, Sky, accepts every invitation to join in when it involves boating.
"It must run in the blood. My daughter loves the water. My wife Laura and I introduced her to swimming as an infant and sailing a few years later. Now at eight years old, she is paddling, kayaking, sailing, and spending summers swimming on the neighborhood team. This early exposure and the opportunities the Annapolis area offers are great for enticing kids to enjoy the water.
"She enjoys riding the water taxis to have dinner downtown and knows her way around the bigger boats pretty well, too. One of our weekend routines is to wake up early and check on the (Watermark) boats to make sure they're ready to go for the day."
When asked about activities for children/families with Watermark, Jake tells us that "Watermark hosts groups of students on field trips aboard our vessels and welcomes families with children on our boating tours. Guests with younger riders in tow return again and again for our USNA/Annapolis Harbor and Baltimore Harbor cruises because they are shorter with lots to see, and they can walk around, get popcorn, and take plenty of pictures. Kids can even try their hand at the children's steering station on Annapolitan II and at the wheel of the bridge as Harbor Queen's "Captain for the Day."
Regarding safety, Jake says his family discusses it every single time they go out. "Safety discussions are a part of our normal routines, and especially in new and unfamiliar territory. When at the boat show a couple of years back, we stopped by the USCG Auxiliary booth and they were handing out boater safety pamphlets. My daughter loved reading these and quizzing me on the content: 'How many pounds is a child's lifejacket rated to?' 'What shape is a green day marker?'
"She has been involved in many boating activities and camps during the summer months, and I plan on enrolling her in a boater's safety course in the future. I may wait a year or two when she will be able to take it all in to retain and apply the information presented."
How about advice for families new to boating? "Water safety," says Jake. "I cannot stress safety enough. Things happen in a split second and when it's least expected. Adults and children alike need to wear their lifejackets even on the docks. Boats don't have brakes. Always operate your vessel at a safe speed, staying alert and aware of the vessels nearby. Always assume the vessels around you are operated by owners with little or no experience. Err on the side of safety 100 percent of the time.
"And get involved; take a class. This area has so many opportunities for water-related activities. Have fun while being safe on the water."
The Gubernat Family
Ryan and Tera Gubernat and their son Macen, who went on his first overnight on the boat when his was just two months old, try to go boating every weekend from Memorial Day through mid-October, weather permitting. They are based in Middle River, MD, in the Upper Bay.
"Last year we went every weekend," says Tera. "We watch the weather all week, get an idea of where we want to go, and then pack up the boat (a 40-foot Ocean Yacht Sportfish) Thursday. Ryan and I try to do one or two date weekends on the boat, but apart from that it was always the three of us and our dog Lilly."
So, what's a typical boating weekend with the family like? Tera says, "We like anchoring out and spending a few nights on the hook a season, but we tend to frequent marinas and little towns. Marinas have so many amenities, like a pool, and you have space to walk the dog. And Macen loves the Zodiac Because we have that, we're not stuck at a marina—we can explore beaches, pick up sea glass and old buoys. And we always end up meeting other families with kids and dogs and sometimes even run into each other by accident at other places."
We asked them if they have places they return to again and again, or if they like to switch it up. Ryan says "a little of both." The Gubernats have a few 'staples' they like to visit every year, like Tolchester Beach for Memorial Day Weekend (it's close by and good for a shakedown cruise to make sure everything is running properly), St. Michaels, Solomons, Herrington Harbour South, Rock Hall (Macen loves the trolley), and one of their favorites in Annapolis is Mears Marina. This year they hope to add the Hyatt in Cambridge to their list (they've been there by land but not by boat), and Crisfield, which Ryan and Tera haven't been to by boat since they were kids.
With so many summer weekends spent boating, we wondered if Macen ever needed coaxing. Tera says, "He never says no. Sometimes we'll even be driving to school and Macen will say, 'I want to go on the boat.'"
Tera adds, "We live for boating on the weekends. And to simplify packing, we try to leave as much stuff on the boat as we can so it's not like packing up the car for the beach every weekend. When we come off the boat and come home, we can pick right up where we left off; no need for tons of un-packing. It's like our own little beach house on the water.
"We keep a toy chest on the boat, and after being away from it Monday through Friday, Macen is excited to see his boat toys. But he really only plays with those in the evening. He is so occupied during the day; he rides on the flybridge with us, helps drive and spot crab buoys… He stays so busy; he just loves it. We also keep a bucket of pool and sand toys onboard."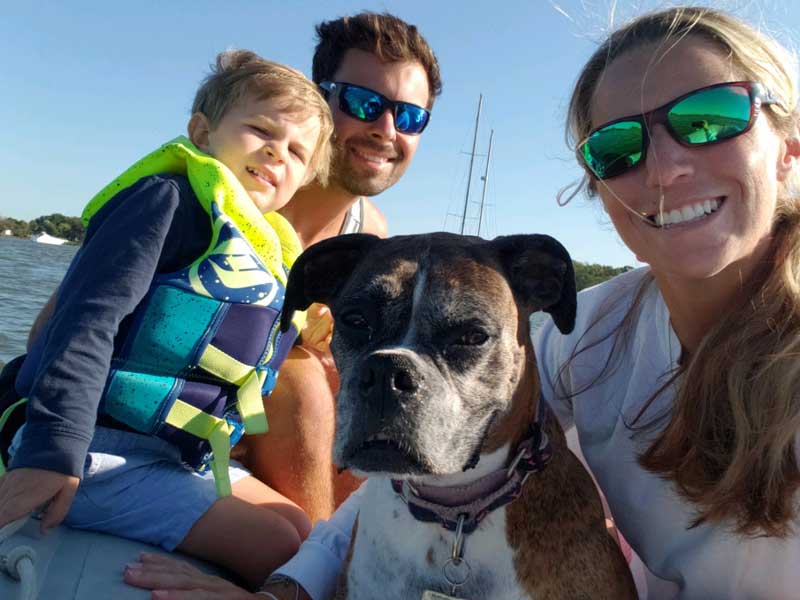 What about safety precautions? Tera says, "The rule is he puts the lifejacket on as soon as we get on the boat and it stays on. He's never fought us on that. He used to fight us more on sunscreen than that. Wealso taught him how to go down the fly bridge ladder safely—backwards and only when a parent is down below. We have a plexiglass cover we place over the fly bridge ladder opening when we are all up there. And he knows never to touch the throttle or shifters."
Now it's just a matter of waiting until summer. Both Tera and Ryan grew up boating with their families. They say, "We always feel so fortunate to have grown up the way we did, boating every weekend on the Bay. We feel it was a unique lifestyle and always dreamed of being able to have our own kid experience the same things. We even joke about how his Monday school discussions about the weekend will be so different from what most other kids did, as were ours."
Purposeful Screen Time
We asked our readers on Facebook about the cell phone debate—do they limit screen time onboard or allow children to bring phones and iPads when cruising? The majority of responses fell to the 'limit screens' side of the debate, but one reader had an interesting point, and that was that phones should be allowed when used 'purposefully.' Here are some apps that could come in handy onboard:
Weather apps—there are many free options to choose from.
Astronomy apps, like Night Sky, allow you to quickly identify stars, planets, constellations, and even satellites above by simply holding your phone or iPad up to the sky.
Nature apps, such as iNaturalist, help you identify the plants and animals around you.
Navigation apps—when plotting a course someplace new, let the kids get involved. If it's a longer journey, being able to see your boat's progress might help with any feelings of impatience.
Maritime and Other Museums
Maritime museums are a great place to bring the kids, especially if visiting a new port. Many museums have a designated children's play area or child-specific talks and activities, and they have a wealth of information on the local area, as well as the Chesapeake Bay. Below are just a few options for bringing the kids to:
Annapolis Maritime Museum in Annapolis, MD
Calvert Marine Museum in Solomons, MD
Chesapeake Bay Maritime Museum in St. Michaels, MD
Havre de Grace Maritime Museum in Havre de Grace, MD
The Mariners' Museum and Park in Newport News, VA
National Aquarium in Baltimore, MD
Port Discovery Children's Museum in Baltimore, MD
PFD Laws for Children
In Maryland, children under the age of 13, and in Virginia, children 13 years old and younger, must wear a USCG-approved lifejacket at all times when underway, unless the child is below deck or inside an enclosed cabin. For full requirements, including those for children under the age of four, visit dnr.maryland.gov and dgif.virginia.gov/boating.