With 25 public boat ramps and soft launches for kayaks and canoes, Dorchester County on Maryland's Eastern Shore is the only county on the Mid-Shore that does not require permits and fees at public landings.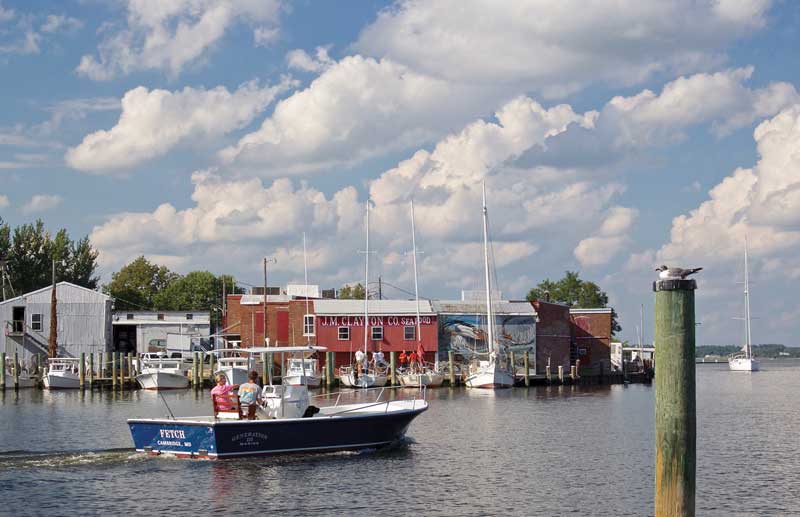 The Cambridge Yacht Basin, within walking distance of downtown, and a choice of private marinas in the county offer affordable slips for sailboats and cruisers that make it easy and enjoyable to explore the Heart of the Chesapeake.
Dorchester County provides access to four major rivers leading to the Chesapeake—the Choptank, Little Choptank, Honga, and Nanticoke—and makes it easy when launching a motorized vessel or personal watercraft from a public county boat ramp.
Ramp etiquette is more important than ever during the pandemic. Boaters should have their vessels fully loaded before backing down a ramp and avoid socializing with other boaters at the launch. Summer neck tubes and scarf masks, which also provide sun protection on the water, are recommended as protective coronavirus measures when ramp conditions are crowded. Ramp users are reminded to use designated parking areas for vehicles and trailers and avoid nearby roads.
The Cambridge Yacht Basin is one of the most convenient and affordable marinas for day use and overnight stays in the area. A short stroll up historic High Street leads boaters to Cambridge's shops—now re-opened—and restaurants offering carryout menus for dining. 
During the pandemic, the Yacht Basin is providing free pumpouts to all visitors as an incentive to use onboard heads and showers. For the safety of other boaters and marina staff, individuals are asked to wear protective masks when passing others on the docks. Slips should be reserved in advance.
Gas and diesel at the fuel station may be one of the best bargains on the Bay at just $2 a gallon, which makes fill-ups one more reason to visit Cambridge. Marina officials expect the price to hold through the end of May and into June. 
For more information on public boat ramps, soft launches, paddle craft rentals, and more, visit visitdorchester.org.