Boaters familiar with Tiara yachts probably never expected to see a Tiara with a bow cockpit, but the Tiara 34LS has one. Boaters familiar with Tiaras probably never expected to see a boat of this brand with outboards, but again, the 34LS has them. And boaters familiar with Tiaras probably never expected to see a Tiara with a top end that busts right on past 50 mph, but… well, you know.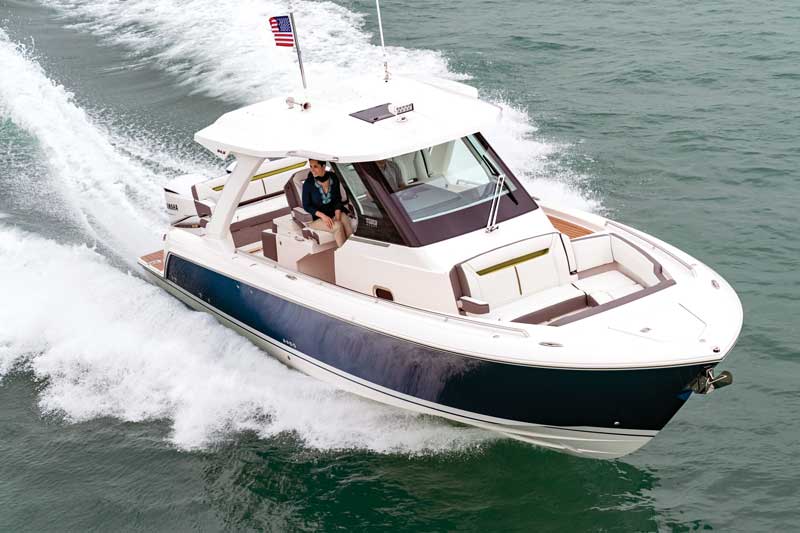 In all of these ways, the 34LS redefines what a Tiara can be. More important, perhaps, is the fact that it does so without losing sight of a Tiara's historical missions: providing the height of luxury in a boat with multiple social spaces and oodles of elbow-room, all in a package with drop-dead gorgeous lines. It simply tweaks those missions from their usual cruising boats, to one that's more closely aligned with day-boating and possibly weekending.
Why tilt in this direction? More and more people enjoy day-boating, and they want a platform that has the perks to enhance it. Things such as the additional seating a bow cockpit provides, the no-muss-no-fuss nature of an outdoor galley, and the rather spectacular performance and reliability modern four-stroke outboards deliver. Yet with 34 feet to work with, there's still room to design in a cabin (appropriately trimmed out in teak and beech, of course) with overnighting abilities into the console. While it isn't exactly huge, it does have a full stand-up head and a private berth. Check the box on the options list, and you can also have that cabin air-conditioned. In fact, air conditioning can be piped right into the open helm station. You know that delightfully decadent feeling you get while cruising down the highway in a convertible on a hot summer day with the top down and the AC blasting? Consider it tame compared to the rush you'll get while wave-hopping across the Bay at a cruising speed in the upper 30s, as you're bathed in a combination of sunshine and frosty air.
Speaking of cruises in the upper 30s: the 34LS comes paired with twin Yamaha F350s, and this package not only provides sporty performance, but also better efficiency than one might expect from a 34-footer. While cruising, the boat delivers better than one mile per gallon. That shakes out to a range of over 200 miles, and the 34LS maintains this efficiency up into the lower 40-mph range.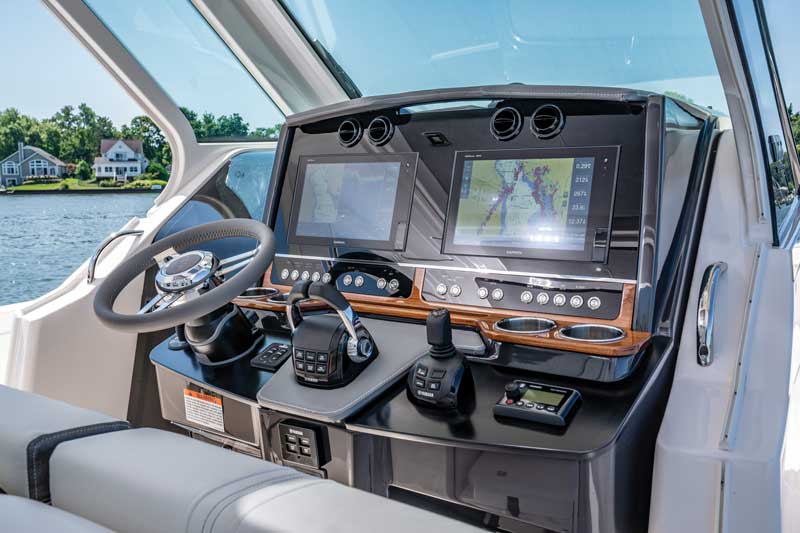 Something Tiaras have always been known for is an open aft cockpit, and at first glance, one would think this holds true on the 34LS. Well, sort of. In this area of the boat the designers really earned their keep with some heavy-duty innovation. When you first look into the cockpit you'll see a large aft settee, open space, and then the aft-facing settee built into the back of the helm station and mid-cockpit galley. But that aft settee has a trick up its sleeve. It's actually track-mounted, and it slides forward. Push it up and slide the removable the table into its base, and the open area becomes a dinette. Then, pull the table back out, fold the seatback down into the space where that table used to be, and you have a gigantic sunpad.
Okay, we give: the Tiara 34LS isn't just a day-boat. Nor is it a cruising yacht like the Tiaras we've seen in the past. In fact, the best way to describe this model might be to call it a day-yacht. And while you may have never expected to see a boat like this from Tiara… well, you know.
By Lenny Rudow
Tiara 34LS Specifications: 
LOA: 34'9"
Beam: 11'0"
Draft: 2'2"
Displacement: 13,800 lbs.
Max HP: 700
Fuel Capacity: 200 gal.
Water Capacity: 30 gal.
Price: $357,900
Dealer: North Point Yacht Sales
Annapolis, MD (410) 280-2038