There's a certain inexplicable joy to blasting across the water so fast that you're beating out the cars travelling on a bridge above you. Such was the case when we sea trialed the Hysucat 28 Rigid Inflatable Boat (RIB) in the Severn River. The speed limit for those autos aloft on the asphalt was 40-mph, and we zipped along under the route 450 bridge at speeds over 50. Eat our dust, land-vehicles.
Wait a sec—50-mph is fast for a 28-foot twin outboard RIB, sure, but it's not exactly unheard of, right? Bear in mind that our test platform was rigged with twin Suzuki 140s. That's not even close to the boat's 400-horse max rating, and when you drop a pair of 200s on the transom Hysucat says speeds of over 60 are in store. The secret to all this speed lies under the boat's deck in one of the most tricked-out, high-tech arrangements we've ever seen on a RIB. 
The hull itself is a catamaran, with a double-arc tunnel and hulls that are asymmetrical and ventilated. Then Hysucat adds foils. The main foil bridges the hulls forward of the boat's center of gravity, and a pair of rear foils sit near the transom. These foils help the boat rise up out of the water and reduce wetted surface, thereby maximizing speeds, while the cat hulls reduce wave impact. Ring the whole darn affair with an inflatable collar, and the net result is a boat that skims across the surface at an eye-watering pace while remaining comfortable for the occupants even in a chop. Yes, it was thoroughly choppy during our test run, and yes, the hull did in fact do an excellent job of smoothing out the bumps.
More bump-smoothing features can be found topsides. Our test rig had a pair of shock-absorbing Ullman motorcycle-style seats at the helm. The deck was covered in closed-cell foam padding; the aft transom seat was upholstered with two-tone vinyls, and the bow seats were ringed with padded bolsters. Added bonus: if you also want the comfort of a head onboard, there's just enough room to squeeze one into the console compartment.
What about handling? With the throttles set to a moderate 35-mph cruise, cranking the wheel hard over the boat carved out a turn that would have made any of the vehicles travelling across that bridge jealous. One particularly nice advantage of this boat's design is the fact that the tube ringing the boat provides buoyancy that completely eliminates the odd leaning often felt when turning a powercat. In short, it handles more or less like any RIB in sharp turns.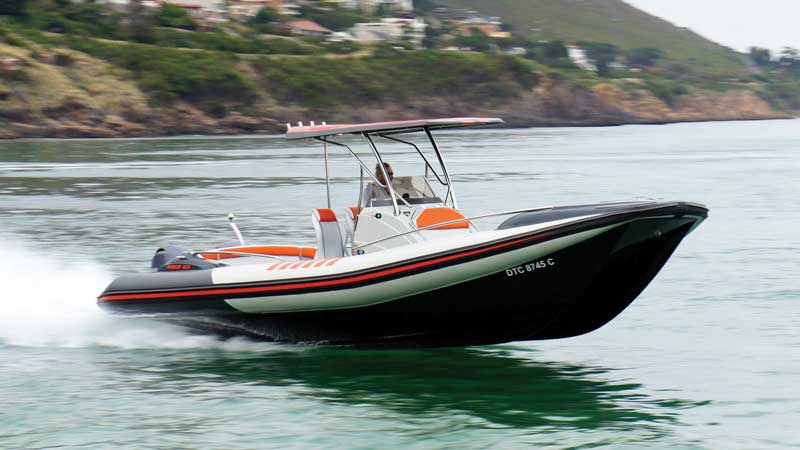 On RIBS stowage is commonly in short supply, but Hysucat combats this by building compartments into the forward seats. The hatches swing up (though I note that if this were my boat, I'd add struts or straps to support them when open) to expose plenty of room for your gear, and there's also a dedicated anchor locker molded into the bowpeak. The aft seat lifts up to provide stowage, too, for bulk items like fenders. In this case, of course, we find the idea of carrying fenders a bit redundant—the entire boat, after all, is more or less surrounded by one.
The boat's construction is every bit as advanced as its design. Fiberglass is vacuum-bagged and laid up with the more expensive, less water-permeable vinylester resins. The tubes are Valmex PVC, a German-made material which has a lifespan comparable to Hypalon but which can be thermo-bonded as opposed to glued. It's abrasion-resistant, UV-resistant, temperature-resistant, and generally considered as good a material as can be found for a RIB collar.
If you're looking for a chase boat, a high-end yacht tender, or even just a large RIB to knock around in, the Hysucat should be a must-see. And if you look out the window of your car as you cross the route 450 bridge and see one shooting across the river, don't bother stepping on the gas; you won't be able to keep up for long, without getting a ticket. 
Hysucat 28 Specifications
LOA: 27'8"
Beam: 9'5"
Draft: 1'5"
Displacement: 3400 LBS
Max HP: 400
Fuel Capacity: 60 GAL
Price: Starting at $95,000 with twin 115 HP engines
By Lenny Rudow
---
For more reviews on Rigid Inflatable Boats, check out our reviews of the BRIG Eagle 780 and the Zodiac Open 5.5.