RIBs are often thought of as workhorses in the boating world. Law enforcement, towing companies, and commercial outfits all use them extensively, and you don't see many with niceties such as a standard windlass and a through-hull anchor. Nor do you often find a head compartment inside the console of a RIB, or discover a freshwater transom shower with a 23-gallon freshwater system. But you will find all of these items on the BRIG Eagle 780. In fact, after spending an afternoon trouncing through the Severn River on one, I was thoroughly surprised at just how comfortable and relaxing this RIB can be. Check out this video shot aboard the BRIG Eagle 780!
Some other ways BRIG separates itself from the herd include the addition of swim platforms and a towing bit at the stern so you can use it for toy-towing and watersports, and a removable sunpad in the bow. Our test boat was also fitted out with optional SeaDeck decking. This stuff looks like teak but feels wonderfully soft underfoot and has excellent non-skid properties. Yes, it will raise the price tag a bit, but you won't regret getting it.
Naturally, the Eagle 780 has to contend with the usual downside of a RIB: foot-for-foot, compared to a standard-issue V-hull, there's less room aboard, and stowage can be problematic. BRIG combats this by building stowage compartments into the bow, under the leaning post and under the aft seat. Deck space is maximized by utilizing an off-center console design, which leaves a walk-through to the bow on the port side. The nifty thing here is that you can also walk around the console on the starboard side, by simply stepping right onto the tube. You can sit on those tubes, too. Either way, they're far easier to contend with than the rigid, narrow gunwales of an average powerboat.
Another thing I liked about being ringed by Hypalon was the shockingly dry ride it provides. Those tubes protrude quite a ways beyond the fiberglass V-hull's outer chines, and they slap down the spray before it ever begins flying. In fact, I didn't feel any moisture whatsoever—not one drop—during our sea trial. That's not to say it will never happen (there isn't a boat afloat that doesn't throw spray in one condition or another), but the tubes do have quite a noticeable impact in this regard. Added bonus: they also support the hull in sharp turns, preventing the boat from leaning very far even when you crank the wheel hard-over. Stability at rest is similarly enhanced. That stability makes the boat feel safer, and a feeling of safety is one of the main advantages a RIB holds over other vessels. Heck, you're basically surrounded by a gigantic five-chambered PFD, right? On top of that, you also have a massive fender of sorts surrounding your boat. Smacking a piling will not ever be an issue.
Our test rig was outfitted with a Honda BF 250, which is the maximum sized outboard the boat can handle. And, it's plenty of juice. At a mellow 3000 rpm we cruised at 21 mph, while that Honda sipped a mere 5.2 gph. That shakes out to a fantastic four mpg, which, we're guessing you won't experience very often—because it's a heck of a lot more fun to goose the throttle and run across the bay at 4000 rpm and 35 mph. Fuel burn at that speed is 14.3 gph.
What happens when you throw down the throttle? We hit a top-end of 45 mph, while turning 5400 rpm. That Honda is rated to spin up to a max of 6300 rpm, which means you could drop an inch or two of pitch, pick up a few hundred rpm, and squeeze another couple of mph out of the top end. Plus, we had three people onboard; it's not out of the question for a light boat, rigged just so, to kiss the 50 mph mark.
Another thing that became apparent while running the BRIG Eagle 780 was that the fiberglass V-hull does an excellent job of slicing open the waves. This is due not only to the 20-degree transom deadrise but also the svelte nature of the rigid part of the boat (seven feet of the boat's nine-foot-five-inch overall beam). On top of that, while fiberglass hitting water is fiberglass hitting water, it feels like the boat's Hypalon collar absorbs some of the impact and vibrations, as opposed to transmitting them through the boat and into your body.
A few more details: the boat's hatches dog down tightly, and although they're unfinished on the underside, feel light but sturdy. Dittos for console construction, and since the console is bolted to a raised segment of the deck—significantly higher than the usual lip or flange—gear stowed inside should stay dry today, tomorrow, and a decade from now. The helm also has a surprisingly large electronics flat, which is substantial enough for flush-mounting a 12-inch MFD. Switches are lighted rockers; there's a glove box to starboard, and the leaning post is wide enough for two people. If you want a RIB but you also want the creature comforts not commonly found on this sort of boat, take the BRIG Eagle 780 for a sea trial. Just don't be too surprised when you find that she gallops along like a thoroughbred, rather than trudging along like a workhorse.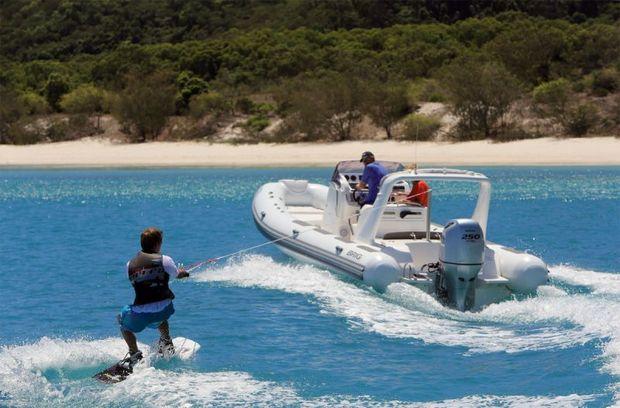 Specifications
LOA: 25'7"
Beam: 9'5"
Draft: 2'0"
Displacement: 3,913 LBS
Max HP: 250
Fuel Cap: 90 GAL
Price: $89,500
By Lenny Rudow