The Grady-White Freedom 285 has been redesigned and improved for 2020.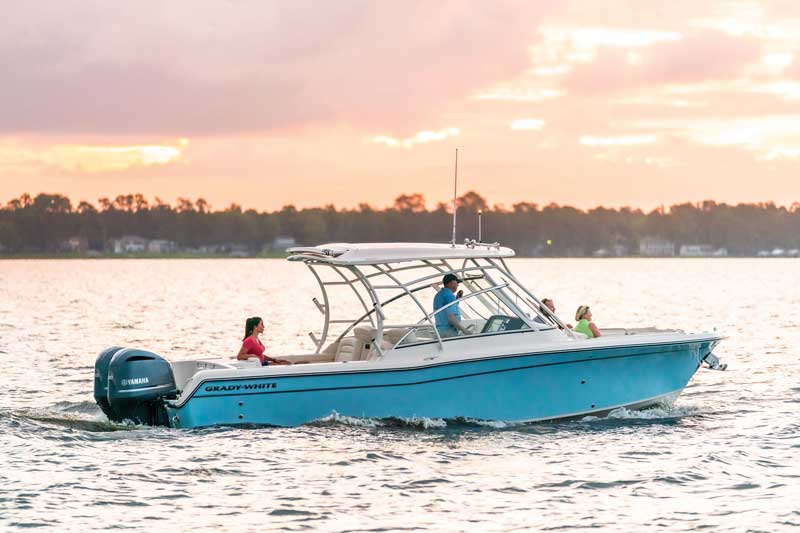 When you buy a new boat, you expect to get the latest and the greatest, so as boat models age manufacturers regularly do minor-league updates and facelifts. Unfortunately, these usually amount to little more than superficial changes that have little effect other than to let the manufacturer scream "New! New! New!" in its press releases. You wish boat builders would substantially improve their offerings, only calling a model "new" when it really deserves it? Enter, the Grady-White Freedom 285.
Grady-White has sold a ton of Freedom dual console models, which have proven exceptionally adaptable to a wide range of activities from cruising to watersports to fishing. And the 285 has been around for quite a while, so when they decided to rejuvenate the boat, the first thing they did was bring the styling up to date with other, newer Freedom models. Great. But styling doesn't directly affect the way you use and enjoy your boat, right? And one of the key factors in enjoying your boat is how comfortable you are at the helm. So, Grady made the windshield both taller and higher. Then, they decided to go further and recreate the entire helm area, pushing the switches closer to the captain so he or she could reach them more easily, increasing the size of the footrest, and adding electric fore/aft helm seat adjustment. Anglers in particular will like that they also broadened the electronics flat to allow for larger MFDs.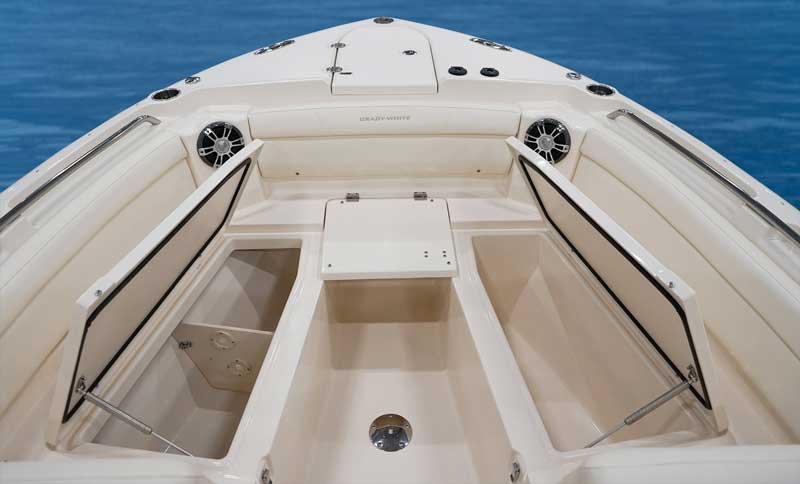 In the "if it ain't broke don't fix it" category, you have major factors such as hull design. Grady-White's SeaV2 variable-degree deadrise hull is one thing we're glad they haven't changed. Not only does it strike a nice balance between splitting waves and maintaining static stability, the Freedom 285 also posts some very respectable performance figures. Drop a pair of Yamaha F300s on the transom and cruise it at 3500 rpm and 37-mph, and you'll be getting close to two mpg. Bump it up to 4500 rpm, and the cruising speed jumps to just over 40 mph. Nail the throttles, and the top-end busts past 55 mph. Good luck finding a dual console of this size that does better.
While the youthful among us will certainly like buzzing across the Bay at 55-plus mph, another important edge this sort of performance gives the boat is watersports acuity. A fast jump up to plane and the ability to pull just about any size or sort of tow-toy on the planet make the Freedom 285 ideal for everything from waterskiing to wakeboarding, and the boat offers a retractable ski-tow pylon that hides away under the deck when not in use. Other goodies that will make waterplay more enjoyable include a 20-gallon freshwater system with a shower in the cockpit, an integrated four-step swim ladder on the platform, and a head compartment in the passenger's console that's large enough to stand in and change out of a bathing suit without contorting yourself into a pretzel.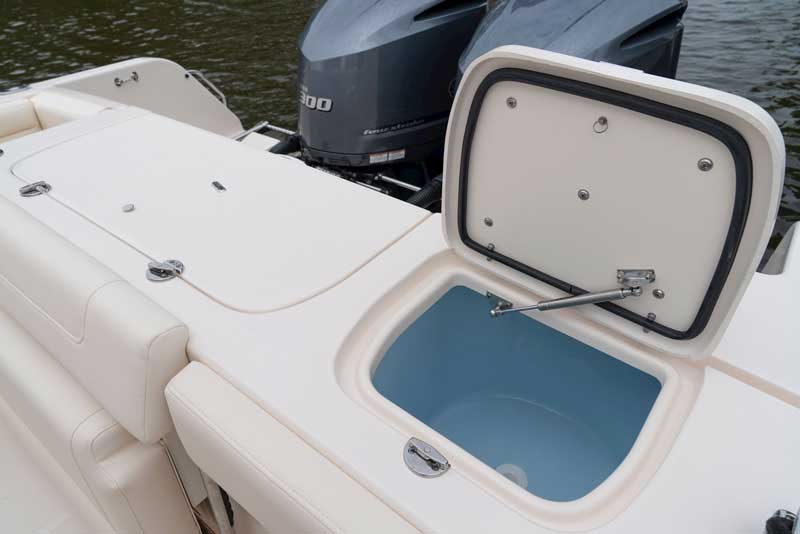 Angler alert: while it's true that you do have to sacrifice 360-degree fishability to get the dual console design, Grady-White still equips their Freedom models for serious fishing. The livewell has a hefty 32-gallon capacity, and four gunwale holders come standard. There are four rocket launchers on the pipework, and there are 118- and 185-quart fishboxes. If offshore fishing is in your plans, you'll also be happy to hear that the hard top is outrigger-ready with reinforcement plates, and the 214-gallon fuel capacity means the canyons are within easy reach.
So: is the Grady-White Freedom 285 really worthy of being called "new"? Only if you like additional comfort, new styling, and better fishing abilities—and if you want your boat to be the latest and the greatest. 
Grady-White Freedom 285 Specifications:
LOA: 28' 0"
Beam: 9' 6"
Draft: 1' 10"
Displacement: 6400 LBS
Max HP: 600
Fuel Capacity: 214 GAL.
Dealers: Tri-State Marine, Deale, MD
Norfolk Marine Company, Norfolk, VA
By Lenny Rudow
---
For more, visit our Boat Reviews page.