Double your pleasure, double your fun, double your… consoles? The Grady-White Freedom 235 is an all-new model for 2017, and the fact that Grady-White has come out with it should surprise no one—the dual-console Freedom line has become incredibly popular and now ranges from 19 to 37 feet. In fact, Grady has more dual consoles (12 in all) than any other design, including center consoles (a mere eight). Why? A big part of this shift has to do with who buys their boats, and how these boaters use them.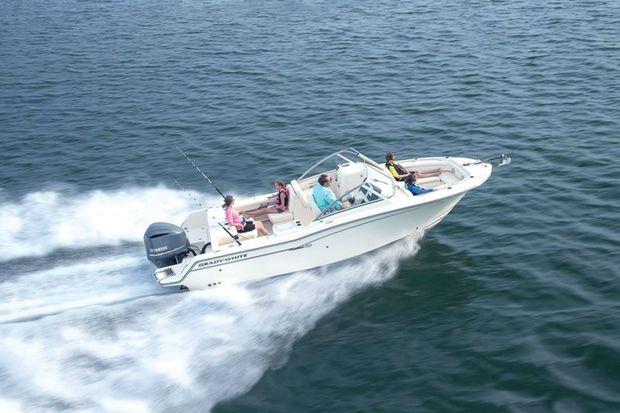 When it comes to fishing, sure, a center console can't be beat. But most of the folks looking at Grady-Whites also want a boat that fills in family functionality. They not only want to go fishing, but they also want to enjoy watersports. They want lots of seating for entertaining. They want an enclosed head compartment. And they want double the protection that a center console can provide from wind-blast and spray. Look at the Freedom 235, and you'll see that it fits the bill on all counts.
The biggest perk of having a dual console is probably the protection factor. On a center console of this size only a person or two can get out of the wind and spray by huddling behind the windshield, but in the 235, both the driver and a passenger have fully protected seats. On top of that, a swing-open center windshield pane and a bifold center door allow you to completely block off everything forward of the windshield and shelter the entire cockpit. Add in an optional Bimini or hard-top, and you just doubled your protection from the elements.
Thanks to the second console you also get more interior space to work with. The port-side is dedicated to the head compartment (which can be outfitted with a portable or fixed MSD, as you choose), and just to add a dash of panache, Grady gives it a standard cherry and holly sole. That leaves the starboard-side console free for bulk-dry stowage, something that's usually in short supply on a boat of this size.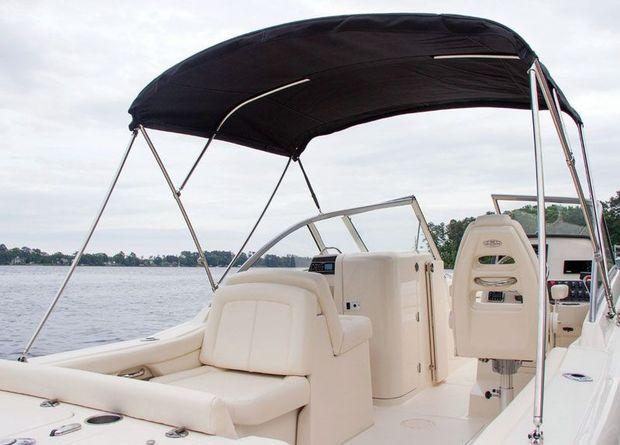 Another way the Freedom 235 gains versatility is with its transom design. As expected, the transom houses an insulated fishbox and an (optional) livewell, as well as a fold-away bench seat. Unlike previous Freedom models of this size, there's also a starboard-side transom door. Swing that door open, and the next revelation comes when you step out onto an extended swim platform. There are twin insulated stowage compartments in the platform (read: beverage coolers easily accessible from water-level on either side of the boat), and when we say "extended," we mean it—this platform reaches all the way back aft of the outboard on both sides.
Speaking of the outboard, the Freedom 235 runs just fine with an F250, cruising at around 30 mph while getting just a hair under 2.5 mpg. If you can force yourself to pull back on the throttle a bit and meander along at more like 25 mph, you'll see peak efficiency at around 2.7 mpg. Wide-open, the top-end hits 43.4 mph. Some boaters, of course, will want to option up to the maximum powerplant with an F300. Truth be told, the difference in performance isn't huge, though, with cruise and top end each reaching a few more mph.
Construction-wise, the Freedom 235 is exactly what you expect from Grady-White. The fiberglass is hand-laid; structural components such as stringers, bulkheads, and the transom are all-composite; belowdecks voids are sprayed full of closed-cell foam; and fittings and fasteners are 316-L stainless-steel. A particularly telling item on the Freedom 235 that provides some insight into how well Grady-White builds its boats can be found in that very same extended swim platform we were talking about just a moment ago.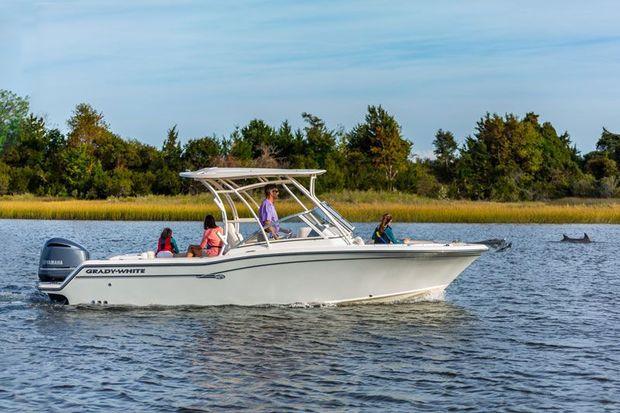 On most competing boats, platforms like this are separate pieces which are bolted to the transom. Over time this can lead to water intrusion around the bolts, cracking in the transom gelcoat, and eventually even structural failure. But on the Freedom 235 that entire platform is a molded-in part of the hull and deck—no matter how far off into the future you look, it'll always remain solid and secure.
One final note, dear reader, before you depart Boat Notes and continue flipping through the pages of PropTalk: If you haven't ever been on a modern Grady-White and felt its C. Raymond Hunt Associates-designed SeaV2 variable-degree deadrise hull at work, you should be sure to make it happen. When you feel the design underfoot in the open Chesapeake, we're betting it doubles how much you like this boat.
Specifications
LOA: 25'7"
Beam: 8'6"
Draft: 1'8"
Displacement: 4050 LBS.
Max HP: 300
Fuel Capacity: 115 GAL.
Price (approx.): $120,000
by Lenny Rudow