The Boston Whaler 380 Realm is all about expanding your options, while spending a day on the Chesapeake Bay. You want to cruise across the Bay for lunch on the opposite shore? Chase stripers all afternoon? Take a mini vacation on the boat? Run to a beach where the kids can swim? Maximizing options and minimizing limitations are what the Boston Whaler 380 Realm is all about.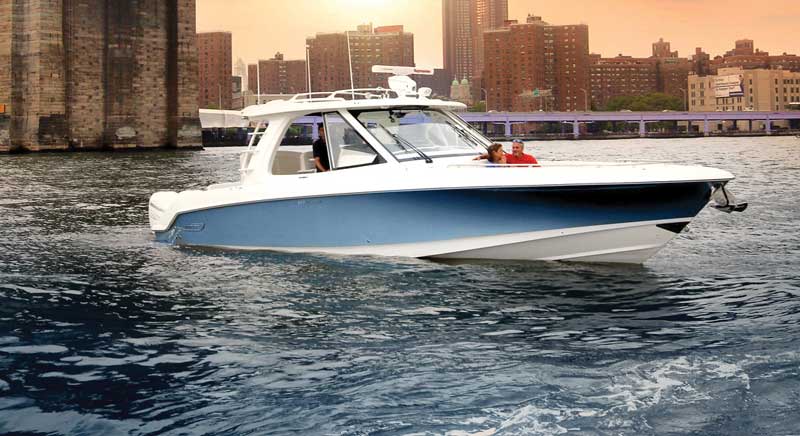 When Boston Whaler launched the Realm line with the 350 (see our review of this model here), it was obvious at a glance that this model was very different from any they had built in the past. Rather than have a centered helm the entire console was shifted to starboard and reached all the way to the gunwale, creating a cuddy cabin with a walkaround to port and a full bow cockpit forward. Nifty. The 380 shares the same basic design but with a significantly larger footprint; not only is 2.5 feet added to the LOA, but beam expands by almost a foot. This allows for a much larger cabin, one fully equipped for weekending with a small indoor galley complementing the outdoor "summer kitchen," a V-berth with adjustable filler table, and a fully enclosed stand-up head. 
But where the Realm series excels, is in its ability to let you enjoy the great outdoors, as opposed to being bottled up in a cabin. With a traditionally designed cabin boat, having that enclosed space also means sacrificing a bow cockpit. Not in this case. Head up forward and you'll encounter a monstrous three-person lounger built atop the cabin, plus wrap-around seating forward and to port. All in all, there's room for a half-dozen people to hang out and enjoy the salty breezes. 
Naturally there's also a wide-open social area aft in the stern cockpit. At a glance you might think seating is limited to the big fold-down bench seat along the transom, but then take a closer look at the triple-wide passenger's seat behind the helm station. The seat-back reverses, so after you get where you're going you can transform this forward-facing seat into an aft-facing one. Nifty perk: plop down in that seat, reach for the pull-ring just below knee level, and you can open an easy-access front hatch in the integrated cooler that's built into the seat base.
Unlike the 350, which has a small outdoor kitchen (with an integrated electric grill and a sink to starboard of the aft passenger's seat), on the 380 there's a larger stand-alone galley to port, with an electric grill, sink, refrigerator, stowage drawers, and a 120-V outlet for blending everything from milkshakes to margaritas.
Wait a sec—on a boat so oriented for entertaining in the open environment, what will you do when it rains? Flip the seatback on that aft seat so that it faces forward again, push the cocktail table's support bracket into the receiver mount, and you can spin the double-wide helm seat 180 degrees to create a dinette that's fully protected by the hard top and kept cool by the standard air conditioning system.
Though the Realm is designed with a sharp eye on entertaining, since it's a Whaler, of course it has everything you need for a day of fishing. There's a 15-gallon livewell in the transom (and you can opt for a larger one in the prep center), four flush-mount rodholders live in the gunwales and three more across the transom. Fresh and raw water washdowns are standard features, and there are fishboxes in the deck. Anglers will also love the helm station, which can house not two but three massive 16-inch MFD displays and, if you get the Joystick Piloting option, joystick controls.
Speaking of joystick controls: using that little gizmo, you have control over the four big internal-combusting beasts on the transom, which can be 300, 350, or 400 horse Mercury Verados. Yowza. Even with the standard 1200 horses cruising speed tops 40 mph and top-end reaches into the upper-mid 50s, and if you up the ante to 1600 hp, you'll be looking at a top speed breaking 60 mph. So, we might as well add "give your friends and neighbors thrill rides" to the list of all the things you can do with the Realm 380. And once you're at the helm of this boat, we're pretty dang sure you can come up with even more options.
By Lenny Rudow
Boston Whaler 380 Realm Specifications: 
LOA: 38'0"
Beam: 11'8"
Draft: 2'5"
Displacement: 23,500 lbs.
Max HP: 1600
Fuel Capacity: 445 gal.
Water Capacity: 55 gal.
Price (MSRP): $734,684
Dealer: Chesapeake Whalertowne, Annapolis and Grasonville, MD