For years center console builders have realized that boaters of all types buy and use center consoles for a wide variety of activities that go well beyond fishing. And they've responded by adding or at least offering options for family features and comfort touches, ranging from additional seating to built-in grills. But the all-new Boston Whaler 350 Realm is a completely new kind of center console, one that's built not on the premise of creating a fishing boat that can be used occasionally for other purposes, but on creating a multi-purpose boat that can be used occasionally for fishing.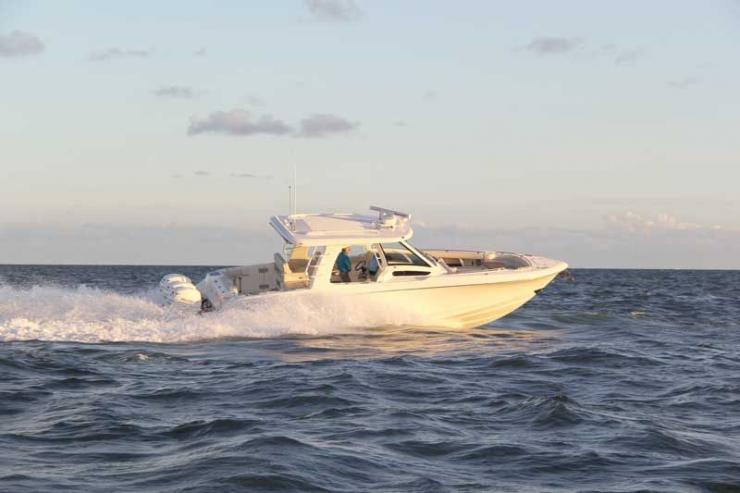 Yes, the Realm has a centered helm and thus qualifies as a center console. It also has a bow cockpit with gobs of seating, so it qualifies as a bowrider. Lots of LOA is dedicated to an enlarged console with a full cabin inside, so it's a weekender as well. And a built-in outdoor galley means the Realm can even act as a cruiser. Oh yes, and lest we forget, there are some rodholders in the gunwales, too.
In all fairness to fishability, the Realm does offer a 15-gallon livewell, twin fishboxes in the deck, and plenty of cockpit space once you fold the bench seat into the transom. That bow cockpit we glossed over earlier, however, is anything but fishy. The front of the console supports a huge lounger with fold-down arm rests. In front of the lounge there's a pedestal table, and forward of that, more seating. Drop the table, add in a filler cushion, and you have a massive sun-lounge with a dozen cupholders, four stereo speakers, and 12-V charging ports close at hand.
Another surprise highlight is the second-row helm seating. This is a rarity on center consoles under 40 feet, since adding a second row requires the sacrifice of fish-fighting space in the cockpit. But again, since fishing is not the priority for this model the Realm can make the trade-off, and give your guests a comfort boost. Anyone who's blasted through a chop on a center console knows darn well that the most comfortable spot to be is in a helm seat, and even on a 35-footer these positions are limited to just two or three people. With that second row, however, a half-dozen people can enjoy the ride in maximum comfort.
That ride won't just be comfortable, it will be sporty, too—rigged with triple Mercury Verado 350-hp outboards, the 350 Realm cruises in the mid-30s and blasts off to a top-end of just over 52 mph. Cruising efficiency is a hair under one mile to the gallon at cruise, and when you let 'em eat, about a half a mile to the gallon.
Like all Whalers of this size and nature the hull is a true deep-V with 23 degrees of transom deadrise, and matched up with Boston Whaler's construction methods, it has no trouble squashing small waves and chopping open bigger ones. Just what is that unique construction method? We think a lot of you folks are quite familiar with it, so we won't dwell on the topic, but in a nutshell: Whaler lays up a hull and a deck liner separately and then mates them in a two-piece mold which is bolted together. Polyurethane foam is pumped into the cavity between the deck and liner, filling all voids and bonding to all surfaces to create what is essentially a single piece glass-foam-glass sandwich. It's truly unsinkable, incredibly sturdy, has great sound-deadening properties, and as an added bonus creates well-insulated fishboxes and cooler compartments.
More builders would probably use this technique, but alas, as usual you have to pay for quality—and half a million bucks is anything but cheap for a 35-foot center console. Then again, the 350 Realm should also be judged against and compared to cabin boats. Unlike most center console cabins this one's the real deal, with facing settees that come together to form an oversized V-berth, a stand-up head, a 28-inch flat-screen TV, and a 12,000-Btu air conditioning system. Whaler can fit so much down there because no space is taken up by a galley, which instead resides in the prep center next to the second-row seating. It includes an electric grill, a sink, a 2.3-cubic foot refrigerator, and stowage drawers. If you want to add a freezer, optional coils can be installed in the 230-quart cooler under the seat.
So: you say you like the center console design, but fishing is merely a peripheral interest? Boston Whaler has heard you, and with the introduction of this new model center console boats just entered an entirely new realm.
by Lenny Rudow
Boston Whaler 350 Realm Specifications:
LOA: 35'6"
Beam: 10'10"
Draft: 2'1"
Displacement: 13,600 lbs
Max HP: 1050
Fuel Capacity: 385 gal.
Price: Approx. $480,000