Many of us have seen Marie Kondo on Netflix and read all those articles on decluttering our homes, but clutter and disorganization is a bigger problem on boats than it is on shore. If you can't find something you need immediately at home, it's frustrating, but most likely you drive over to Target or CVS and buy another one. On the water, clutter could cause problems such as injury from falls or even fire. And, as in houses, organized boats look a whole lot prettier. So you should never skimp on good boat organization.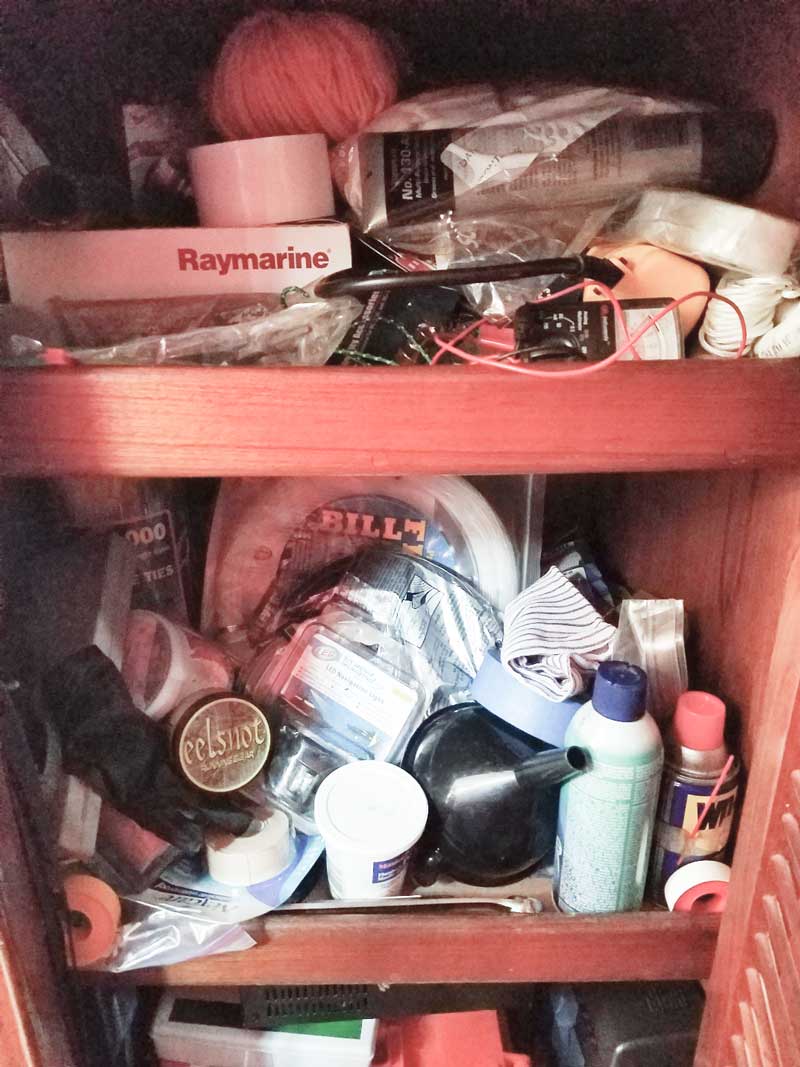 There are many different scenarios in which a boat owner might need to do some organizing. One common situation is just after purchasing a brokerage boat. Here are my recommended 12 steps for boat organization:
Step 1: Make reasoned and realistic decisions about how you will use the boat.
There is no amount of organizing that can change the wrong boat to the right boat. A boat built for fishing cannot be organized into a comfortable cruiser.
Step 2: Buy the right boat from a good previous owner.
The right boat will have the layout and storage for what you will be doing. If the first owner of the boat had similar goals to yours, they probably made modifications that you can use, such as microwave shelves, counter extensions, and medicine cabinets. The first owner of my boat wasn't interested in baking, so he had just a cooktop installed. Where the oven would be is a pantry, with three deep, pullout wire drawers. It works for me!
Step 3: Clear everything out. 
Empty every locker and space where you or the previous owner stowed stuff. Now engage in "The Big Sort." Examine each thing for utility and condition then put into one of these piles: keep, keep with repairs, donate, sell, recycle, trash. Deal with them accordingly.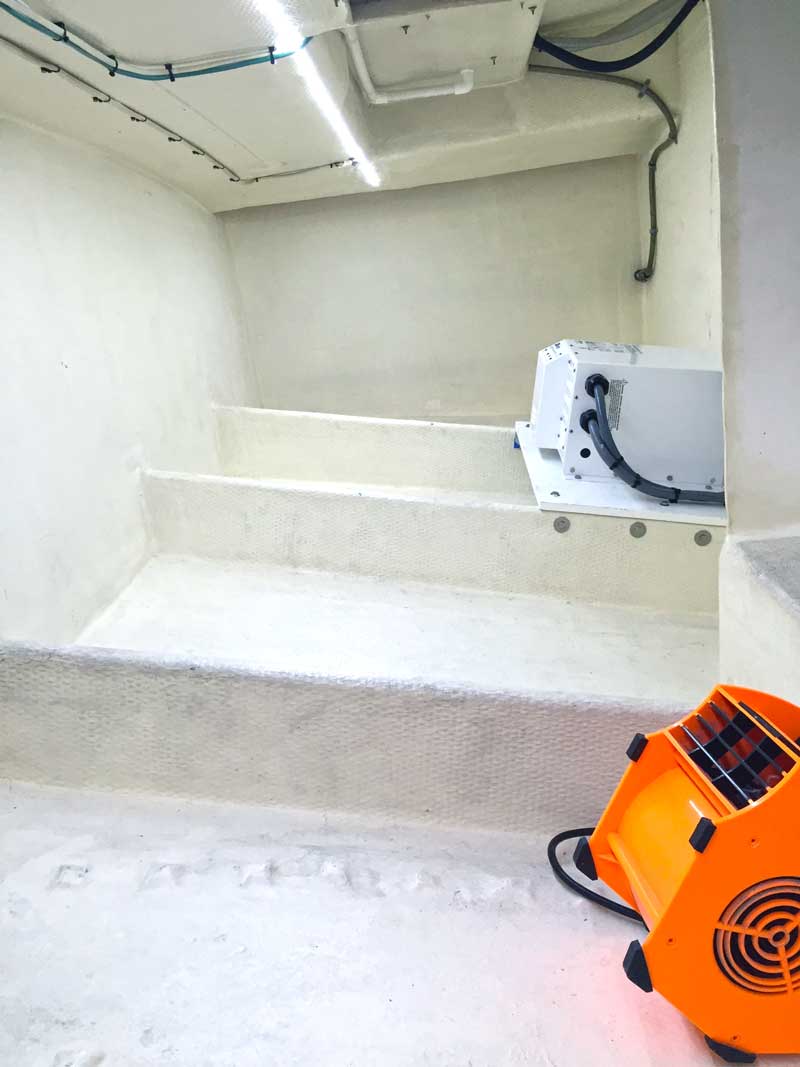 Step 4: Prepare the storage spaces.
Now that everything is out, clean the lockers, cabinets, drawers, and all other spaces for storage. Remove any mold or mildew. Add a fresh coat of paint, or two, with an anti-mold and mildew additive, such as M1. I painted the inside of spaces working from aft cabin forward. By the time I got to the forward cabin, I was tired and skipped the cubbies under the V-berth. Guess which storage spaces had condensation over the winter and got mildew? 
Step 4A: Find the nooks and crannies.
Have you ever heard any boat owner say that their boat has all the storage they need? Me neither. Find those spaces the boat builder didn't imagine would be storage. I found the equivalent of a narrow bookcase behind the settee back. As a result, I can bring along coffee presses, a small blender, place mats, spice mixes, and more of those little luxuries. 
Step 4B: Add helpful organizers. 
A wine glass rack hung overhead in the galley can save a locker for other galley equipment. Of course, the wine glasses should be unbreakable, such as acrylic. A magnetic knife bar frees up drawer space. 
Step 5: Decide where stuff lives. 
This is the hard part, but it's fundamental. Everything must have a home where it "lives." If it helps, make a Post-It for each category of items you need to stow. Place them in the optimal space. Move them as necessary. 
Step 6: Stow the safety gear first.
Another fundamental is that things should be stored as close as possible to where they will be used. This is critical for safety gear. We've all seen boats where the life preservers were stowed in the shower under winter canvas and coolers. We've also seen careful skippers that tied a correctly sized bung to each through hull fitting. Minutes count. 
Step 7: Next, stow the essential gear and backups.
Sure, what's "essential" varies, but in my opinion, it includes: hand-held VHF radios, spare parts, an expanded first aid kit, emergency instructions, user manuals, and Nigel Calder's books. 
Step 8: Stow the stuff that makes life aboard pleasant.
Sunblock, microfiber sheets, seat cushions, fans, insect repellant, and the like.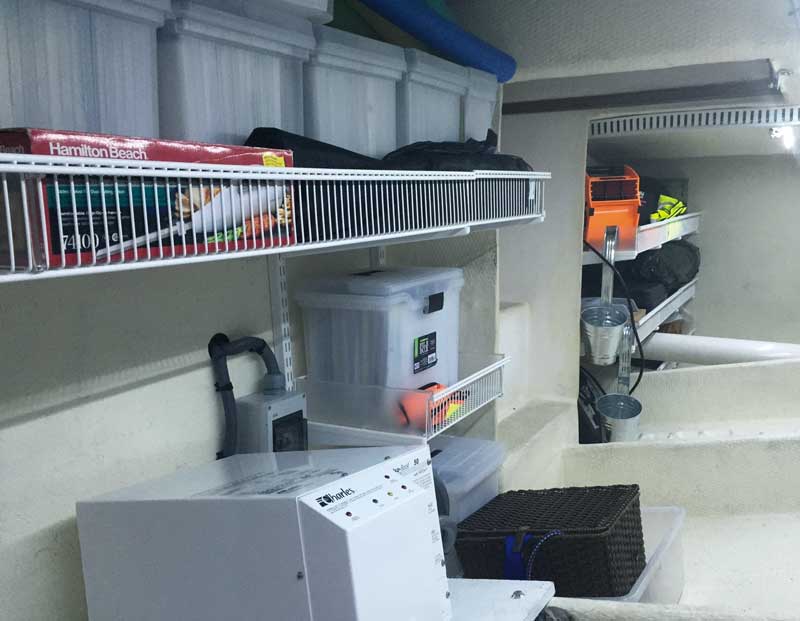 Step 9: Stow a few luxuries for entertainment.
A deck of cards, a few books, and a cookie mix can be great when you unexpectantly have to "hole up" in a gunk hole.
Step 10: Document and label. 
Many skippers have a boat manual with diagrams showing the location of through hulls and such. Why not add a diagram showing which lockers hold what gear? A label maker can be used to help crew remember where things go. My refrigerator has Lucite bins in it, and yes, they are labeled—meats, dairy, drinks, veggies, condiments—it makes finding food faster.
Step 11: Go out on the water and have fun.
This is the whole point, after all.
Step 12: Review and maintain. 
If things are not going back to their "home," there might be a reason why. Is it too far away from where it's used? Is it too hard to get in and out of the storage space? Anything you don't need, and haven't used, should be taken off the boat. 
About the Author: Professional organizer Beth Dumesco downsized from a four-level townhouse to a 36-foot trawler, which she lives aboard. The stuff she left behind is in storage. For more information, check out Beth's business, Clear the Decks.
---
Have you checked out our Boats for Sale page recently? If you find that perfect new-to-you boat, you'll need to put these boat organization skills to the test.