My love-hate relationship with our boat began about 10 years ago, when my husband began his sales pitch: "It's so important that we have an activity we can do as a family," he said. "It would be so great for the boys to have memories of being out on the water." Then there was the full-court-press: "If we get a boat, we can keep it in Annapolis and try every crab shack in the Chesapeake Bay that has free dockage." It took two years of cajoling and one year of being dragged to look at used boats. About seven years ago I caved, and we got a used 37-foot cruiser which we named Jersey Girl, both for me and for my husband's love of Bruce Springsteen.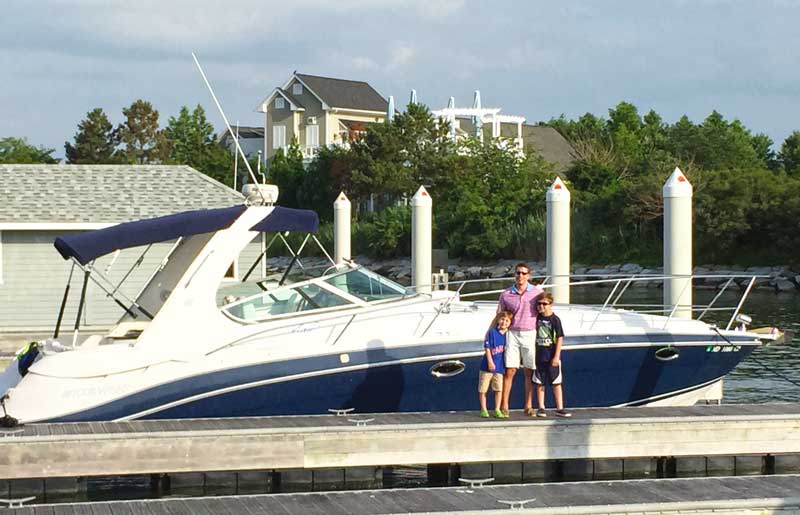 Let me start by saying that I wasn't too sure my husband could maneuver such a large boat as a first-time boater. When we got Jersey Girl, my husband (smartly) took online boating safety classes and signed up for a two-day private session with a salty old sea captain where he could learn how to safely operate our boat. It didn't make me any less nervous when we went out as a family for the first time, and I was told that I would have to help with lines and such. I had gotten us all "team" shirts for Father's Day, with Jersey Girl on the front, and "Captain" on the back of my husband's shirt, "Crew" on the back of both boys' shirts, and "Deck Ornament" on the back of mine—hoping the name would stick, but it didn't. All went well, but I wasn't any less nervous.
Some of the other reasons I was reticent about boating were not unfounded. The first overnight we did on the boat, I was sick as a dog. I spent many weekend afternoons on the water worrying about what wasn't getting done at home. And have you ever heard that boats are 'holes in the water into which you throw money?' It's certainly true, at least as far as I can tell. Something is always broken, and the joke is that (some) boat mechanics are modern-day pirates (meaning they no longer rob and pillage vessels on the high seas; they moved onshore and became boat mechanics).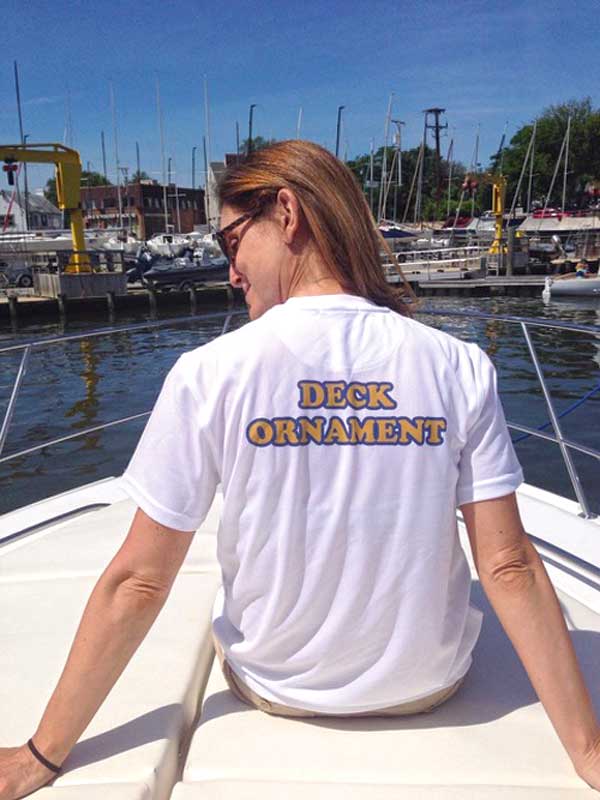 And then there's the mental anguish of always wondering whether something will go wrong while you're out in the middle of the Bay (we've taken to celebrating whenever we go out on the boat and something doesn't break). In fact, we almost traded Jersey Girl in for a newer boat. However, when we found out the terrible noise wasn't a catastrophically failing transmission, but simply a loose nut, we elected to keep her.
Despite the headaches of boating and boat ownership, I started to actually enjoy Jersey Girl. Not only haven't we drowned at sea, we haven't even hit anything. I got over my initial seasickness, and true to my husband's word, every time we go out on Jersey Girl we find a new crab shack to try, a new Bayside town to check out, or an area where boaters congregate to drop anchor and swim in the Bay. 
A day on the water often feels like a mini-vacation where I can forget about the laundry that needs to be done and just enjoy the sun on my face and the sound of the osprey defending their nest built atop a nautical marker. And most importantly, my husband was right that having an activity we can do as a family has been really important, especially as the boys get older and have their own worlds to which we're not invited.
And so, in our seventh season, I continue my love-hate relationship with Jersey Girl. I still hate sitting on the boat worrying about how the errands are going to get done before Monday. And I really still hate the boat breaking without warning and the attendant costs of repair. But I love a nice day on the Chesapeake Bay, picking crabs and drinking orange crushes, or sitting at anchor watching my boys gleefully jump off the bow of Jersey Girl into the water, wondering who they'll be when they grow up.
Oh—one last thing. My husband wanted to make sure that I mentioned just how much I love the captain. Even if we ultimately trade-in Jersey Girl for another boat, there's no trade-in happening there. I'll be keeping him.
By Lisa Gast