Eric Packard signs his emails "Artist (I also like to fish)." By all accounts this fishing machine, for whom art is a method of expression, is living the dream. After a relatively early retirement, Packard fishes more days than not, creates art when the spirit moves him, and loves living life in Southern Maryland.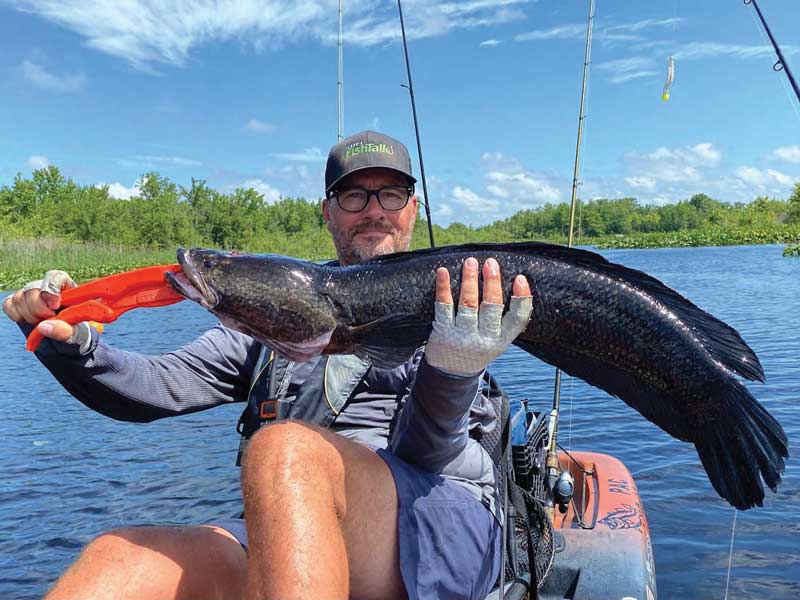 The best part about life along the Chesapeake Bay
Last year I caught 42 species of fish, from Wahoo to rainbow trout, while fishing the Bay, its tributaries, and offshore out of North Carolina. I fish off my kayak a lot. Last year I fished 240 days, and 171 were either off my kayak or a friend's boat. I fish freshwater ponds, lakes, and tidal ponds, and somedays I will fish saltwater in the morning and then freshwater in the afternoon.
My father was in the army, so I grew up moving. When he was home, he would take us fishing, and that's how I was introduced to it. Some of my earliest memories are fishing the Missouri River for catfish and a pond on post at Fort Leavenworth. 
Today I live in Solomons, MD, and I consider Mill Creek (which feeds into the Patuxent River) as my home waters. I appreciate the culture of Southern Maryland, and I also appreciate the diversity of people in the state, from the shores of the Atlantic to the shores of Deep Creek Lake in the west. Maryland has such a diverse group of residents that make the state a perfect place to live, but the best part about life along the Chesapeake Bay is all the opportunities to fish and boat the Bay and other waterways.
Committed to the fisheries
When it comes to striped bass and the issues of the fishery (which includes the issue of invasive species), I really enjoy helping the Maryland Department of Natural Resources (DNR) and U.S. Fish and Wildlife Service (USF&W) with tagging striped bass. I also volunteer with DNR to do pound net surveys. I joined a few clubs down this way [in Southern Maryland] simply to network with other anglers, but it seems that once you retire everyone thinks you have a ton of free time. I don't want to work, because I'd rather spend my free time fishing, but… 
Most of my volunteer work is with the state of Maryland and the Coastal Conservation Association of Maryland (CCA). I was appointed by the Governor as a commissioner on the Maryland Sports Fishing Advisory Commission in 2019, and I am a CCA board member from Southern Maryland. I was the vice president to the Southern Maryland Fishing Organization in 2019, and now I participate in some of the club activities, such as giving talks.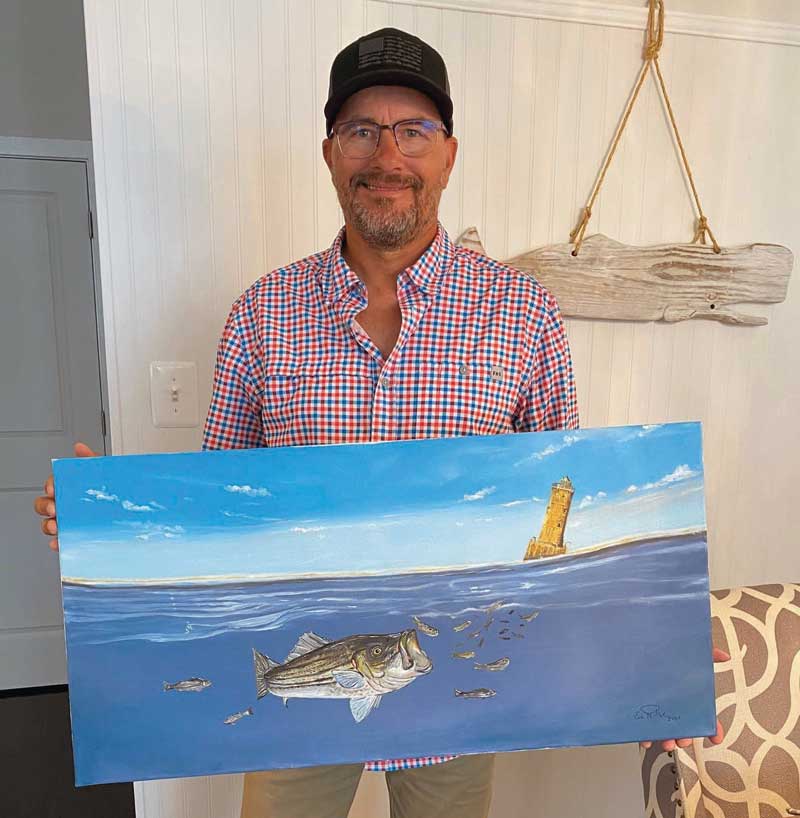 Life on land
I retired in 2016 at age 56 years. I have been married for 42 years to my wife, Sandy, and have three grown daughters and 11 grandchildren. I play guitar and collect antique civil war photos and ephemera. 
I have always been interested in art, and I have always sketched and have done art for myself. My grandmother was a professional artist as well as one of my aunts too. Visiting art museums as a child and throughout my adult life has only added to my need for art. Once I got into my 50s, I thought I would do a piece if something weighed on me and was of some interest. I'll paint or create a piece of art of any subject matter if I have the need to create art. I create oil painting, pastels, and some wood carving too.
I have a YouTube channel, and that is another way to express myself. With an AA degree in industrial training and a BA in education, I am always trying to teach—and what is better to talk about than something you love and know? I started the channel six years ago, but it has only been about a year since I began to put up "how to fish" videos on the site. 
What can recreational anglers do to help protect fish and fisheries?
Take your trash with you and pick up any discarded trash too. Volunteer at your local clubs to help maintain, clean, and restore fisheries. Follow the current issues that the DNR faces. Call your representatives and push for better habitats and a cleaner Bay.