Striped bass season might be over (Maryland portions of the Bay are limited to catch and release fishing through April 14) but this recipe, courtesy of Nora Long, works just as well with frozen rockfish filets. Check out her page facebook.com/chesapeakebaycooking for more great recipes with Chesapeake flair.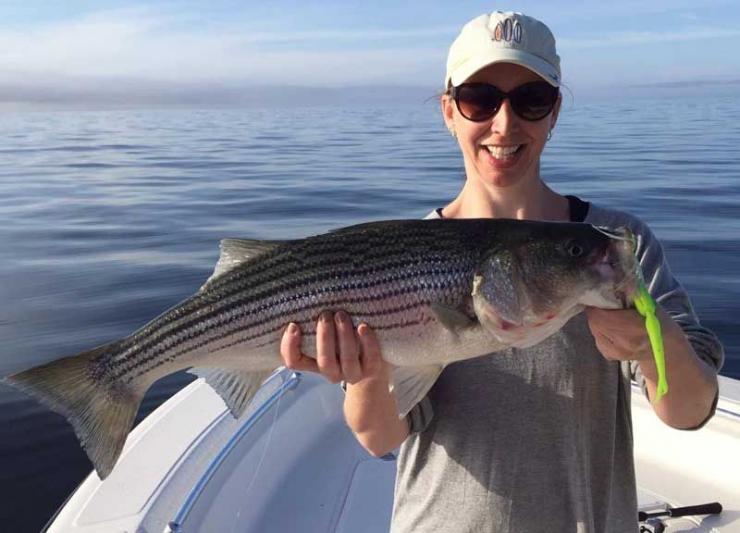 What You Need
2 pounds of rockfish, trimmed and cubed
6 cups of vegetable broth
1 onion diced
3 cloves of garlic
4 peeled and cubed russet potatoes
15 ounce can of fire roasted tomatoes in juices
5.5 ounces of low sodium tomato juice
1 cup of frozen corn
1 - 2 cups of dry white wine
3 tablespoons Old Bay
1 teaspoon of olive oil
What To Do
Sautée onion and garlic for about three to five minutes in olive oil. (I use the slow cooker set to 350° to do this.)
Then add the potatoes. Cook for about five more minutes until potatoes start to brown.
Add the vegetable broth, tomatoes, tomato juice, and Old Bay next. Once this has come to a boil, turn to low and add wine, rockfish, and corn.
Let cook on slow cooker for at least an hour. You could also do this on the stove, but make sure to stir it occasionally. Then enjoy!
From the Chef
"This dish has been refined over the past two winters and the family really enjoys it. It works great with fresh rockfish or rockfish that has been previously frozen. It is also great the next day." ~Nora Long