Following a successful offshore fishing trip off the coast of Ocean City, MD, this past November, FishTalk angler in chief Lenny Rudow greeted me with some fresh swordfish steaks. You really can't beat getting fresh fare like this right off the boat. I didn't have a lot of time to prepare this meal, so I cut right to the point and made this quick and easy swordfish stir fry. Next time you find yourself on the victorious side of a swordfight, be sure to give this sharp recipe a stab. It will surely fit the bill. You can always get quality steaks at your local seafood market as well. As far as ingredients go, chop vegetables to desired proportions.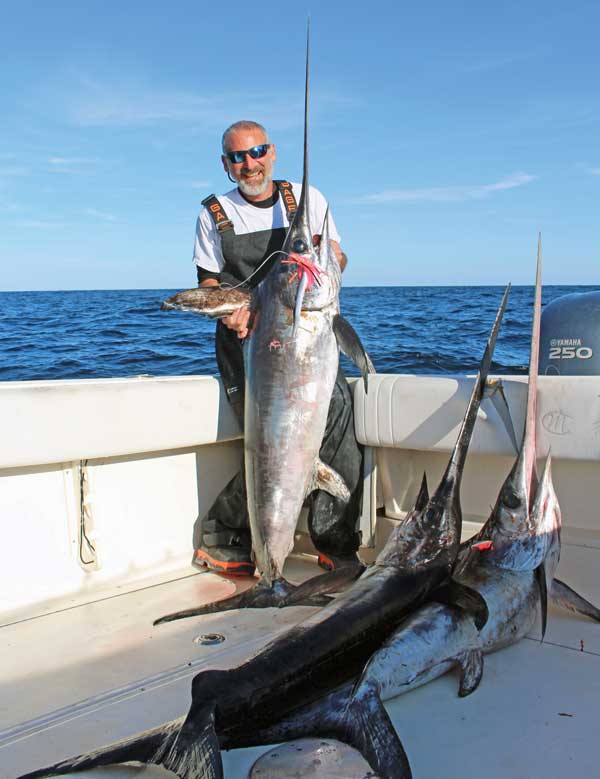 Swordfish Stir Fry Ingredients:
Swordfish steaks
Soy sauce
Siracha
Teriyaki sauce
Sesame oil
Fresh garlic cloves
Broccoli
Portabella mushrooms
Vidalia onion
Red cabbage
Shredded carrots
Asian noodles
Prep:
Mince two to three cloves of garlic. Rinse the swordfish steaks in cold water and dab with a paper towel. Place in a plastic bag or dish and coat with teriyaki sauce and half of the minced garlic. Allow to marinate 15-30 minutes. 
While fish is marinating, rinse and chop vegetables. Add sesame oil to a large pan and heat to medium. Add remaining garlic, as well as the onions, red cabbage, and broccoli. Cover to allow the broccoli to steam a bit while sautéeing the other ingredients.
Fire up the grill and allow it to preheat. Set a pot to boil on the stove. Once boiling, toss in your noodles. Most asian noodles cook in just a few minutes. Drain, rinse with cold water, and set aside. 
Add carrots and sliced mushrooms to pan and reduce heat to medium-low. Add a splash of soy sauce to mixture.
Grill swordfish steaks on high heat two to three minutes on each side. This should give you nice grill marks and cook all the way through without overcooking. 
*Tip - Do not squander the swordfish skin. Eat it alone or add it to your dish. It is incredibly delicious!
Combine noodles with stir fry and add some teriyaki sauce to desired consistency. Add salt and pepper to taste.
Flake the swordish with a fork and add ample amounts to each serving of stir fry. Finish it off with a splash of siracha.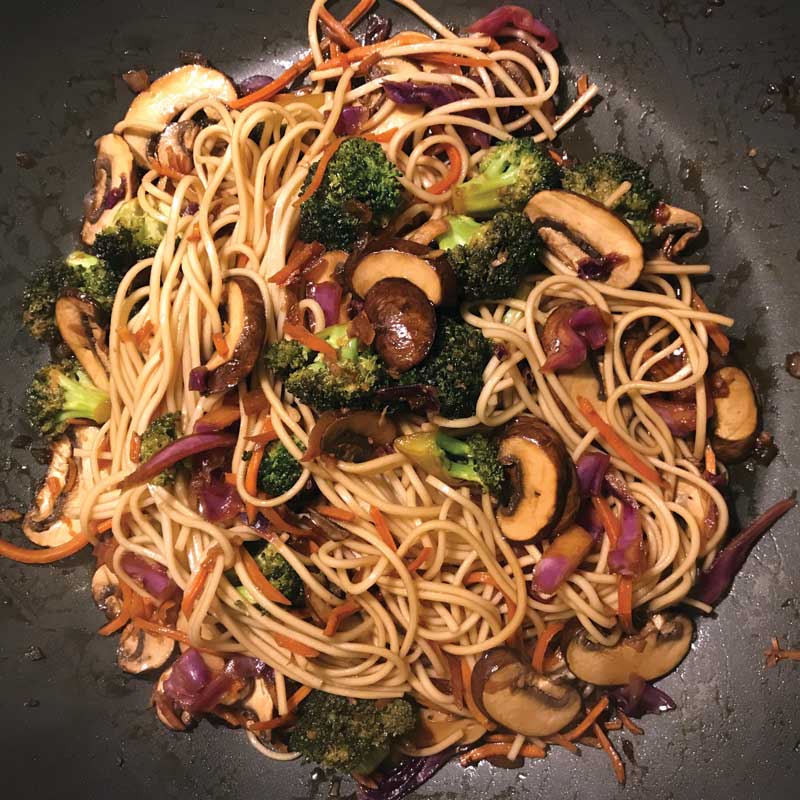 Note:
Swordfish have many healthy properties being protein rich and loaded with amino acids and omega-3 fatty acids. However, due to the larger size of these fish they are known to contain high levels of methylmercury. It is safe to eat periodically, though you should avoid eating swordfish regularly, and pregnant women and small children should refrain altogether.
By Zach Ditmars
---
For more Chesapeake Bay and Mid-Atlantic inspired recipes, visit our Chesapeake Bay recipes page.