Argo Navigation announces the release of a new premium app version of its popular boating app that gives free app users the ability to upgrade for expanded features like offline charts, extended weather forecasts, wind, tides, and more.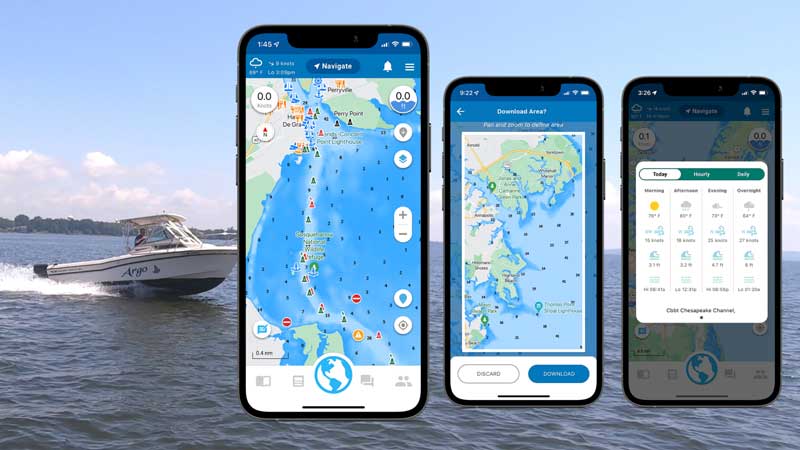 Over 90,000 boaters across the U.S. and Canada rely on Argo's robust, easy-to-use free app for navigation and social boating to improve their experience on the water. Boaters will continue to enjoy all of Argo's free features or have the option to upgrade to the Argo premium app version for even more features like:
Offline Charts – download charts anywhere in North America to use offline if connectivity is lost while on the water
Weather, Wind, and Tides – see an extended seven-day marine weather forecast with daily and hourly conditions
Additional advanced features such as GPX import/export, AIS traffic, and more will be added to the Premium version in the months ahead. Argo Premium is available at an introductory rate of only $19.99/year, making it one of the most affordable boating apps on the market.
"Argo's new Premium version takes our robust free navigation app to the next level by eliminating any connectivity concerns boaters may have using a mobile app on the water," says Jeff Foulk, founder of Argo Navigation. "Our auto-routing functionality using NOAA/USACE depth layers, combined with new offline charts and extended in-app weather forecast capability, makes Argo the go-to boating app for safe voyage planning and navigation."
Argo has experienced tremendous growth in popularity since its launch in 2019, more than tripling its user base from 25,000 to over 90,000 in the last year. User growth is attributed to the app's ease of use, positive user ratings and reviews, and word of mouth from loyal app users.
Boaters use Argo to plan and take trips with routing based on a boat's draft and depth data, making navigation safer and easier. Social and community features allow boaters to connect with friends on the water and tap into crowdsourced local boating knowledge, navigation advice, destination reviews, and more.
Frequent updates will be released for both the free and premium app versions, as Argo continually enhances navigation and social features for boaters.   
Argo is available as a free download for phone or tablet on the App Store or Google Play. New or existing users can choose to upgrade to the premium version at any time. To learn more about Argo and view app tutorials, visit argonav.io.