Jeff Foulk felt so deeply about the boating life that he created the Argo navigation app to make boating on the Bay even better.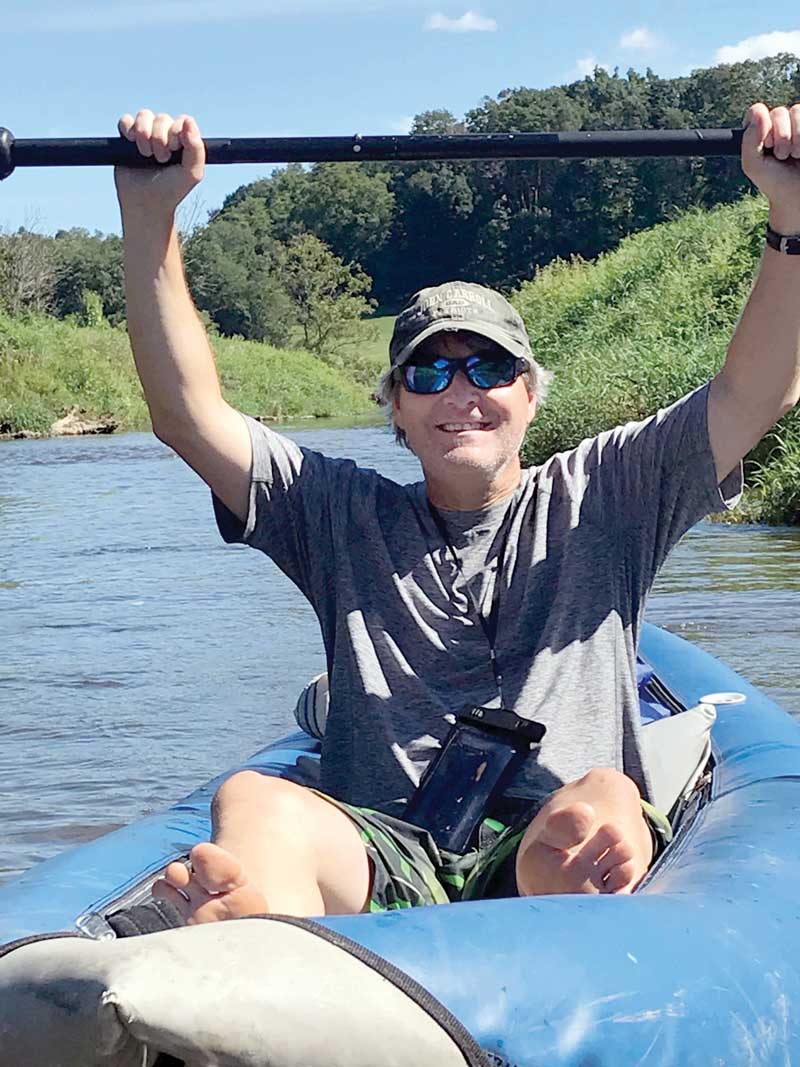 What kind of boating do you enjoy?
I've been boating now for 37 years, and I've owned just two boats—both 22-foot Grady Whites. I love to do anything on the water, including jet ski, kayak, sail, even windsurf at one point in my life, but as a family we mostly kayak. My wife and I do have thoughts on upgrading to a larger boat in a couple of years and doing the Great Loop, maybe in 2025. We love exploring, and that seems like the ultimate adventure. 
Where did you grow up and how did you get into boating?
I grew up in Newark, DE, and spent my high school years in Connecticut. My parents moved to Harford County, MD, after my freshman year of college, and I have been here ever since. While growing up in Delaware, my father had a boat for a few years, and we spent some time on the Chester River. 
Shortly after college I bought a small condo unit on the water in Joppatown, MD. It came with a boat slip, and there I felt like the entire Bay was my backyard. My father promised me that if I got a place on the water, he'd get me a boat. Many months passed and my slip remained empty, but finally one day he called to ask me if I had looked at the slip. He had won a rubber raft as part of a real estate adventure, blown it up, and put it in my slip. That was my first boat! A few months later he found me a used 22-foot Grady White.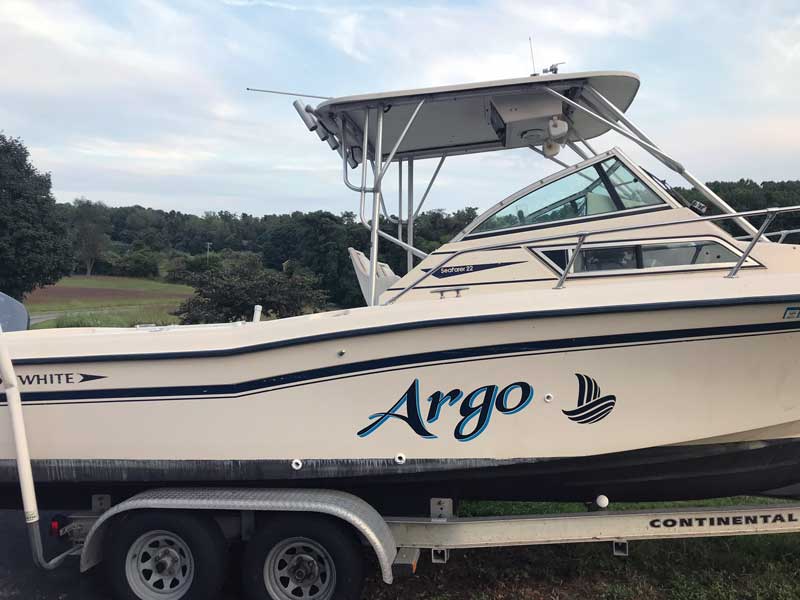 The best part of life along the Chesapeake Bay?
I used to love exploring the various inlets and coves along the Upper Chesapeake Bay and spending the night out on the water. There was nothing more beautiful than being out on the Bay at night. For those that have not experienced that, they are really missing quite a treat. I did some overnight trips with my family, but with four kids and only a 22-foot boat, it was a bit challenging! These days the kids are ages 16, 18, 20, and 22. We don't do anymore overnighting, but I enjoy taking my boat across the Bay to the Eastern Shore or up to the C&D Canal and finding a good restaurant or dock bar. 
Tell us about the Argo boating app that you invented.
I started Argo Navigation, LLC in 2019. I had several reasons that I wanted to build the app, but honestly, I think I just wanted to build something. Our company was dabbling with crowd sourcing, and I felt the app could really harness that concept to help boaters. I also felt that there could be an easier way to find and get to places on the water. For five years I talked about it nonstop, and finally with a nudge from my wife, I started building the app in November 2018. The app was released to the App and Play Store in September 2019. 
The greatest challenge was making the decision to start! And part of that was finding a local software development company that I was comfortable working with. There of course have been some technical challenges along the way, such as the auto-routing feature, but I am fortunate to have access to some really smart people who have helped me. 
I am excited about its growth potential this boating season. It has gone from just over 1000 users a year ago to now almost 15,000. We anticipate we could be at 50,000 by mid-summer. Feature-wise I am excited to see how we can help yacht clubs and other boating groups plan their weekend events and connect on the water. I envision the app will allow you to know who in your group is coming, easily see them on the water, see the ETA of each vessel, and, of course, share experiences, which goes right along with our tag line: Boat Better Together.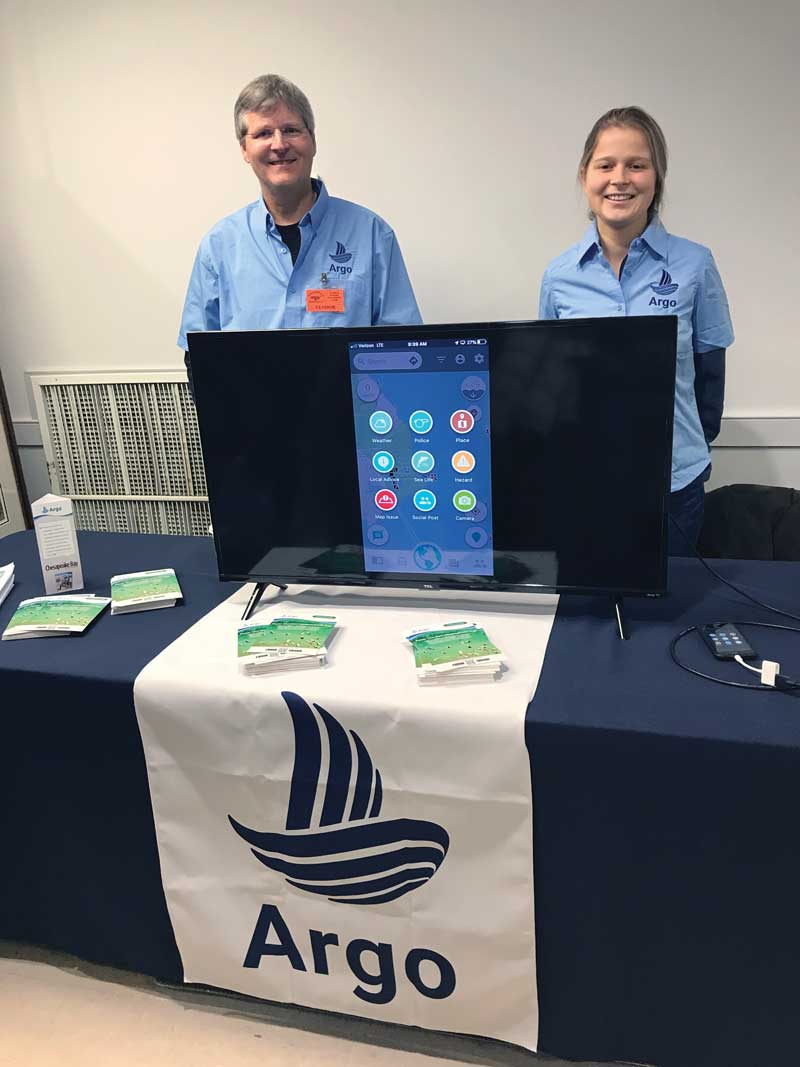 Any non-boating hobbies?
I enjoy being outdoors hiking, camping, golfing, and playing tennis. For many years I did triathlons and enjoyed the camaraderie of being around other triathletes, traveling and competing. In fact, that's how I met my wife. We both still think about doing triathlons, but our bodies have given up on that sport. 
You seem to be passionate about your business and giving back to your community. Please hare a little about your professional and philanthropic endeavors.
I am CEO of a family-owned defense contracting business, SURVICE Engineering Company, started by my father, Jim Foulk, in 1981. I helped grow the business, which began in my parents' basement, to a company that now employs over 350 employees at 13 locations across the country.
I am honored to be recognized this year by the Northeastern Maryland Technology Council as its "Visionary of the Year," an honor which was also bestowed upon my father 10 years ago. The award will be presented at a gala April 22 at which 17 Marylanders will be honored for STEM-educated workforce development and advancing our technology and innovation base to grow our economy and protect national security.
My philanthropic work is mostly focused on education and veteran services. I have been on the board of the Boys & Girls Clubs of Harford and Cecil Counties since 2011, serving as the board president from 2013-2015 and interim executive director for a portion of 2016, and I am still involved in multiple board committee efforts. 
In support of STEM education, I have been helping a group develop a major regional science and heritage center called the Discovery Center at Water's Edge. I joined the board in 2017 and now participate as an advisor and lead donor. 
In support of veterans, I have been championing an effort through a non-profit called Warriors on the Green (WOTG) to create golf training facilities at military installations across the nation helping veterans with the rehabilitation and reintegration back into everyday life. I joined their board in 2011 and have been board chairman since 2014. 
Other organizations that I am involved in include Aberdeen Rotary (secretary), Harford Bank (board member), Boy Scouts of America, Baltimore Area Council (past board member), UMD Upper Chesapeake Health (past Foundation board member), Harford Community College, Northeastern Maryland Technology Council, and American Helicopter Museum & Education Center. 
---
To learn more about Argo and to download the free app, visit argonav.io.