Maryland's spring trophy rockfish season kicks off April 20, and May 1 in Virginia's portion of the Chesapeake Bay. We spoke to a few local charter captains who shared with us a little of their game plan for Opening Day. You can find contact information and more charter captains up and down the Chesapeake in our Charter Fishing Guide. And don't miss the 18th annual Boatyard Bar and Grill Catch and Release Spring Fishing Tournament, April 20! And if you'll be catch and release fishing, make sure to keep those grip and grins brief when taking a photo to minimize the fish's time out of the water. Happy fishing!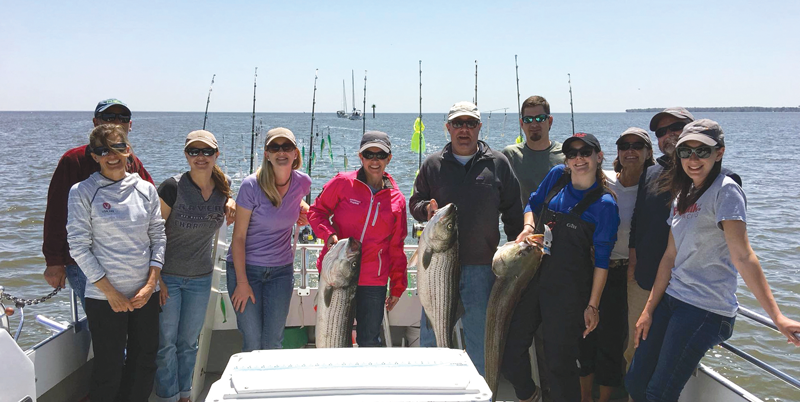 2019 Trophy Rockfish Regulations:
Maryland
Spring Catch and Release Season: March 1-April 19—No harvest.
Spring Trophy Season: April 20-May 15—one fish per person per day, minimum size 35 inches.
Fishing locations allowed: Chesapeake Bay from Brewerton Channel to the MD-VA Line, excluding all bays, sounds, tributaries, creeks, and rivers, except Tangier Sound and Pocomoke Sound. 
Find more information at: eregulations.com/maryland/fishing/striped-bass/
Virginia
Spring Trophy Season: May 1-June 15—one fish per person, minimum size 36 inches.
Areas open: The Chesapeake Bay and its tributaries, except the spawning reaches of the James, Pamunkey, Mattaponi, and Rappahannock Rivers. 
Coastal: the area that includes Virginia's portion of the Territorial Sea, plus all of the creeks, bays, inlets, and tributaries on the seaside of Accomack County, Northampton County (including areas east of the causeway from Fisherman Island to the mainland), and the City of Virginia Beach (including federal areas and state parks, fronting on the Atlantic Ocean and east and south of the point where the shoreward boundary of the Territorial Sea joins the mainland at Cape Henry).
Potomac River tributaries: one fish per person. The area open for this fishery shall be those tributaries of the Potomac River that are within Virginia's jurisdiction beginning with, and including, Flag Pond thence upstream to the Route 301 bridge. The minimum size limit for this fishery shall correspond to the minimum size limit as established by the Potomac River Fisheries Commission for the mainstem Potomac River spring trophy-size fishery.
For more information visit the Virginia Marine Resources Commission.
---
Captain Bob Flynn of Vickie Ann Charters operates out of Deale, MD, on a 38-foot Evans Somerset. He can accommodate six people for spring trophy rockfish charters. Captain Bob says his strategy will be trolling 22-25 rods on a full planar board spread. He plans to start in the main channel of the Bay, starting with what worked last year and then adjusting accordingly. 
We asked Captain Bob what anglers can expect from a charter, and he says: "You can be as much or as little involved as you like. Some people just want a boat ride and others want to learn about the trolling spread; we're open to everything. We're happy to teach if they're interested in learning." He added that guests should make sure to bring sunblock, food, and soft soled shoes (preferably deck shoes), and that hard work boots would not provide good traction for a day on the water.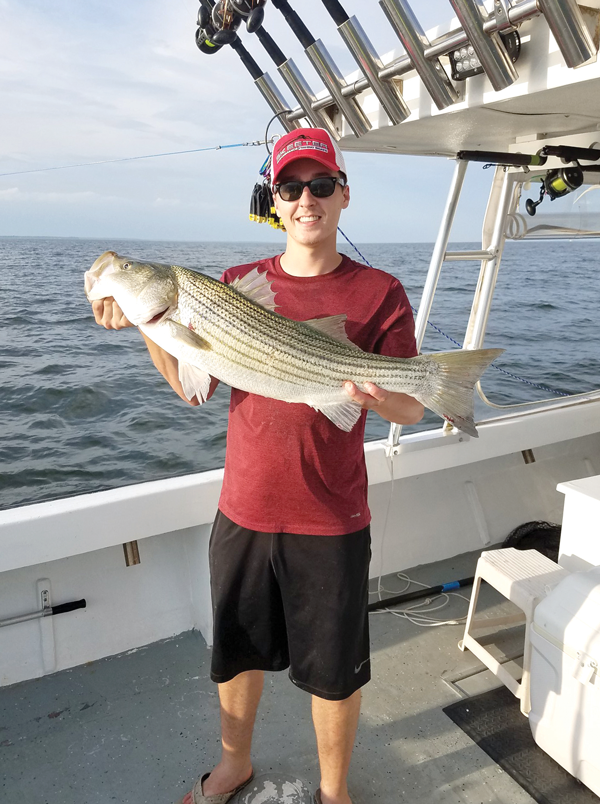 Captain Mike Smolek runs Penny Sue Charters out of Anchor Yacht Basin on the South River in Edgewater, MD. The boat is a 40-foot Robbins and can accommodate six passengers. Captain Mike plans to fish out in the deep channel between the Severn River and Deale, running 22 rods on planar boards with parachute lures and nine inch shads.
Regarding last year's slow season, he says: "Either the fish are here, or they're not. We're trying to intercept them, and if you're lucky you hit the fish." For charter customers, Captain Mike highly encourages everyone to ask the captain lots of questions when booking a charter. That way you know what to expect regarding the type of fishing you will be doing and where you will be. "It's best for the person booking the trip to ask a lot of questions and then tell their crew, so they know what to expect," says Mike. "Some people get mad when they show up and learn they will be trolling."
We also asked Captain Mike what his go-to snack is for a long day on the water—Pop Tarts and peanut butter crackers—and whether he had any boating superstitions. Right away he said, "No bananas!" Of his crew he adds: "If we haven't caught anything in a while they like to throw a quarter out to pay the fish gods; sometimes it works, and sometimes it doesn't!"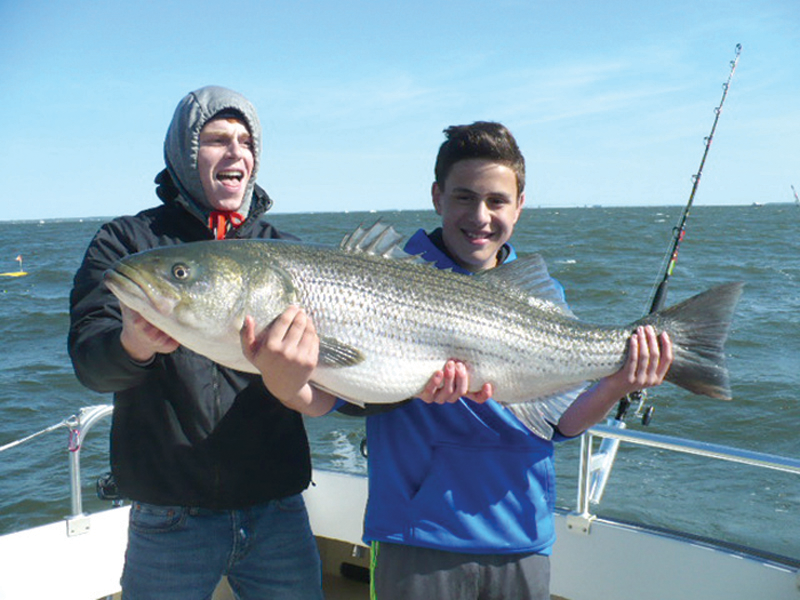 Captain Bobby "Mack" McCormack of Obsession 45 Sportfishing Charters leads fishing charters aboard his custom 45-foot sportfishing boat out of the Happy Harbor Restaurant in Deale, MD. His boat can accommodate 12-15 people, with a minimum of six for a charter trip. Regarding where he will be fishing on Opening Day, Captain Bobby says, "It depends on where the fish are. A lot can happen between now and Opening Day." He adds: "I'd like to stay right out in front of Deale but I'm being realistic; I have a faster boat, so we'll run from Point Lookout to Baltimore to find the fish."
Any boating superstitions aboard the Obsession? You guessed it—no bananas. And their go-to boat snack? Royal Farms fried chicken. 
Captain Mike's last charter on the Bay this season will be toward the end of May, and then he will be moving the boat to Ocean City to fish offshore.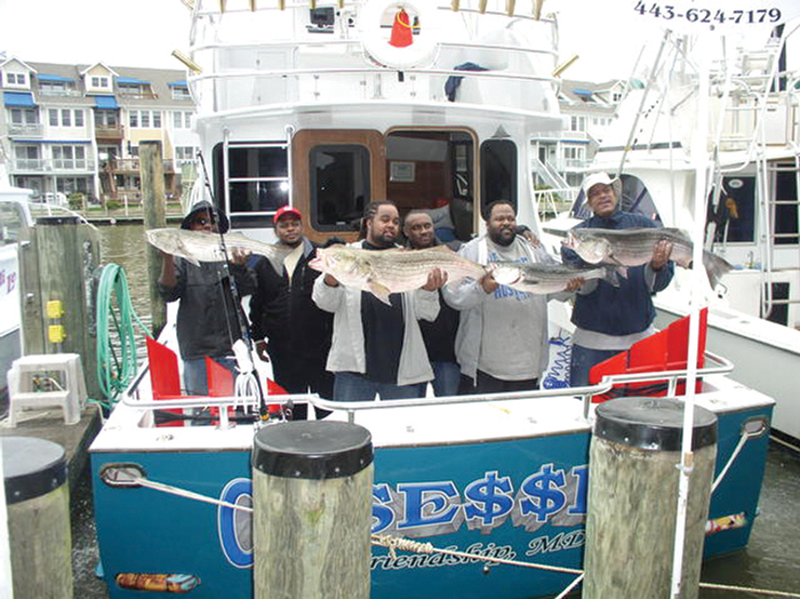 Captain Wayne Schuhart operates Tricia Ann II Charter Fishing from the Rod 'N' Reel Restaurant in Chesapeake Beach, MD. The Tricia Ann II is a 46-foot Markley that can carry up to 24 people. Captain Wayne says they will be running 22 rods with planar boards, and using umbrella rigs and parachutes. Regarding last year's across the board slow season, he says, "We hope we can find the fish this year!" 
For charter customers, Wayne suggests bringing enough food to eat and drink for the day (but no bananas!), and says, "We supply the rest! We explain everything and the mate is very helpful, so it'll be a fun day on the water."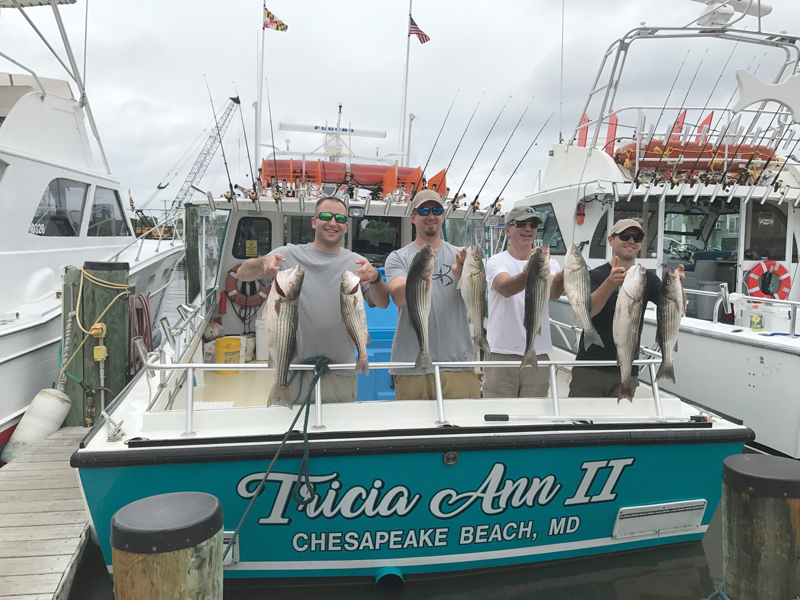 ---
Last spring, our team spent a day of trophy rockfishing aboard Ebb Tide Charters with Captain Billy Gee. Check out the video below of our awesome fishing experience.