Singer-songwriter Alan Jackson had it right when he penned these lyrics: "…you just can't beat the way an old wood boat rides."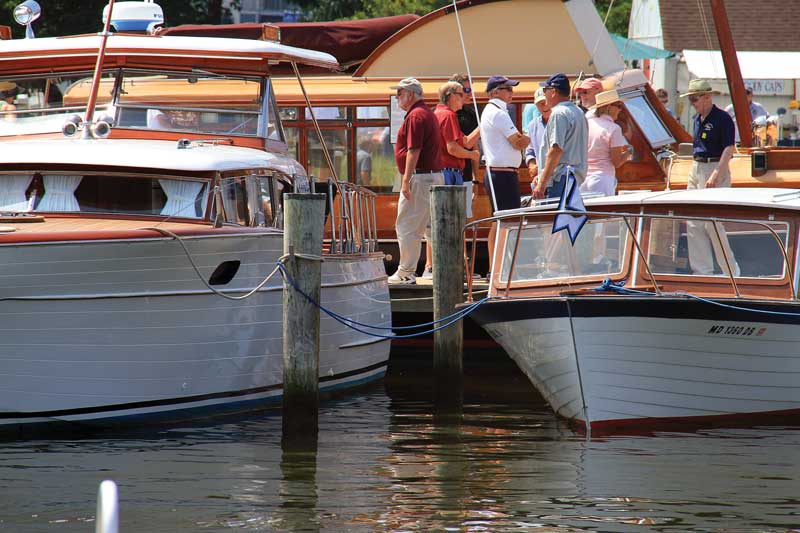 If you're hankering to experience the slap of water against the hull of a classic wooden craft, you owe it to yourself to spend this Father's Day Weekend, June 14-15, at the 32nd annual Antique and Classic Boat Festival in St. Michaels, MD, at the Chesapeake Bay Maritime Museum. The festival is put on by the Chesapeake Chapter of the Antique and Classic Boat Society (ACBS).
Festival organizers can't promise that everyone who wants to take a ride in a classic will have the chance to do so, "but the odds are pretty good that if you are really keen to go out for a spin, one of our members will be glad to accommodate you," says Antique and Classic Boat Society member and show dockmaster Hank Reiser. 
In addition to rides, the Society is offering a number of free seminars on topics which will include an emphasis on powerboat racing on the Chesapeake. The seminars and boat rides will be offered on Saturday, June 15.
Organizers anticipate about 125 boats, both wooden and fiberglass, will be featured. Bob Hamilton, who's in charge of the event, says, "Boats on display will include 'project' boats needing full restoration with a market value of a few hundred dollars as well as boats, due to their size or quality professional restorations, worth high five figures."
The emphasis for this year's show is classic race boats. Reiser hopes to have four to six racers for spectators to view. Boats he anticipates being on display include Jersey speed skiffs, hydroplanes, and gentleman's racers.
Powerboat racing on the Chesapeake can be traced back to 1911 when the first official powerboat race was held in Cambridge, MD. A front-page story recapping the initial race appeared in the local newspaper and was headlined "Yacht Regatta Great Success." The text continued:
"The speed boat races were highly interesting, especially the performance of the Sand Burr II, a hydroplane that was sent from Atlantic City and which arrived early Tuesday morning by express. The boat, which is only 18 feet long, is equipped with a 125-horsepower engine, which drives 35 honest miles an hour. She showed the local craft what speed really is, and when she slid up the river, sitting only upon her propeller, with the entire forward part of the keel out of the water, the natives wondered."
A race called the President's Cup was originally chartered by President Coolidge in 1926, and the first race was won by a $60,000 duraluminum craft, Cigarette IV. Racer M. Gordon Hammersley defeated five other speedboats by averaging 52.2 miles per hour for the 45 miles of the race. In 1966, three drivers were killed in the race, which was held on the Potomac River at Hains Point. Speeds in that race approached 180 mph. The President's Cup is no longer held.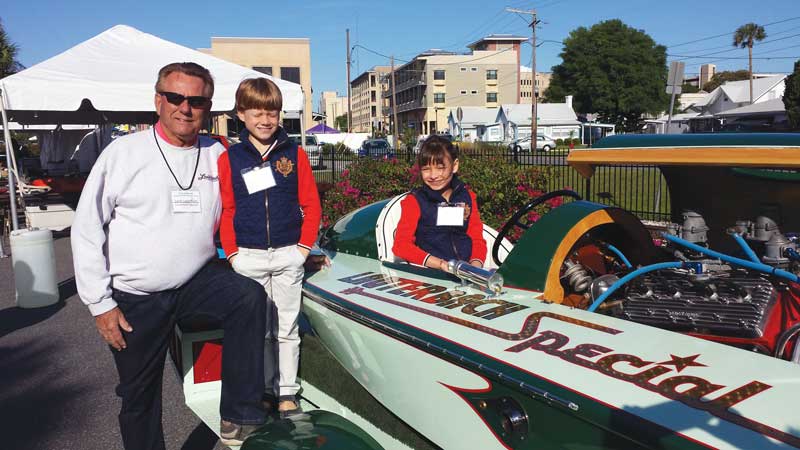 One of the country's premier hydroplane boat builders and restorers, Larry Lauterbach, is just up the road in Chester, MD. Larry, 12-time national champion and nine-time world record setter, has built about 250 classic racers over the years in conjunction with his father, Henry, who died in 2006. Some of his boats can sell for upwards of six figures. Larry tells PropTalk that he hopes to have two of the rarest Lauterbach hydroplanes at the show. Both were built by his father Henry.
Uncle Henry is a fully restored 135-cubic-inch, 15-foot-long Lauterbach Special which was one of the first boats Henry built in 1948. It features a Flat head Ford V-60 and can crank out 175 hp (modified). "This is the oldest Lauterbach boat in existence," Larry says. "After Dad died, everybody wanted a 'pre-Larry' boat. I restored this one for my cousin Bill. It's a sweetheart of a boat."
The Lauterbach Special is another 15-foot design built in 1952-3. "This was my Dad's personal boat. If everything was perfect, that boat could go 100 mph," Larry says. "It was one of the few boats in the 100-mph club back in the day. Both of these boats are showstoppers… well worth a special trip to the festival to see them up close."
If you see Larry, stop and chat with him. He's a treasure trove of racing lore. 
The festival is also a fundraiser for a number of local charities, including Benedictine School, Sea Scouts, and Phillips Wharf Environmental Center.  
Longtime Antique and Classic Boat Society member Ralph Cattaneo has "five or six" classic boats, including a 1958 Chris-Craft 18-footer; a 1948 Chris-Craft 25-footer; a 38-foot 1968 Chris-Craft Commander; and a 1969 Jersey skiff. All are wooden. All have required a considerable amount of work. The 25-foot Chris-Craft is undergoing restoration at George Hazard's Millington, MD, Wooden Boat Restoration. 
"Restoring that boat is a labor of love," says Cattaneo. "When I found her, she was a wreck. We've meticulously brought here back to life… just another year or so to go."
It's the love of old boats and "the smell of mahogany" that binds society members together.
Reiser runs the Pocahontas Marina in Edgewater. He's got a handful of wooden and fiberglass Lymans scattered around his yard. "You don't have to be a rich man or own a marina to get into classic boating," he says with a smile. "But it helps." Presently, Reiser is in the second year of a projected three-year restoration of a Lyman 23. "When she's done, she'll turn heads," he says. 'I hate to think about the hours I've put into her."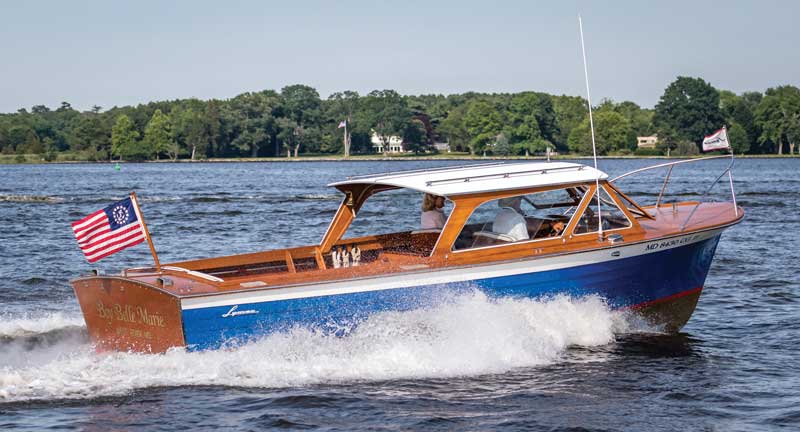 One of the highlights of the festival is the annual Best of Show judging. Bruce Ogden won the award last year with his 1973 26-foot Lyman hard top sleeper, Bay Belle Marie. New, the boat sold for $11,750. She is worth many times that today.
Ogden bought the boat six years ago. Since then, he's upgraded the powerplant, refinished much of the teak and hull, and added new cushions. She will be at the festival, and Ogden welcomes the chance to tell her story to interested parties. He says, "I have done most of the work on the boat myself. There's something about working on a classic like Bay Bell Marie that puts you in touch with your nautical roots."
Both Reiser and Cattaneo say that a newcomer can get into classic boating for "well under $10,000."
"You want to look for a boat that is fully or partially restored (unless you're handy that way) with an operational period outboard," says Reiser. He says this will get you out on the water and from there, the sky (and your pocketbook) are the limit. 
In addition to the restored boats on display, the festival features a "Field of Dreams" where project boats and/or fully restored boats can be purchased. There's also a nautical flea market where all sorts of do-dads, brass fittings, and marine bric-a-brac can be found. 
ACBS president John Into and his wife Nancy Price are in charge of the vendors at the show and the allied Arts at Navy Point activity. "At this year's show, there will be 70 juried professional vendors including boat builders, boat restorers, naval architects, parts and tool suppliers, chrome platers, and rope and floating dock suppliers," says Into.
The Arts at Navy Point features painters, photographers, sculptors, wildlife carvers, authors, jewelers, model makers, furniture makers, maritime antiques and collectibles, and other artists and artisans. Best of all, each of the ACBS members with boats on display will be glad to share the story of their boats and give the interested classic boat novice plenty of words of advice on how to proceed if you want to take the plunge and get into classic boating for yourself.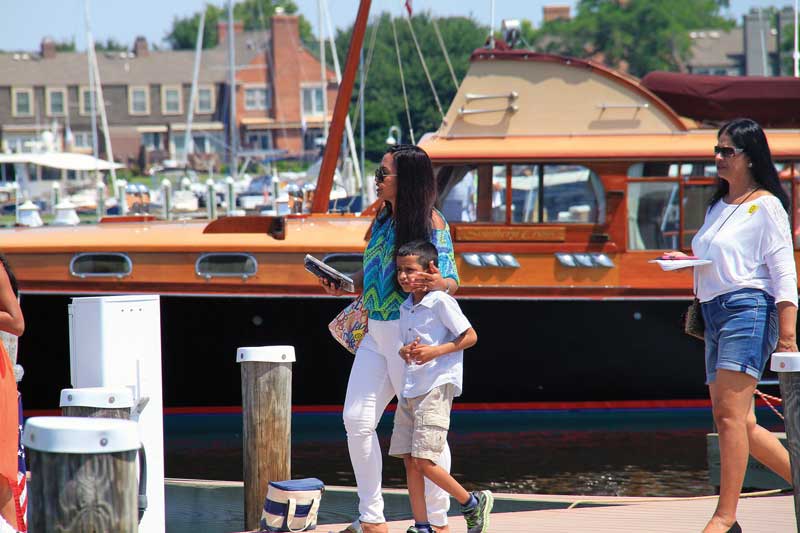 Bob Hamilton urges those interested to join ACBS and specifically the Chesapeake Bay Chapter. He says you'll "meet like-minded individuals including several who can point you in the direction of inexpensive and appropriate boats for someone just getting into the classic boating family."  
As for this reporter, just walking around the dock brings back memories of times fishing with my grandfather in his Thompson fishing boat. He was a taciturn man, not given to easy laughter. But on the rare occasion that I was lucky enough to land a fish (and not bang the end of my pole on the transom), he'd flash a little grin as if to say "all's right with the world. Keep it up, kid. Just don't get fish blood on the seats."
In the song "Drive," quoted at the beginning of this piece, Alan Jackson croons: "It was just an old plywood boat, a '75 Johnson with electric choke. A young boy with two hands on the wheel. I can't replace the ways it made me feel." Amen to that.
If you've got the itch to catch that feeling yourself, make time to spend part of your Father's Day Weekend at the Antique and Classic Boat festival in St. Michaels.
Details
Festival hours are 11 a.m. to 5 p.m., Friday, June 14 and 10 a.m. to 5 p.m., Saturday, June 15.
Some participants and vendors may continue through Sunday, when CBMM will be open for regular admission.
Individual admission costs $18 for adults; $15 for seniors 65+ and students with ID; $6 for children 6-17; and free for children ages 5 and under and CBMM member children ages 17 and under. The cost for CBMM members is $5.
Admission is good for two days. 
For more information, search for the "annual festivals" at cbmm.org. For more about the ACBS Chesapeake Bay chapter, go to: chesapeakebayacbs.org. 
By Craig Ligibel