When people think about "best small towns on the Chesapeake," odds are St. Michaels is high on their list. It has that quintessential Eastern Shore vibe with a charming main street, tons of restaurants and shopping options, a world-class maritime museum, and access to the Chesapeake Bay from its beautiful harbor on the Miles River. St. Michaels is actually the oldest town in Talbot County, MD, with a rich trading and shipbuilding history that dates back to the 1630s. If planning a visit this summer, here are 10 things to put on your 'must-do' list.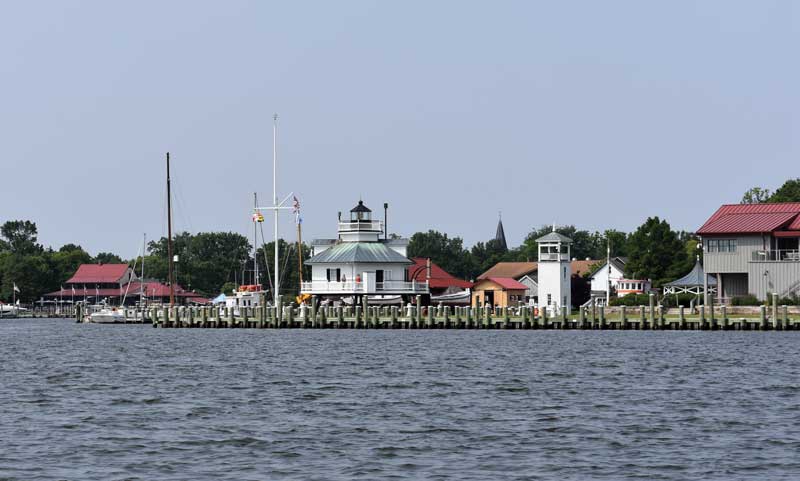 St. Michaels, MD
1. Stroll down N. Talbot Street. 
Whether this is your first visit to St. Michaels or your 10th, meandering down the town's main thoroughfare never gets old. From food and drink options to shopping and art galleries, there is always something to catch your eye. 
2. Visit the St. Michaels Museum at St. Mary's Square.
The museum is known for its vivid interpretation of St. Michaels's history and culture, represented by historic artifacts and oral histories of the people. Two docent-led tours are currently being offered: The St. Michaels of Frederick Douglass and Historic St. Michaels—People, Places, and Events. Tours are offered each Saturday at 10 a.m. They last about 90 minutes and entail a half-mile of walking. Adult donations for the tour cost $20, and ages 18 and under are free. If you would rather take the tour yourself, you can stop by the museum and pick up a self-guided map or download the tour guide at stmichaelsmuseum.org.
3. Embrace your inner foodie.
Where do we even begin? There are so many great options, so we'll stick to a few highlights and let you discover the rest. Foxy's Harbor Grille is a St. Michaels landmark (foxysharborgrille.com). This little piece of Caribbean paradise opened in 1999 and was named after Foxy's Tamarind Bar in Jost Van Dyke in the British Virgin Islands. Foxy's is known for its crushes, fresh seafood, and waterfront views. Docking is available throughout St. Michaels Marina. 
And of course, we can't forget The Crab Claw—upon entering St. Michaels Harbor, this is one of the first buildings many boaters see along with the Chesapeake Bay Maritime Museum (CBMM) next door. In fact, CBMM announced this spring that it was purchasing two contiguous properties to its waterfront campus, including the current home of the Crab Claw Restaurant (it opened in 1965, the same year CBMM did). Under the terms of the transaction, the restaurant will remain open for business throughout the 2023 season under its current ownership. 
A personal favorite of mine is Ava's pizzeria and wine bar. I have to stop there every time I visit CBMM. And we can't forget the local libations! I highly recommend visiting Eastern Shore Brewing, Lyon Rum/Windon Distilling, and St. Michaels Winery. If you wanted, you could take a self-guided walking tour and visit all three as they are all located on S. Talbot Street. Just remember to pace yourself and drink responsibly. In the spring, St. Michaels hosts a Winefest and a Brewfest, so keep those in mind for next year.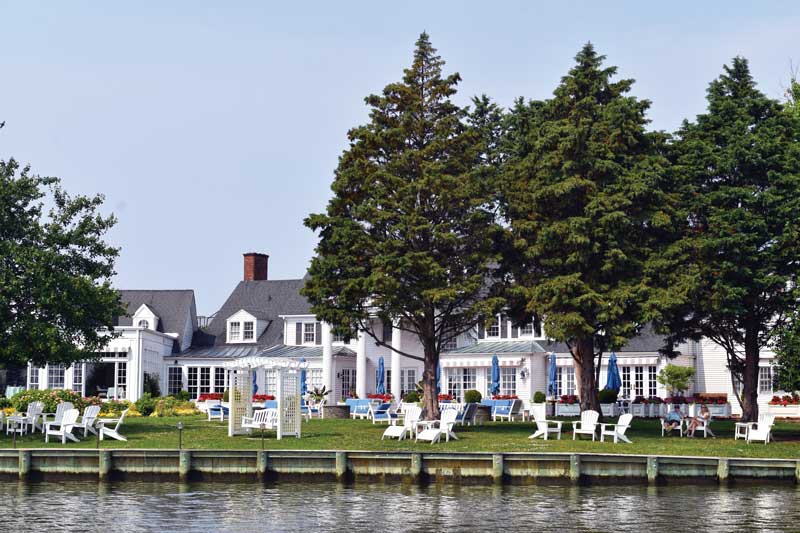 4. Visit the Chesapeake Bay Maritime Museum (CBMM). 
Located on Navy Point, CBMM is the only museum devoted to interpreting the entire maritime region of the Chesapeake. First opened to the public in 1965, the 18-acre waterfront campus was once the site of a busy complex of workboats, docks, and seafood packing houses. Today, the CBMM campus boasts over 35 buildings, 12 of which house exhibitions that are open to the public. The exhibition buildings trace the social, economic, and geological history of the Chesapeake Bay through the age of sail and the steamboat era to the advent of gasoline and diesel-powered engines. Guests can view more than 100 boats and boat models, historical Bay artifacts, and artworks that include a vast collection of watercolors, decoys, guns, and ship's signboards. To find a list of current and special exhibits, as well as purchase tickets (general admission is valid for two days, except the day prior to a festival), visit cbmm.org.
5. Watch Fourth of July fireworks.
Anchored out in the Miles River, from one of the waterfront restaurants, or CBMM. The Town of St. Michaels fireworks show is scheduled for Saturday, July 1, shortly after dusk with a rain date on July 2. The CBMM campus will be open for viewing the show and will also have live music starting at 7 p.m. Admission to this event costs $6 for CBMM members and $10 for non-members. Children ages 5 and under, plus active and retired military, are free.
6. Attend the Antique and Classic Boat Festival and Coastal Artisan Fair.
This annual Father's Day weekend event (June 16-18) is one of PropTalk's favorite festivals of the year! Find all the details here.
7. Get out on the water.
Take a narrated historical cruise aboard Patriot, sail aboard the 1926 historic sailboat Selina II, or rent a kayak or paddleboard from Shore Pedal and Paddle—there are so many great ways to experience the water around St. Michaels and these are just a few options. Find more at stmichaelsmd.org/play.
8. Arrive by boat.
Sure, you can visit St. Michaels by land yacht and still have a great time. But if you want to really get the full effect, you simply must visit by boat at least once. Here are a few docking options. CBMM's members-only marina is located along St. Michaels Harbor and the Miles River in the heart of St. Michaels's historic district. The marina is open daily and offers 55 slips with electric, a pump-out service provided by ShoreRivers, climate-controlled showers, and amenities that include Wi-Fi, picnic tables, and bicycles. A CBMM membership is required to use the marina and its facilities (starting at $75 for individuals). Overnight docking privileges are reserved for Mariner Level members and above. Hourly docking is available for Household members above. Membership can be purchased or renewed at the Welcome Center upon your arrival. Visit cbmm.org to learn more and make a reservation.
Another option is St. Michaels Marina. Located right on the "Town Side" of the harbor in St. Michaels, the marina has 55 slips and is just footsteps to the center of town. Its docks can accommodate vessels ranging in size from 25 to 220 feet with 10 feet of water depth. 
Higgins Yacht Yard, a full-service boatyard and marina, is located in St. Michaels Harbor and offers hourly, transient, seasonal, and annual slips, based on availability (reservations are recommended for overnight transient slips). Boasting the best rates in the harbor, along with the closest distance to town, you can find a full list of amenities at higginsyachtyard.com.
If you'd prefer to spend a night on the hook, you can drop anchor in the Miles River or St. Michaels Harbor and catch the Harbor Shuttle water taxi into town—call VHF Channel 71 or (410) 819-9606. Find more information, along with a harbor map, at stmichaelsmd.org/Arriving-by-Boat.
9. Pamper yourself at the Inn at Perry Cabin.
After having stayed once at the Inn at Perry Cabin, I can say it's worth a splurge. You simply can't beat the views from this waterfront resort, along with amenities like a pool, on-site dining, a spa, tennis courts, paddleboards and kayaks, bicycles to explore downtown (just a short half-mile away), and more. They even have a fleet of Hinckley motor yachts and sailboats if you would like to charter a cruise or sail for the afternoon.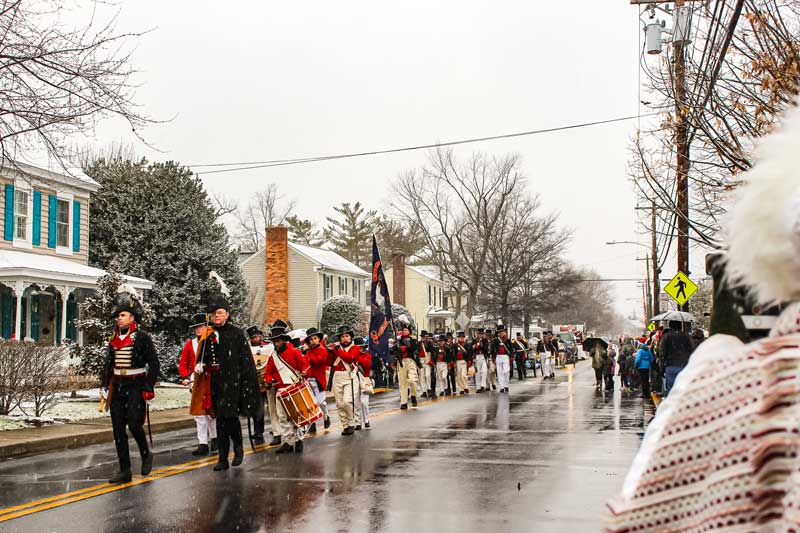 10. Mark your calendar for the annual Christmas in St. Michaels event: December 8-10.
Yes, we know it's very early, but Christmas in St. Michaels is one of our favorite holiday weekends on the Chesapeake with a slew of events like the Talbot Street Parade, the Lighted Boat Parade, Santa Dash, and more—and all of it supports local, nonprofit organizations in the community. 
By Kaylie Jasinski 
---
For more Chesapeake destinations, check out our See the Bay page!