As boaters, we know the best place to catch a Chesapeake Bay fireworks show is from the water. Be sure to use caution when boating at night, be courteous and stay alert, and always have a designated skipper at the helm. Whether you are anchoring out or kicking back on the shore, we wish all of our readers a safe and happy holiday.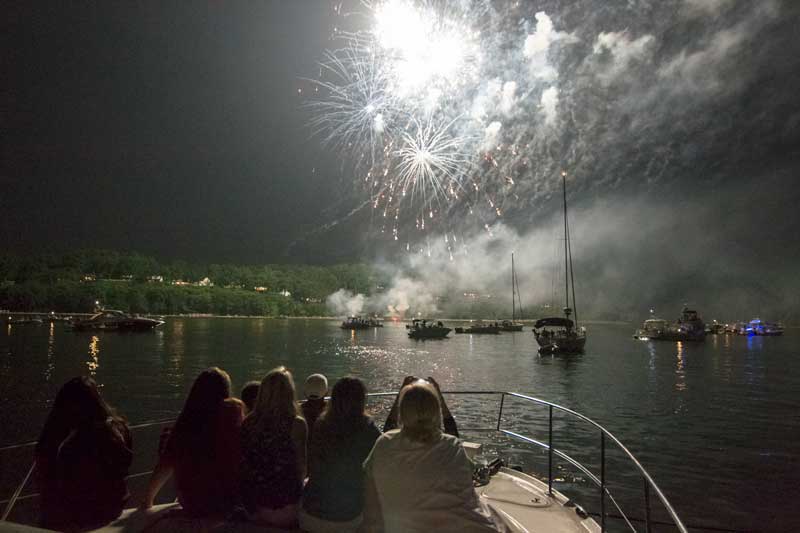 Chesapeake Bay Fireworks Shows
Stay tuned for any weather updates on event websites and be sure to check that shows are still planned as scheduled before heading out on the water. If we missed your favorite fireworks show, email [email protected]. We will continue to update this page as more shows are announced. 
Saturday, July 1
Middle River, MD: Presented by the Marine Trades Association of Baltimore County, the Middle River Fireworks Extravaganza begins at dusk (approximately 9:15 p.m.). The barges will be anchored just outside the six-knot zone in Middle River, so get your boat anchored up early to be ready for a spectacular show! 
St. Michaels, MD: Fireworks in St. Michaels Harbor are scheduled for Saturday night at dusk with a rain date of July 2. Find a good spot in town or watch from a boat in the Miles River. The Chesapeake Bay Maritime Museum (CBMM) will host its annual Big Band Night from 7 to 10 p.m. Guests are invited to bring lawn chairs and picnic blankets for an evening of music, dancing, and fireworks along the Miles River. Shades of Blue Orchestra will start the live music at 7 p.m. (the campus will open at 6 p.m.). Food, ice cream, and non-alcoholic beverages will be available for purchase. Admission is $6 for CBMM members and $10 for non-members. Children ages 5 and under, plus active and retired military, are free. 
Monday, July 3
Chesapeake Beach, MD: The Independence Day Celebration is scheduled for July 3 with a rain date of July 8. Every year the Town of Chesapeake Beach sponsors a fireworks display at the center of the town. The display is viewable along the Fishing Creek bridge, Kellam's field, Veteran's Memorial Park, or at one of the town's waterfront restaurants or resort. The fireworks are held at dusk. Bring a blanket and a picnic for a family fun evening at Kellam's field (glass containers and alcoholic beverages are prohibited). 
North East, MD: The Salute to Veterans and Fireworks Show will be held from 6 to 10 p.m. at North East Town Park in North East, MD. The official ceremony begins at 8 p.m. and includes the flag raising, Pledge of Allegiance, salute to the veterans, and more. There will also be music, displays, food, family-oriented activities such as the rubber ducky race and face painting, and of course, fireworks over the water. Seating is on the grass and along the waterfront in the park; bring blankets and chairs. 
Rock Hall, MD: Fireworks over Rock Hall Harbor start at approximately 9:15 p.m. Presented by the Rock Hall Volunteer Fire Company. Please help keep this tradition going; donations are welcome.
Tuesday, July 4
Annapolis, MD: The Fourth of July Parade takes place from 6:30 to 8 p.m. and kicks off at Amos Garrett and West Street and then heads down West Street, the wrong way around Church Circle, and down Main Street. Fireworks are from 8 to 9:45 p.m. and will be launched from a barge in Annapolis Harbor. The best viewing areas include public spaces northeast of the Severn River, City Dock, along the Naval Academy Bridge, any of the street end parks facing Spa Creek, and aboard a boat in the Annapolis harbor. The Spa Creek Bridge will be closed to traffic from Eastport into Annapolis beginning at 6 p.m. The bridge will remain closed until the conclusion of the fireworks at approximately 10 p.m. For more details on events and parking, visit the Annapolis Fourth of July Celebration page. 
Baltimore, MD: The Baltimore July 4 festivities kick off around 3 p.m. with food, fun activities, and a DJ at West Shore Park. Entertainers will perform from 4 p.m. until 6:30 p.m. at the Inner Harbor Amphitheater. At 8 p.m., the BSO will host a Star-Spangled Celebration concert in Rash Field Park. The full orchestra performance will culminate around 9:15 p.m. with a dazzling 15-minute fireworks display. The best views are along the Inner Harbor promenade and surrounding areas, including Canton, Federal Hill, Fell's Point, Harbor East, and Locust Point.
Cambridge, MD: Celebrate Independence Day in Cambridge, MD, with Fireworks over the Choptank River! Two of the best spots for viewing the fireworks are: Gerry Boyle Park at Great Marsh (0 Somerset Avenue) and Long Wharf Park (High and Water Streets). Fireworks generally start at dusk, around 9:15 p.m. Bring your own chairs or blankets and snacks/drinks. Between Friday, June 30 and Wednesday, July 5, the Hyatt Regency Chesapeake Bay Golf Resort, Spa and Marina will feature a variety of family activities and carnival games on its spacious manor lawn, including its 20th annual Watermelon Eating Contest, on Tuesday, July 4. That evening, the resort will feature an All-American BBQ, followed by the town's fireworks display that will be viewable from various areas of the resort.
Newport News, VA: The Newport News Department of Parks and Recreation presents the Fourth of July Stars in the Sky at Victory Landing Park (50 25th St.). The festivities begin at 7 p.m. and include children's activities, strolling entertainers, food vendors, live music from 7:30 to 9 p.m., and the night will culminate in a spectacular fireworks show. Admission and parking are free. 
Norfolk, VA: The 40th Annual Fourth of July Great American Picnic and Fireworks takes place from 5 to 10 p.m. at Town Point Park along the downtown Norfolk, VA, waterfront. Relax on the lawn and enjoy an evening of all-American fare along with live musical entertainment from military brass bands. The night is capped off by the sensational fireworks show high above the Elizabeth River, beginning at 9:30 p.m. 
Ocean City, MD: There will be music and fireworks at two Ocean City locations: downtown at N. Division Street and uptown at Northside Park (125th Street). For both locations, bring a beach chair or blanket and arrive early. Music starts at 8 p.m. and fireworks at 9:30 p.m. 
Queen Anne's County, MD: The Queen Anne's County fireworks can be viewed from the Kent Narrows and surrounding area. Due to the site improvements being done at the Chesapeake Heritage and Visitors Center, the celebration has moved to the parking area of the "old outlets" at 59 Piney Narrows Road. The parking/event area opens at 5 p.m. Food trucks, music, free parking, and fireworks at 9:20 p.m. 
Washington, DC: The National Independence Day Parade takes place annually on July 4 at 11:45 a.m. on Constitution Avenue from 7th to 17th Street. The National Park Service hosts the annual Independence Day fireworks celebration on the National Mall, typically starting around 9 p.m., which launches from both sides of the Lincoln Memorial Reflecting Pool (stay tuned for updates at nps.gov/foju). At The Wharf, guests can enjoy a free celebration from 7 to 10 p.m. on District Pier. Enjoy music and spectacular views of the National Park Service fireworks launched from the National Mall. 
Yorktown, VA: Get ready for a full day of events in Yorktown, VA, starting with an 8K run/walk at 8 a.m., a parade on Water and Main Streets at 9 a.m., family games and activities at Riverwalk Landing in the afternoon, live music, a performance by the Fifes and Drums of York Town and a reading of the Declaration of Independence at 7 p.m., concert at 8 p.m., and the fireworks display over the York River at 9:15 p.m. For a full schedule of events and details on parking, click to visityorktown.org.
---
Tips for Anchoring Out:
Pay attention to off-limits areas, such as the restricted zone around the Naval Academy seawall. If no boats are anchored in a particular spot, there may be a reason for it.
Have a chart with you to monitor water depth.
Mooring and docking prices vary by town, so inquire before you go.
While your boat is at anchor, running lights should be off and a single white anchor light on. As soon as the anchor comes up, the running lights should be on.
Use a spotlight sparingly and keep it aimed low. Avoid shining it directly at other boat operators.
Try not to anchor too close to other boats, and make sure you've let out enough line to ensure your anchor will hold. Dragging anchor through the spectator fleet will definitely make you unpopular.
Kids and poor swimmers should wear a lifejacket at all times.
Give commercial vessels, such as water taxis and tour boats, room to maneuver.
Use common sense and courtesy. Avoid collisions, keep your speed down, and have a non-drinking designated operator at the helm.