Our son, Scout (age five), fished his first formal youth fishing rodeo in Pylesville, MD, at the IWLA Sportsman's chapter pond on April 8, 2022. It was a freezing cold morning that barely warmed up by noon. Scout only had two bites in three hours, but his patience paid dividends in the final 10 minutes of the derby when he managed to wrangle himself an 18 3/4-inch rainbow trout and took first place for largest fish caught that day. He got his first trophy, and the hook was set.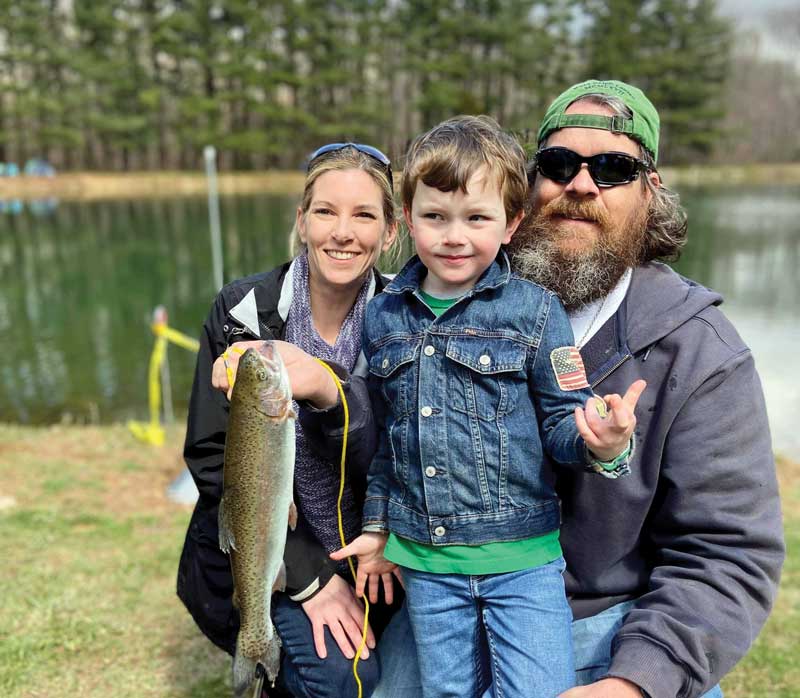 Beginners luck some would say, but just two weeks later, at the next Maryland Department of Natural Resources (DNR) sponsored rodeo hosted in Carroll County at the Westminster Community Pond, Scout managed to get himself another trophy fish. In typical Scout fashion, our bite came late, and we were sprinting to the weigh station to get his prize-winning catch confirmed. With a 12 5/8-inch rainbow trout, he squeezed in to grab a third-place finish and his second trophy along with a new fishing rod.
With our busy schedule last spring, we only managed to fish one more of the rodeos hosted by the DNR at Howard's Pond Park in Elkton. While trophies were not awarded, they really put on a great event for the children. Everyone left with a prize and a belly full of food. Over the winter, Scout and I chatted about our spring plan to fish more of the rodeos. We practiced casting and restocked the tackle box with all things trout fishing. We picked six rodeos all within an hour of our home in Baltimore County, and when the first rodeo of the season arrived, we were prepared.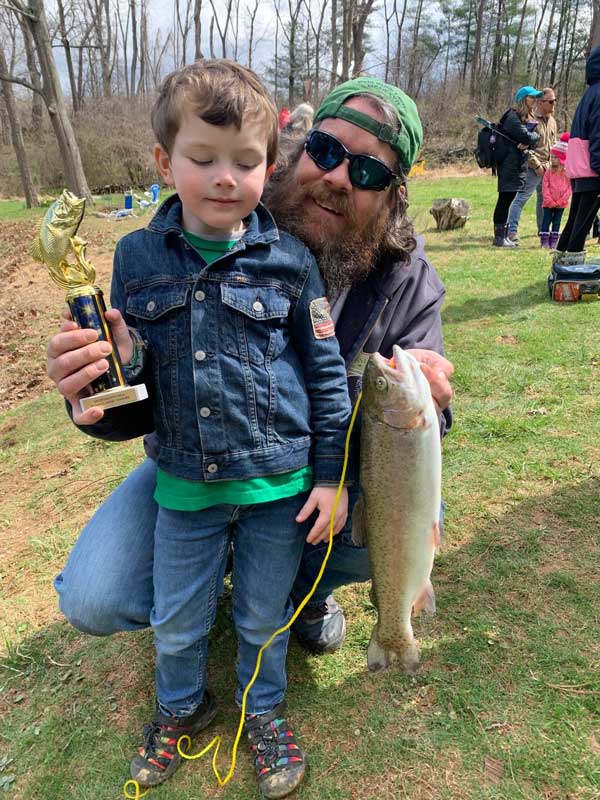 The first rodeo of the season also happened to be where Scout won his first trophy at the IWLA Sportsman's chapter pond in Pylesville, MD. This time the weather was much better, about as perfect as it could be for early April and the fish were hungry. Scout managed to put together a nice five fish stringer, and wouldn't you know it, he defended his first-place finish by catching his largest fish of the day, a 13 1/2-inch rainbow trout. It was the largest fish for his age group and Scout was awarded his third trophy for his first-place finish along with a new fishing rod and tackle box.
Our second derby of the 2023 season was in the most unlikely of places. Scout and I found ourselves in the middle of Patterson Park in downtown Baltimore City. There is a beautiful pond hidden there that's approximately two acres. Upon arrival, Scout and I observed an older gentleman catching trout on every cast! So, we set up just alongside of him and tossed a line. For the next 30 minutes we went to school as this fella was socking them up. He had caught eight trout while Scout waited for his first bite. Finally, I gave in and asked him his secret, and he quickly flashed a small spinnerbait. Up until now, Scout had only fished with Powerbait, so I pulled a spinnerbait from the tackle box and tied it to Scout's line. After a few casting attempts and a slightly hooked bystander, Scout figured it out, and shortly after came his first of three fish taken on a spinnerbait that morning. One of which was 12 3/4 inches and was big enough to capture a third-place medal and a new fishing rod for his efforts.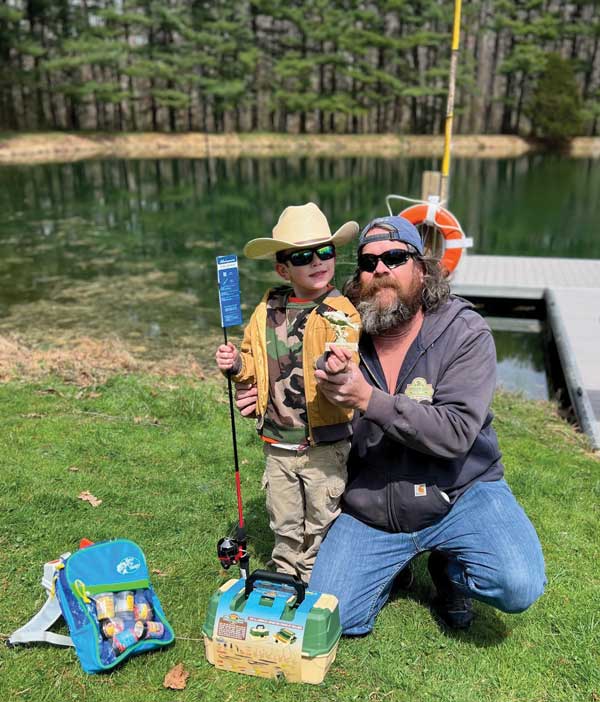 Our third rodeo of the 2023 season was a visit back to Westminster community park pond. This time, we arrived a little early and Scout picked a spot where he had done well the year before. Once we got situated, the sky opened up and the rain poured down. The fish didn't mind, and on the first cast, Scout was hooked up to a nice rainbow trout. We tossed it in the bucket and his line was right back in. Over the next hour and a half, Scout managed to catch three more fish. We were soaking wet, but the fishing was good, so I asked Scout if he had had enough. His answer was "let's get dry clothes on and catch more fish." So we headed to the car. Scout checked in his catch at the weigh station on the way and sure enough, he was on the board again! This time in third place for his first trout of the day. We went back to the car and changed his clothes, had a snack, and warmed up. After 20 minutes he was back out in the pouring rain where he managed to catch four more fish and worked himself into a second place finish, where he was awarded his fourth trophy and another fishing rod.
Our next journey led us to Prospect Park in Carroll County where the Mt. Airy Lions Club hosts its annual derby. This is one of my favorite memories from this spring as Scout had hooked a bass before I had even realized he made a cast. I was setting up and Scout said "Dad, I got one." As I was turning around asking, "How is that possible, bud, we haven't cast a line yet?!" It was then that I realized he had and connected with a nice largemouth bass on that first cast. Scout managed a steady pick throughout the derby. With about 20 minutes left his drag started screaming. I thought to myself 'he's got a good one.' He quickly reeled in a beautiful rainbow trout to the surface, flipping and jumping all over the pond, and after a short battle on the ultra-light, Scout landed what would be another first place-finish rainbow trout. It was so fresh it jumped off the scale during the weigh in. Scout was awarded a medal and a new fishing rod and a $10 gift card for his first-place finish.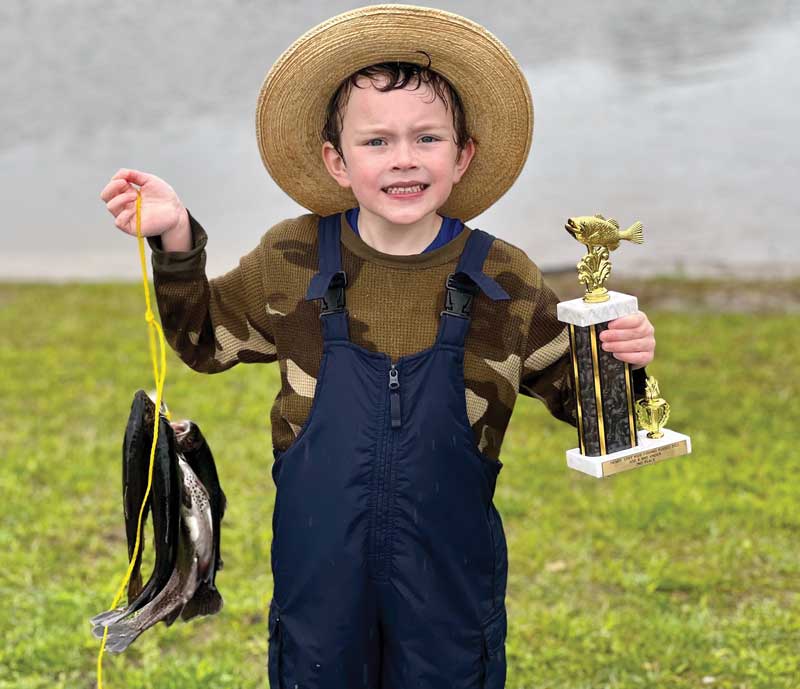 While fishing in an earlier rodeo this spring, another father had invited Scout and me to come up to Delta Peach Bottom Fish and Game Association in Delta, PA, to fish in their annual Kids Fishing Day, so we took the ride up. These guys put on one of the finest fish derbies around. They stock big trout and have food and prizes for every child that participates. I saw some huge trout caught by the kids that morning. Scout caught his five-fish limit in just over one hour and was rewarded with a fully loaded tackle box.
The next derby was another hosted by the DNR at Krimgold Community Park in Carroll County, MD. The park is huge with several fishing ponds. We chose to fish the one that had been stocked just a few days earlier. It was loaded with lily pads and proved to be tough fishing. We were fighting snags all morning and the trout seemed to have found a good hiding spot deep in those lily pads because we never saw one. Scout managed to catch a bluegill, a crappie, and four sunfish. We packed our gear and left a little early.
Our final youth fishing rodeo of the season was held at Bynum Run Park in Belair, MD, at a pond I was familiar with from my childhood. My mother would bring me here when I wasn't much older than Scout, and it's where I caught many fish as a young angler myself. Scout thought we should bring Gram for good luck, and with three generations pondside, we watched as he worked his magic. In about 30 minutes, Scout had an early lead with a first-place fish on the board. He also managed to catch bluegill, catfish, sunfish, and crappie. I lost count somewhere around 15 fish and once the bite slowed, Scout had been moved into second place. Seems bringing Gram for luck was the ticket as we had some of the best fishing of the season. Scout was awarded a second-place medal and another rod and reel combo for his efforts.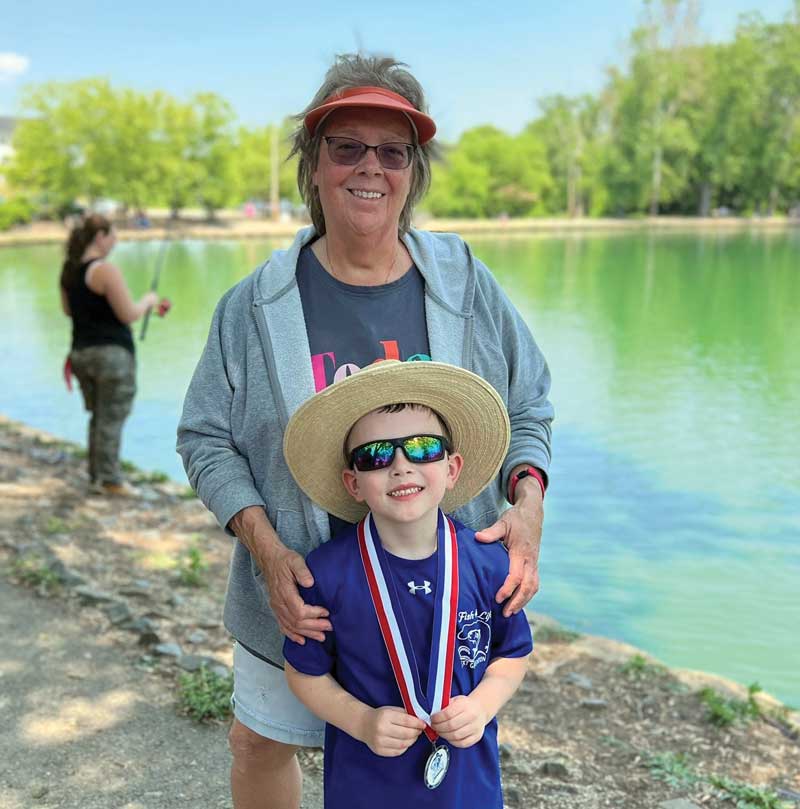 All total, Scout has fished in nine youth rodeos sponsored by the Maryland Department of Natural Resources and has finished in the top three in seven. He has won trophies, medals, tackle boxes, and plenty of fishing rods all while learning about the sport that I have loved my entire life since childhood. It's been an honor and privilege to pass this passion for the great sport of fishing onto the next generation, and here in Maryland we should be proud of this program that helps pave the way. So, if you have children between ages three to 15, check out the Maryland Youth Fishing Rodeos website and find the next youth rodeo near you. Maybe we will see you pondside in one of the beautiful surrounding counties. Say hi, and I'm sure Scout will have bait to share.
By Gordon McNamara