Yamaha has officially unveiled the all-new four stroke 5.6L V8 425-horsepower XTO Offshore, the industry's first direct fuel-injection four stroke. The F425 eclipses the Yamaha F350C as this engine manufacturers biggest offering on the water, and should be available by summer 2018.
Rated maximum speed is 5500 to 6000 rpm, and 4200 rpm is where the engine produces maximum torque; this is Yamaha's largest outboard engine ever, delivering massive power for 50-foot-plus boats. It has also earned three-star "ultra-low emission" status during testing. A three-stage low-medium-high pressure fuel pump system works, in part, due to two independent, rpm-activated fuel pumps in the Vapor Separator Tank. This unique five-pump system creates an unprecedented fuel injection pressure of up to 2900 PSI to further maximize atomization and efficiency. With diameters from 16 to 17 1/8 inches and increased blade surface, XTO propellers complement the torque potential of our V8 XTO Offshore. They also contribute to greater thrust overall, including up to 300 percent more reverse thrust than the Yamaha F350. The XTO features dual overhead camshafts that are each connected via a self-tensioning chain immersed in an oil bath and utilize one-sprocket belt engagement. This ensures quiet, precise valve-timing, compact design, low maintenance, and long life.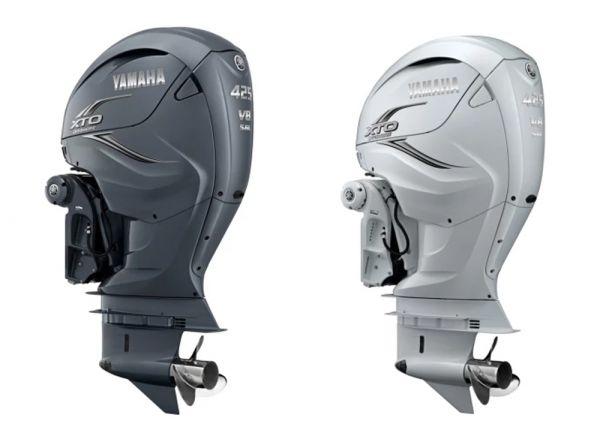 For the first time ever, technicians can drain and replace your outboard's lower unit lubricant without having to remove the boat from the water thanks to an in-water gear lube change system. Thrust-enhancing exhaust routing diverts engine exhaust away from the propeller at RPM below approximately 2500, for maximum control at lower speed. The tilt pump shuts off when it reaches maximum tilt setting, rather than continuing to run, saving power and reducing noise at full trim in/out. For more details, visit Yamaha Outboards.