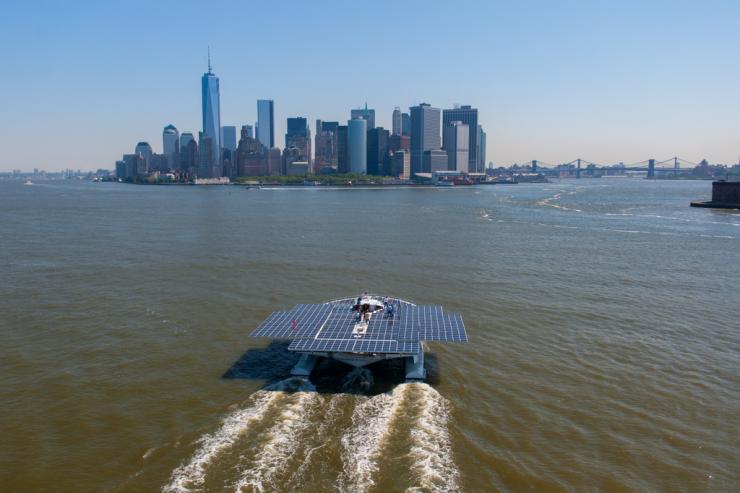 She's
solar-powered
, 31 meters in length, 23 meters wide (with flaps), and weighs nearly 90 tons. With 512 square meters of solar modules, she takes solar-powered boating to a whole new level. Meet
Turanor Planet Solar
, designed by Craig Loomes, from New Zealand. This
gianormous catamaran
was launched in 2010 by Plant Solar in Kiel, Germany and can accomodate 60 people. It carries a crew of four.  With maximum engine power of 120 kW, this big mama's average speed is a whopping 5 knots. Between 2010 and 2012, she completed the first trip around the world powered soley by solar energy. This year, she's host to a traveling scientific team. Her 2013 campaign began in France, and recently ended with her arrival in Paris. In between, boat and crew crossed the Atlantic from Spain to the West Indies, headed north, stopping in Miami, New York, Boston, and Halifax, then back accross the pond to London and on to Paris, where she is docked for five days of festivities highlighting the just-completed 2013 DeepWater scientic expedition.
Want to take her for a spin?
She's available to rent for private events such as sunset cruises or just to get an inside took at her systems. And she can transform into a stage for concerts, sound and light shows, or films. Not sure of the hourly rate, but I bet the price tag is gianormous too.
www.planetsolar.org