Now, you might be asking, what is an article about Wisconsin doing in a Chesapeake Bay publication? As boaters, many of us are also explorers. And occasionally we enjoy exploring waters far from home. So, when an invitation to visit Wisconsin's waterways came across my desk, I jumped at the chance.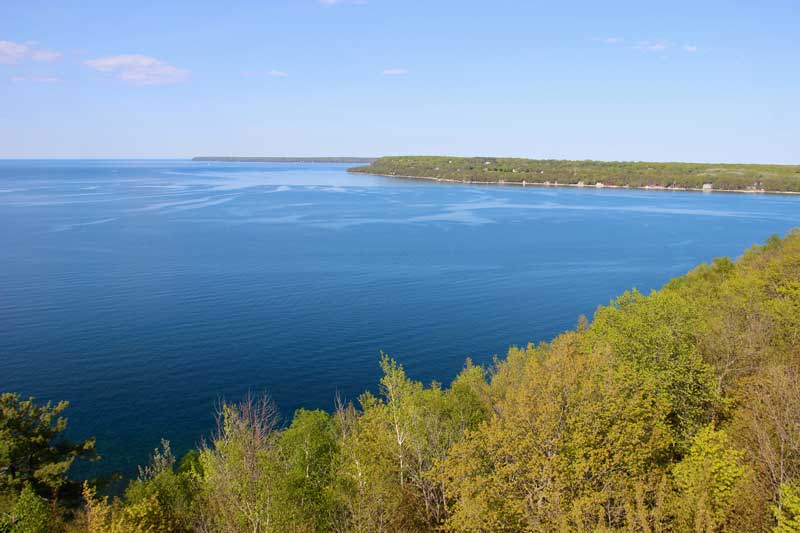 The peninsula of Door County, WI, is surrounded by 300 miles of Lake Michigan shoreline. Here you'll find quaint towns, rocky beaches, towering lighthouses, cherry trees galore, tons of great dining and drinking options (think wineries, breweries, cideries, distilleries, even coffee roasteries), along with thriving maritime and commercial fishing industries.
One of the things that stuck out to me the most was how welcoming and passionate the people of Door County are. Many of the people I met had either lived in the county their whole lives, or had come for a visit, fallen in love, and never left.
Henriksen Fisheries
My favorite experience during the four days I spent here was getting out on the water with Henriksen Fisheries for a morning of trap netting for whitefish. Originally from Illinois, Charlie Henriksen spent a few summers visiting the Door Peninsula before moving there full time in 1973. He was offered a fishing job and what started out as a part-time gig eventually grew into Henriksen Fisheries, which officially opened in 1987. Today, this is truly a family business.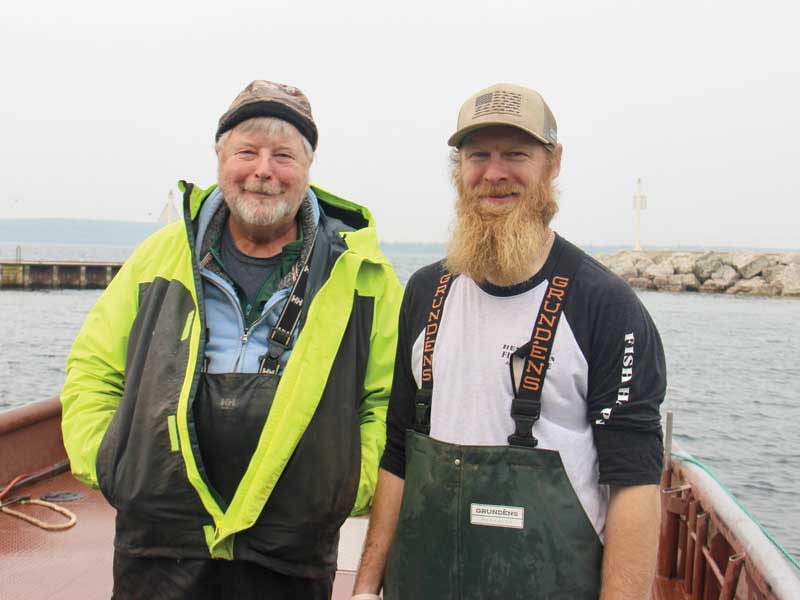 To hear more about it, I met the Roamer, a converted 1969 Chris-Craft Roamer, at the dock at O-dark thirty with a small group of journalists. When I asked Charlie more about his boat, I was tickled to learn that it actually came from Maryland! Chesapeake City to be exact. Charlie and his son Will found the boat and trucked it all the way back to Wisconsin. They cut the top off, except for the small pilot house, and spent the summer getting her ready to fish. She originally measured 45 feet, and they increased the length to 50 feet. 
Standing on the deck, I never would have guessed the Roamer was a former pleasure boat. She seemed purpose-built for fishing, and her captain and crew were a well-oiled machine. 
And it wasn't hard to see the respect and love between Charlie and his son. Charlie says he knew Will was serious about being a fisherman when he was willing to skip a Packer's game to go look at the boat they would eventually buy. Will just laughed modestly. 
When asked about the business and being out on the water, Will said, "I've been out here since I was in a car seat. Some people had a babysitter; I had boat rides." He has been helping out on the boat since he was about 12 years old, and after doing a semester at college, he decided to come home. He knew this was what he wanted to do.
During the spring the Henriksens are fishing multiple trap nets for whitefish. Because I was familiar with the term pound net but not trap net, I had to learn more. It turns out the two are pretty similar—they are simply called trap nets in the Great Lakes and pound nets in marine or estuarine systems. A trap net is a type of fishing gear with a complex organization of nets anchored to the substrate that "lead" or funnel fish into a final compartment (i.e., trap or pound) from which they cannot escape. Fish can swim freely in the trap/pound until fishermen come to haul the nets.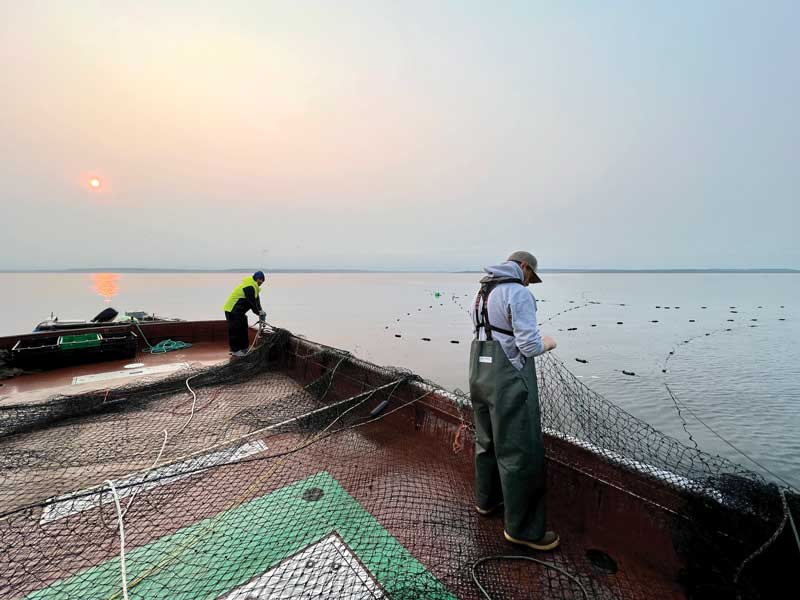 We watched the crew pull four nets that morning, with each one taking about 20 minutes or so to pull onto the deck, sort the Whitefish, release any bycatch (there were a lot of Walleye and even one sturgeon), and then redeploy the net. After each net was pulled, Will recorded the total catch and bycatch. 
As I said before, it was a well-oiled machine. No tangles, no yelling, just a hard work ethic and mutual love and respect. You could clearly see the familial pride in both Will and Charlie's faces for this business they have worked so hard to create.
The next day, we even had the opportunity to tour their new facility, which they plan to open this summer. I caught up with Will's wife, Kristie Moss-Henriksen, over the phone after I got back to Maryland to hear a little bit more about how this exciting new project came to fruition. 
Covid Make or Break
Back in 2018/2019, Kristie developed her own line of all-natural dog treats, called Gemma Lou's. She says, "The business was just starting to boom, and I was really proud of it; it was very personal. But then March 2020 hit, and we were all very scared. I couldn't sell my dog treats at farmers markets (they were only open to essential items at the time), and the guys couldn't sell their fish. The borders shut down, and all our local restaurants completely shut down, so we were just trying to navigate our new weird normal.
"They had nets in the water, but they couldn't sell their fish. I was pretty active on social media because of Gemma Lou's, so I said, 'why don't we sell directly to the public?' Contactless direct ordering. It was partly just to continue to fish a little bit but also to provide this good, local product to the community. In March we did pre-orders and set up a flat-bed truck and sold tons. We also told people that if they weren't able to provide for their family at the time, we would donate as well. We weren't looking to make a profit, just pay for the diesel and feed the community. A lot of people paid above and beyond just to pay it forward and help balance out what was donated."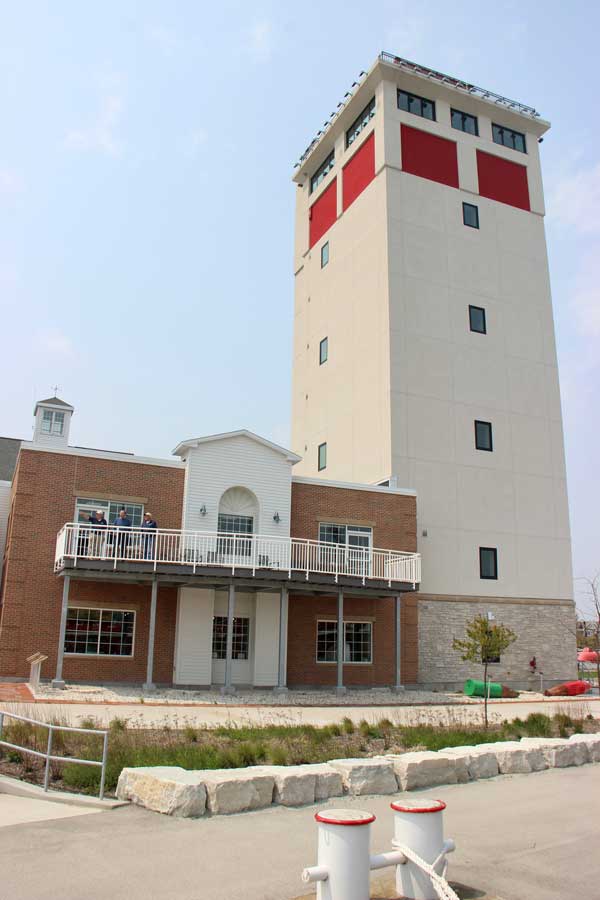 Kristie says that it felt so great to give back to the community. They sold fish three or four more times directly to the public until the restaurants started to open back up a bit. But in the farmers market world, Kristie was pretty much out of a job because she still couldn't sell her dog treats, so she jokingly suggested that she start "slinging fish." "It took off like wildfire," she says. "I call that time the silver lining of a very trying year. It was very successful." Fast forward a little and they went from selling fresh fish to developing a whitefish spread, which they taste tested with family and friends, and more recently whitefish cakes. 
"I think selling directly to the public was their vision (Charlie and Will) down the road. But Covid expedited it. The dream was to develop incredible products with no additives; there was a market and a need. It grew organically; there was no business plan, just a wing and a prayer."
Kristie likes to joke that she pulled them out from behind the curtain. They had been in business for over 30 years supplying to restaurants, but the public didn't necessarily know them. So in 2021, they wanted to bring the experience of Henriksen Fisheries to the public in full view by opening a storefront (which they currently rent. Their new facility was still being built when we visited). 
But she says, "The retail aspect couldn't have worked without the backbone of Henriksen Fisheries; what Charlie and Will built. They give me a lot of credit but that wouldn't have happened without all their hard work which allowed us to evolve. Covid made or broke a lot of people unfortunately. You had to adapt to the new normal and we did, and I'm honored to be a part of it. All the hard work Charlie did prior to this allowed us to move forward. It's been pretty awesome to be along for the ride!"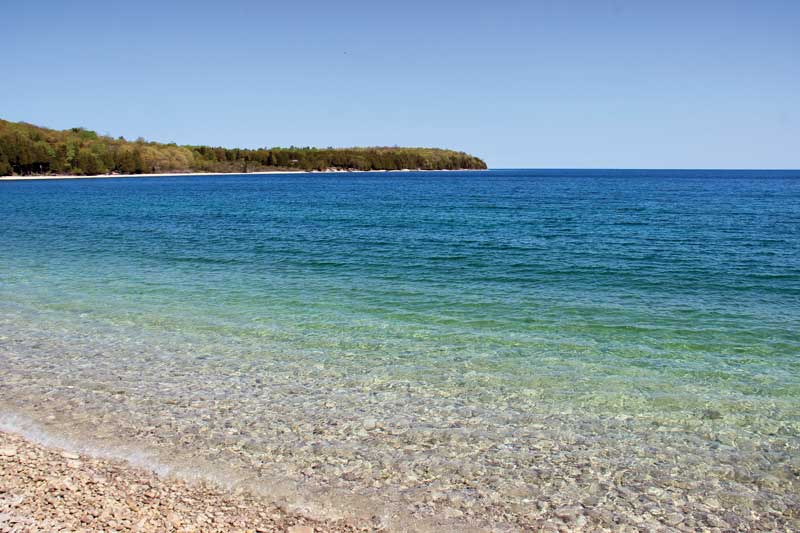 When I mentioned again how impressed I was with their family business and how well everyone got along, Kristie just laughed because, of course, all families have their moments. But she said one of the keys to their success is that her and Will speak the same language, and "Will speaks Charlie's language." "We work extremely well together," she added. "They have their moments but what you see is what you get. They are just amazing, down to earth people. And it wasn't hard to fall in love with Will and the family."
While fishing with Charlie and Will, we went out on Green Bay, with Lake Michigan on the opposite side of the peninsula. But I was dying to learn more about the infamous passage around the tip of the peninsula that connects the two bodies of water. 
Door of Death
The passage located between the northern tip of the Door County Peninsula and Washington, Pilot, Plum, and Detroit Islands is known as Death's Door. And while the county was named after said passage, Death County doesn't sound quite so appealing…
According to Destination Door County, "the origin of the name traces back to the Native American inhabitants who referred to the passage as the Door of Death after losing many men and canoes in a battle against the Winnebago tribe. The French adopted the name and began to label their maps Port des Morts, which roughly translates to Death's Door in English. The name stuck and inspired the title for the entire county."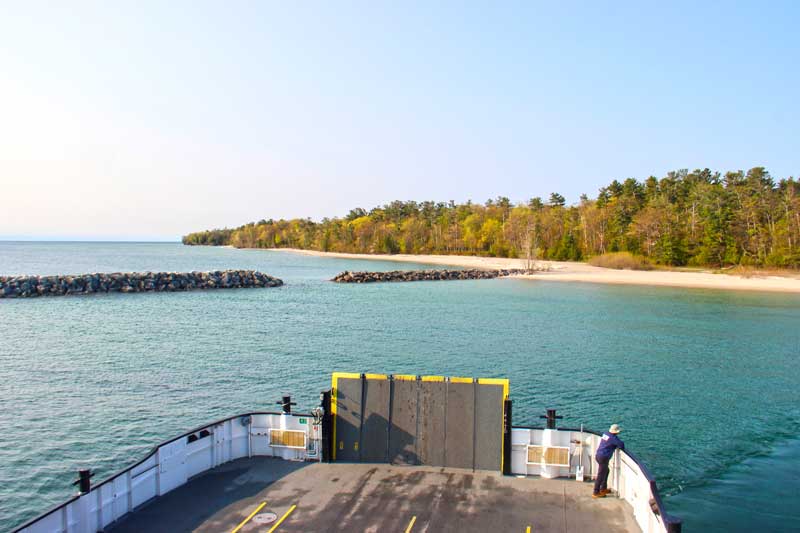 Strong currents, unpredictable winds, hidden shoals, sandbars, and rocky shores were just some of the reasons that made navigating these waters so difficult, as the passage connects the warmer waters of Green Bay with Lake Michigan. Over 275 shipwrecks have occurred in the waters around Door County.
The passage was so dangerous in fact that the Sturgeon Bay Ship Canal was built (construction began in 1872) to allow ships to sail between Green Bay and Lake Michigan, avoiding the Death's Door passage altogether. 
Due to the high number of wrecks, lighthouses were erected, and organizations like the U.S. Coast Guard came into being. Today, boaters can safely travel these waters thanks to modern technology, weather forecasting, and mapping systems. The Washington Island Ferry system traverses the passage several times a day, 365 days of the year. (My journey on the ferry across this infamous passage was thankfully perfectly serene).
After returning from the lovely Washington Island, it was sadly time for my whirlwind Wisconsin trip to come to an end. But I know I will never forget this place and I hope to return again someday very soon. What will stick with me the most? The rugged beauty of the peninsula, the immense kindness of its people, and the ways in which it reminded me of the Chesapeake: both places governed by the tides and the bounty of the sea.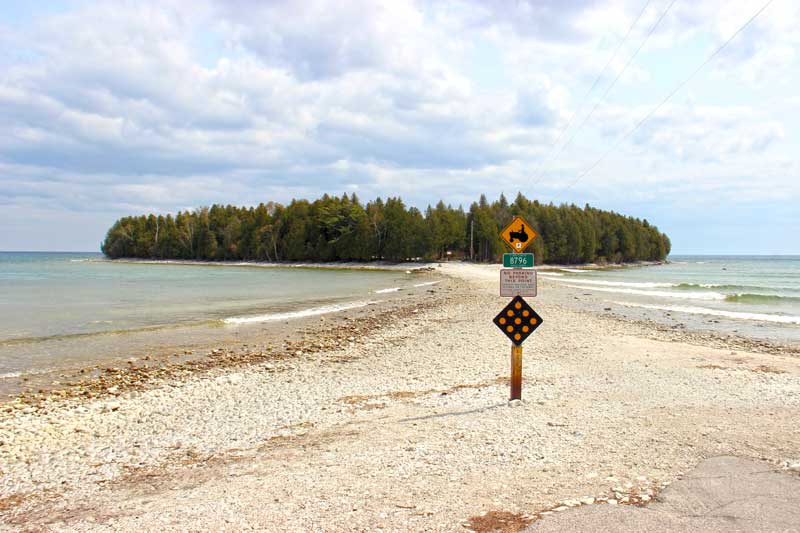 ---
Since I couldn't possibly fit everything I saw and did into one article, I wanted to leave you with a few highlights for when you

plan your own visit to Door County.
Must-Do Excursions
Take the ferry to Washington Island. Don't miss the Stavkirke, a beautiful church built by island craftsmen that blends ancient Norse traditions with a new form of worship, and Schoolhouse Beach, one of only five beaches in the world with all white limestone "polished" rocks.
Ride the haywagon across the causeway to Cana Island and climb the 97 steps to the top of the 89-foot-tall Cana Island Lighthouse.
Visit the Door County Maritime Museum—a beautiful, state-of-the-art facility, and one of the coolest maritime museums I've visited in some time. The Maritime Lighthouse Tower visitor experience begins in the first floor Theater. Guests then take the elevator to the top (10 floors) and make their way down through educational and interactive exhibits. Each floor has a different theme including: Working Waterfront, Rocky Peninsula, People Of the Water, Navigation, Commerce, Shipbuilding, Shipwrecks, and more.
Enjoy incredible views from the 60-foot Eagle Tower at Peninsula State Park (climb the 95 stairs or walk the gently sloping 850-foot ramp to the top).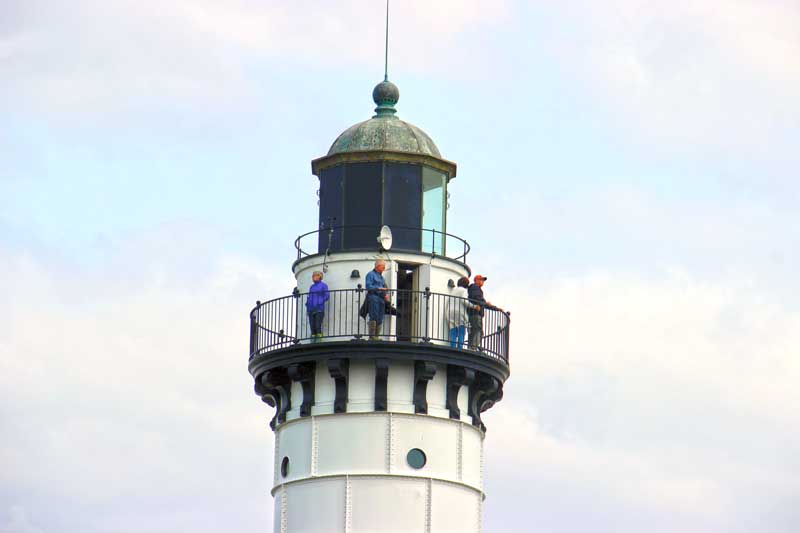 For the Foodies
Browse the wide selection of specialty coffee at Door County Coffee & Tea Co.
Sample wine and spirits at Door County Winery and Distillery (the ice wine was one of my favorites).
Have dinner at the Carrington at The Landmark Resort (and enjoy fantastic views of Green Bay while you eat).
Have lunch at Scaturo's Baking Co. and Café (the fresh pastries are to die for. I also highly recommend the Chuck Pacini seasonal sandwich).
You simply must experience an authentic fish boil—we had ours at The Old Post Office in Ephraim. This is a Door County tradition going back to its Scandinavian roots. It originally started as a way to feed large groups of hungry lumberjacks and fishermen, and now is a huge tourist attraction with one to two fish boils happening every night during the busy summer season. Basically everyone sits around a large cauldron of boiling water, and right before dinner is almost ready, they throw kerosene onto the fire, a huge fire ball erupts into the sky, the water boils over extinguishing the flames, and then it's time to eat.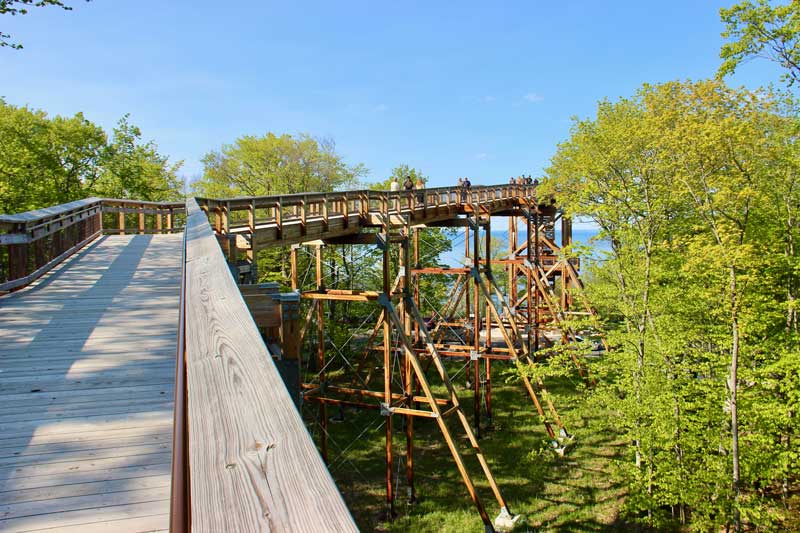 Enjoy a meal and delicious ice cream at Wilson's Restaurant and Ice Cream Parlor, a Door County landmark since 1906. You will feel as if you've stepped back in time at this delightful eatery.
On Washington Island you need to make at least two stops. K.K. Fiske Restaurant is known for their freshly caught "lawyers," also known as burbot, a Great Lakes freshwater fish. And you can't leave the island without joining the Bitters Club. Head to Nelson's Hall where you'll take a shot of bitters and thus get your Bitters Club Certificate which states that you have "taken 'the cure' by consuming the prescribed measure of bitters and as such are a fully initiated member of the Bitter's Club. You are now considered a full-fledged islander and entitled to mingle, dance, etc. with all the other Islanders." Nelsen's Hall, open since 1899, is the oldest continuously operating tavern in Wisconsin—the owner managed to stay open during Prohibition by applying for and receiving a pharmacist's license and 'prescribing' shots of Angostura Bitters to patrons. Medicinally, of course. And yes, I took the cure and have the certificate to prove it.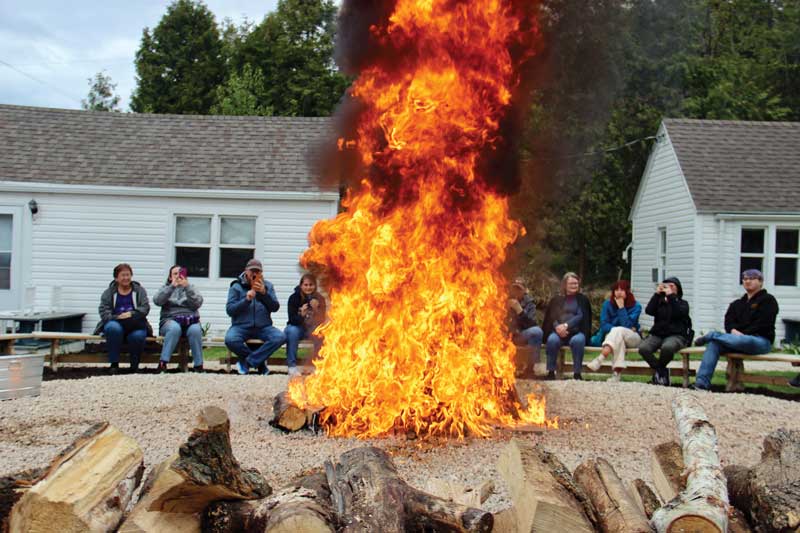 By Kaylie Jasinski