Expert tips and resources for decommissioning your boat before the first freeze.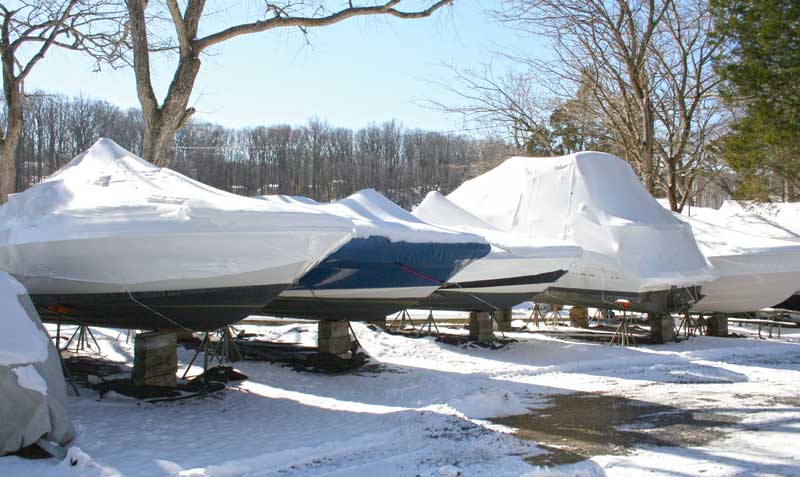 When you're considering winterizing your boat, there are four crucial factors to consider: 1) water expands when it freezes, 2) checklists are plentiful and free, 3) inexpensive tarps shred in winter storms easily, 4) winter is closer than you think. Consider the following as old man winter approaches the Chesapeake Bay: 
The expansion of water and why it matters
After analyzing 10 years' worth of boat insurance claims for freezing, BoatU.S. reports that more than three quarters of them involved cracks in the engine block or the exhaust manifolds that occurred because water remained in a boat's engine or cooling system during a hard freeze. "Cracked engine block" are three terrible, expensive words for any boat owner.
Of course, some of these insurance claims come from southern climes in which boaters hedge their bets that temperatures won't go low enough for a freeze. We're smarter than that on the Chesapeake… right? Yet procrastination happens, and it can be costly, so don't wait until December to winterize. 
According to Chris Sjolie of Chesapeake Dockside Services, a common mistake boaters make when winterizing is forgetting about "systems they take for granted. They forget that these things are there and need to be taken care of. For example, washer-dryer systems do not get winterized, or the water filtration system (reverse osmosis systems), anchor washdowns, or aft showers." 
Winterizing your engine is a high priority, but it's important to do it right. Brian Conner at Rhode River Marina in Edgewater, MD, says, "I've seen boaters using the portable jug with earmuffs trying to suck up antifreeze to winterize the engine—if it's not in the right condition, the thermostat will not open up and the coolant will not go through the whole way; they're leaving their engine somewhat unprotected. If you don't get enough antifreeze into the engine, it can create corrosion."
Find yourself a good winterization checklist, and make sure to familiarize yourself with your owner's manual. If that sounds daunting, hire a professional. 
Sjolie recommends finding a marine service pro "who has experience, someone who can show you their checklist, someone who has an established reputation that you can find online or through peers, and somebody who's willing to back up their work."
Checklists are free and easy to find
Marine professionals often echo the same sentiment about winterization: it's important to be methodical as you do it. Even the pros follow their checklists from top to bottom. Sjolie uses his "to keep things in order and sequential: water system (all tanks drained), focus on water heater (drained and bypassed), engines and generators, and then all the systems."   
Conner says, "I tell my customers: whether you do it yourself or through us, if you follow our work order, your boat will be dependable and run well, and its engine will be efficient." 
Find Rhode River Marina's detailed "winter work order" checklist in a downloadable PDF on its website (rhoderivermarina.net). The list includes pricing for each service if you'd like the staff to fully winterize your boat or do various parts of it from boat detailing to shrink wrapping.
The free 15-page BoatU.S. Winterization Guide (boatus.com/seaworthy/winter/winterizing.pdf) contains a thorough checklist and more detailed instructions on each task. 
Diversified Marine Services of Annapolis also offers a downloadable winterization checklist on its website 
(diversifiedmarineservices.com).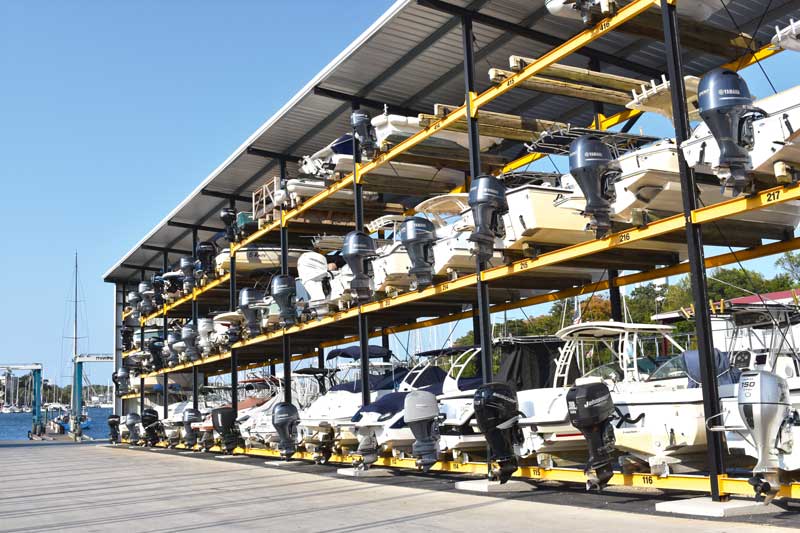 Cheap tarp? Find a better storage solution
We're only sort of joking when we talk about cheap tarps. According to marina managers we've interviewed over the years, they often see people covering their boats in inexpensive tarps with insufficient tie-downs and walking away from them in the winter, leaving the tarps to shred in the first good nor'easter. This is not a great way to treat your prized possession. 
A climate-controlled indoor storage facility would be ideal for winter boat storage, but it may not be accessible or feasible for you. Keeping a boat protected while outdoors in the winter has its challenges, the cover being only one of them. 
When it comes to in-water winter storage, Sjolie says "It should be not very different from out-of-water storage, but all seacocks and ball valves need to be closed; properly winterize all hoses to mitigate the chance of any freezing or damage." 
BoatU.S. notes that an in-water boat does not have time for the hull to dry out in the winter months, making it more susceptible to blisters over time. A safer solution is to haul the boat and keep it on a trailer, custom cradle, boat lift, jack stands, or in a "boatel." 
Custom canvas covers with wood or aluminum frames to allow for air circulation and to prevent pooling can cover the boat well, as long as there are sufficient vents. Shrink-wrapping is also a popular and effective winterization technique for protecting your boat when it's outside all winter. 
Conner says, "Shrink wrapping is a great solution if it's done properly. First, all of our boats get washed to get salt off. The canvas is taken down and folded up, laid flat, and stowed. The boat has to be completely dry, no dampness (we shrink wrap indoors). We put in a number of Damp Aways in a bucket, so when the moisture comes in, it goes into a bucket (a gallon jug with top cut off), not all over the interior of your boat. Properly venting, building a structure under the boat, and strapping are important, too. If done right, shrink wrapping can be the perfect solution."
Winter is closer than you think
The average low in the month of December in Maryland and Virginia ranges at 32 degrees Fahrenheit, exactly the danger zone for your boat's systems if they have not yet been properly winterized. That doesn't mean it won't freeze in November. Ask any good gardener when the first frost is along the Chesapeake, and you might be surprised to find how vulnerable your boat can be before Thanksgiving. Don't wait to winterize your boat. Keep her safe and protected, and you'll be happy come spring when you're the first boater to leave the slip.
A Sample Winterization Checklist:
 Change the engine oil.
 Add fuel stabilizer to the fuel tank.
 Drain the gear-case lubricant.
 Flush and drain the holding tank and fill the head with antifreeze.
 Check bilge pumps and empty the bilges.
 Drain the freshwater tanks and heater.
 Blow clear (with compressed air) the galley hand-pump, head and galley faucets, and shower.
 Flush the engine cooling system, fill with antifreeze.
 Open seacocks for the engine cooling system, HVAC system, and washdown pump.
 Pump bilges dry; flush bilge-pump, shower sump, and reefer sump; and fill with antifreeze.
 Top off the water in the battery.
 Remove propane tanks and stow ashore.
 Replace the fuel filters. 
 Replace the engine zincs.