The Waterfront Partnership of Baltimore's Healthy Harbor Initiative recently issued its annual report card grading the health of Baltimore Harbor. The report card, produced in partnership with Blue Water Baltimore, was created to help communicate and track progress toward the organization's goal that Baltimore Harbor be swimable and fishable by 2020. While progress has been made, the grades for 2016 indicate a need for continued clean-up and pollution prevention.
The report card data, collected throughout 2016, includes nearly 600 samples from approximately 50 sites, and represents more than 300 volunteer hours of service. The report breaks the waterways into two groups: tidal waters and streams. Tidal waters earned marks of 53 for the Harbor and 55 for the Patapsco River. Local streams didn't do much better, with the Jones Falls receiving a 56, and Gwynns Falls scoring 62. Those numbers equate to an "F" and a "D-minus."
Rain and its resulting stormwater runoff, nitrogen and phosphorus (which feed algae blooms that can ultimately kill fish), and fecal bacteria all contributed to the low scores, as did Baltimore's leaky stormwater- and sewage-pipe infrastructure system. What does this mean for boaters and anglers?
"The report card measures environmental health and human health, as it relates to the Harbor," says Adam Lindquist, director of the Healthy Harbor Initiative for the Waterfront Partnership of Baltimore. "For people interested in fishing, very poor scores mean less diverse fish populations and species in the Harbor, and even though boaters and fishermen may still observe wildlife, they may not be thriving. It's also likely that they're less plentiful than they would be under better conditions."
For those who like to swim off their boats, Lindquist says, "With regard to human health, fecal bacteria measurements help us determine whether coming into contact with Harbor water could be hazardous. Much of this pollution is caused by an old and leaking sewer system. The numbers indicate that past Fort McHenry and farther into the tidal Patapsco, it's safe to swim much of the time. However, the waters are less safe as you get closer to the Inner Harbor."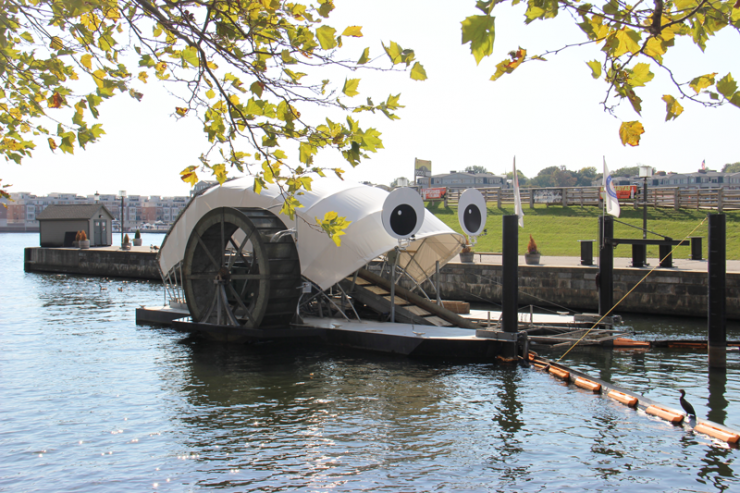 In addition to the pollution numbers, the report card highlights the success of the Healthy Harbor Initiative's two trashwheels. One operates at the mouth of the Jones Falls at the Inner Harbor, and the other at the mouth of the Harris Creek stream. Each is specifically designed for its individual environment. For the trashwheel located at the partially urban and partially forested Jones Falls, the design is built for strength and the capability of collecting large debris, even logs. For Harris Creek, however, the wheel is made for speed and collecting smaller pieces of trash, because the creek is completely piped beneath Baltimore's streets.
The report card also highlights Blue Water Baltimore's second Baltimore Flotilla, a five-mile paddle planned for Saturday, June 10, at Canton Waterfront Park. The event was scheduled to take place just as this issue of PropTalk is being printed. It promised to build upon the success of the inaugural event last year, when concerned citizens paddled hundreds of colorful SUPS and kayaks, descending upon Baltimore's urban waters, many with signs reading, "fix the pipes."