"There's all this empty water out here, and that powerboat just had to speed way too close across our bow!" It would be so pleasant if we could all share the waters with mutual respect and concern for safety. What do sailors want powerboaters to know and understand? Here are a few basic points to consider: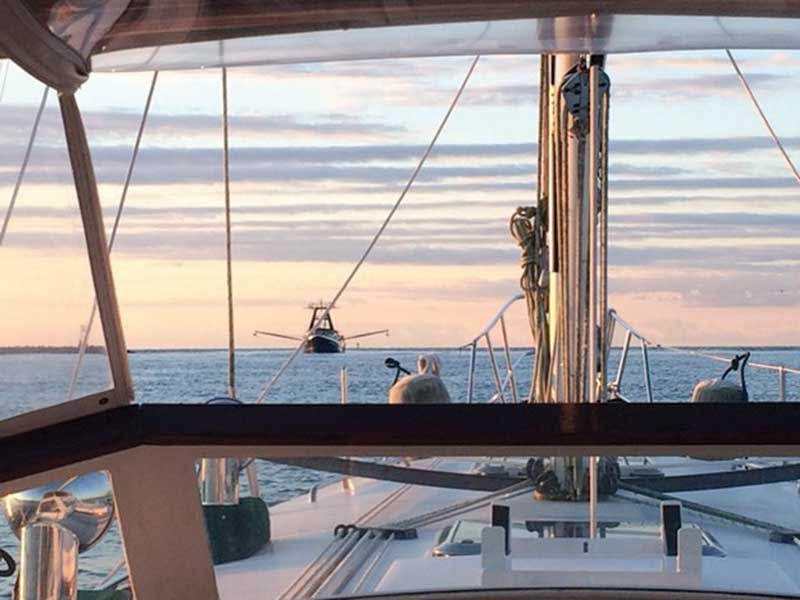 Mind Your Wake
"You are responsible for your wake." These signs are posted everywhere across the Bay. Yet, sailors on small 12-foot sailing dinghies and even large 20-ton, 45-foot sailboats have been rocked hard by powerboaters while sailing, at anchor, and in slips. Powerboats can avoid inflicting injuries, damage, and discomfort by simply slowing down or giving a wider berth. 
Most sailors agree that passing astern of a sailboat is preferable to crossing the bow and that passing alongside should be made from at least four boat lengths away at a wake-minimizing speed. 
Understand US Coast Guard Navigation "Steering and Sailing Rules" 11 – 19.
The Navigation Rules are clear about right of way rules for boating, informing skippers of all boats who should stay on course and who should give way (yield) in a meeting, crossing, or overtaking situation. If both skippers observe the rule applicable to their vessel and situation, this minimizes confusion and the risk of collision. The following list is in descending order:
N: Not under command 
R: Restricted in ability to maneuver
C: Constrained by draft
F: Fishing (commercial fishing with gear that restricts maneuverability; does not include trolling or rod and reel)
S: Sailing (propelled exclusively by sail) 
P: Powerboat (including a recreational fishing boat)
S: Seaplane
O: Overtaking vessel
Many boaters learned the memory aid, "New Reels Catch Fish So Purchase Some Often." Remember that recreational fishing boats are powerboats and therefore are the give-way vessels when meeting sailboats under sail.
Sailboaters are also guilty for frequent violation of Rule 18. Sailboats are powerboats when they use "propelling machinery." It's common for sailing vessels to motorsail to keep on course or to add a boost of speed when winds are light. 
Note depths and obstructions
The Chesapeake Bay is notoriously shallow. Crab pots stake claim to many of those depths during summer months. There are shallow waters in the middle of many popular harbors. Additionally, pound nets, oyster habitats, submerged pilings, sunken ships, and other obstructions threaten safe passage for sailboats with drafts much deeper than their powerboat rivals. 
This often means that sailboats, many with drafts over five feet, have limited options to change course or give way, compared to a powerboat whose draft may be far less, with more options for maneuvering.  
Consider Wind Direction
Do powerboaters understand that sailboats cannot sail directly into the wind, or even within 40 degrees of that? Sailors also anticipate when a nearby sailboat will be running out of deep water and will be changing course. In crowded waters, sailboat and powerboat skippers should be evaluating what's around them and anticipating what other vessels may do. Without running the engine, sailboats have very little maneuvering control, especially in light winds, which also can create a safety problem. Downwind sails are especially delicate for many sailboats, since accidental swings of the boom, caused by unexpected wakes or winds, can endanger people as well as vessels. 
Signal intentions early
All boaters share the responsibility to act early to avoid collisions. Navigation Rule 8 states that collision avoidance action shall "be positive, made in ample time, and with due regard to the observance of good seamanship." A change in course should be easily recognized by other boaters.
During busy Chesapeake weekends, many powerboats don't signal their intentions early enough for sailing vessels. A sailboat cannot make quick course changes like a powerboat. Powerboaters need to let sailors know, in a timely manner, that they are seen. 
As we begin the 2023 boating season, there is much to learn from one another. Sailors invite powerboaters to share what sailors could do to improve the on-the-water experience for all. Email [email protected] with your thoughts.
About the Author: CAPCA member Cheryl Duvall holds a 50-ton Master Inland license. As a native Bay area resident, she has a lifetime association with the Bay. She has been a member of the Chesapeake Bay foundation Speakers Bureau for more than 20 years and a volunteer Clean Water Captain for the CBF for more than seven years.