There was a time, even in recent years, when "the Wharf" in southwest Washington, DC, meant "the Fish Wharf," the Maine Avenue Fish Market, also called the DC Municipal Fish Market. The storied market is a rare open-air seafood market, the oldest in continuous use (since 1805) in the United States. It is older than the Fulton Fish Market in New York City.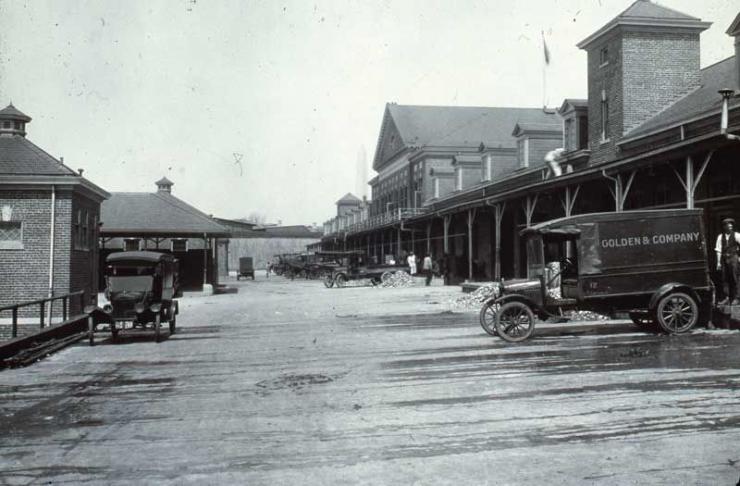 Today, the Fish Market is an authentic, colorful array of awnings and storefronts and stalls with iced fresh-catch that stand out in the newly re-imagined Wharf. The Wharf is an ambitious mixed-use revitalization of a mile-long, 24-acre stretch on the Washington Channel, off the eastern bank of the Potomac River.
Before the Civil War, the Maine Avenue Fish Market's site was a bustling center of waterfront commerce. In the late 1700s, it was home to an industrial shipyard, dotted with storage sheds and outdoor markets where fishermen sold catch off their boats. By 1918, the Market's block-long structure replaced many of these smaller markets. The Market thrived in the 1920s and 30s, and by the 1960s, the structure was demolished, but not the seafood vendors.
Today, seafood lovers can still eat fresh catch in the Municipal Market's original Lunch Room. Seafood businesses operate from barges in the Washington Channel. Changes to come include more seafood sellers; lobster may be added to the barges; and the aging Oyster Shed is slated for a redo—to reopen as an oyster restaurant. Nearby, construction of new buildings for other businesses is underway.
This southwest DC waterfront encompasses a rich sweep of American history from early settlers and Native Americans, to George Washington and L'Enfant's vision for a maritime center, to its use as a military staging area during the Civil War. As early as 1794, Washington, DC's first military installation, Fort Lesley McNair, was built on Greenleaf Point (Dr. Walter Reed studied infectious disease here from 1893 to 1902). The 1930s brought beautification and revitalization, followed by cycles of change in later decades, such as the 1960s. Cultural icons and entertainers, including Al Jolson and Marvin Gay, grew up in the southwest waterfront's Fourth-Street neighborhood. The Arena Stage, built in the 1960s, is only a few blocks away.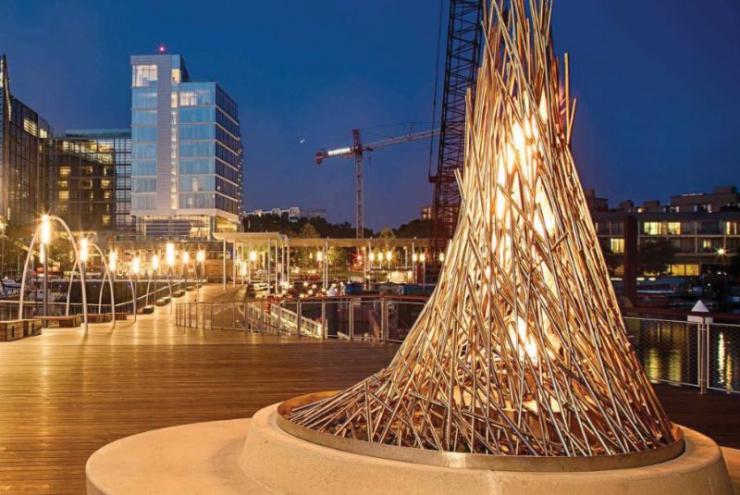 Phase I of the $2 billion Wharf revitalization, completed in October 2017, includes waterfront parks, piers, restaurants, residences, promenades, and neighborhoods anchored by historic venues; these include Market Square (near the Fish Market) and the Yacht Club Piazza, home to the Capital Yacht Club's new clubhouse overlooking the marina. Phase II, open in mid-2018 and to be completed in 2021, means more hotels, a concert hall, ground-floor shops, 10 acres of public parks, four new public piers, pedestrian and biker-friendly trails, and water-taxi services.
What can boaters expect this spring at the Wharf? A choice of marinas and slips includes the Gangplank Marina, which has 309 slips. The Capitol Yacht Club, a private membership club formed in 1892, welcomes members and visiting boater members. At Recreation Pier, there are kayak and paddleboard rentals. The Market Docks, near Market Pier and the Maine Avenue Fish Market, have more than 40 short- and long-term slips, floating concrete docks, showers, and bathroom facilities. There are other amenities for boaters: more than 1000 linear feet of side-tie; in-slip water; pump-out; WiFi access; vessel services upon request; moorings available with dinghy dock; gated and secure entry; Power: 100A 120/240V.
For boaters who want more to do than enjoy the sunsets and walk to eateries, national monuments, museums, or the L'Enfant Plaza metro, there are special events at the Wharf, including "Petalpalooza" cherry blossom celebration with fireworks April 10 and "Running the Chihuahuas" on Cinco do Mayo. There is water taxi service between the Wharf, Georgetown, National Harbor, and Old Town Alexandria, VA, through Potomac Riverboat Company. For more information on Market Docks, call (202) 897-3868 or email [email protected].
By Patricia Dempsey