The Easton Waterfowl Festival
Easton's Waterfowl Festival, to be held this year November 10-12, is the Talbot County seat town's claim to fame. For the past 47 years, it has turned this charming Eastern Shore town into a mecca for all things related to waterfowl, from award-winning decoy carvers to nationally recognized water colorists and oil painters to celebrated wildlife photographers… even to bird callers and retriever aficionados.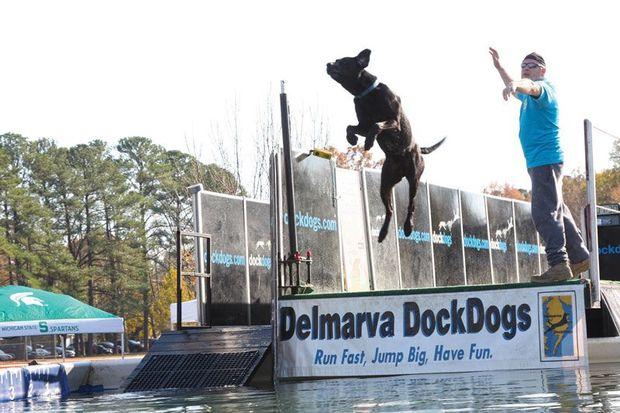 Over the course of the three-day event, 18-20,000 devotees of art, food, and fun crowd the streets and exhibit areas of Easton. "There's something for (you) at the festival whether you are a serious waterfowl art collector or just hankering for something different to do on a crisp fall weekend," says waterfowl marketing manager Heather Grant. The preliminary schedule calls for more than 300 artists to have their works on display throughout town. Since the beginning, proceeds from the festival have gone toward a variety of conservation-based organizations. Almost $6 million has been raised for use by more than 50 local groups.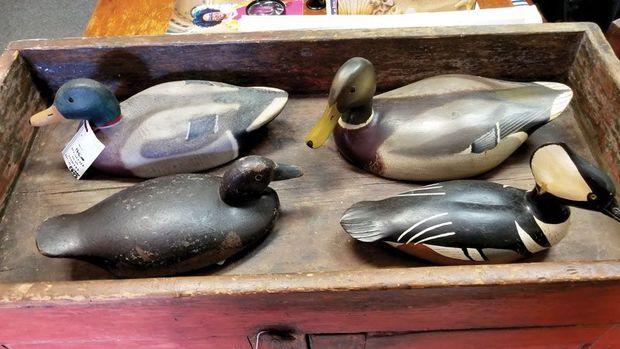 But the Festival is not all that Easton is about. The July issue of Forbes magazine calls Easton, St. Michaels, and Oxford "the Hamptons of the Eastern Shore… with all the hallmarks of an iconic Gatsby-esque summer enclave." According to Forbes, Easton is number six on the list of millionaires per capita. Former Vice President Dick Cheney buys ammo at Easton's downtown Albright's Gun Shop. Personalities Lynda Carter and Ben Stein have been known to frequent its shops.
Artist Profile: Cal Jackson, photographer
This will be Cal's first foray into selling photographs at the Festival. He's a retired CFO who moved to Easton 10 years ago. "I'm still searching for my 'thing,'" he says candidly. "But in the meantime, I think I have assembled a strong portfolio representative of the people and places around the Bay." A street photographer by inclination, Cal admits to being won over by the nature that abounds on the Eastern Shore.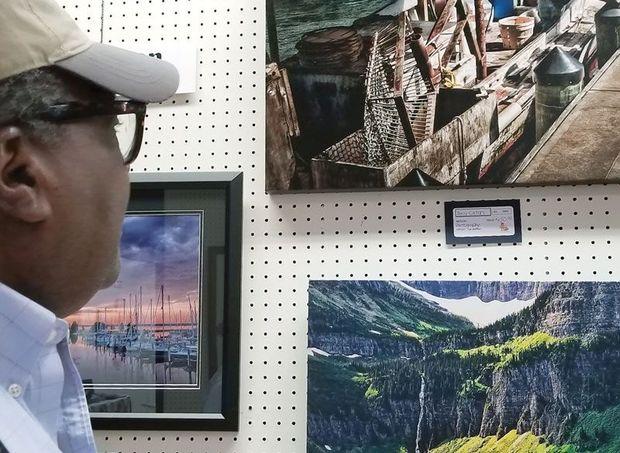 Easton Waterfowl Artist Profile: Julia Rodgers, painter
Julia is this year's Featured Artist. An Easton native, she exhibited at her first Waterfowl Festival while still in high school. She is a sailor and conservationist. "I paint what is all around me. I am so lucky to be able to combine my love of wildlife with my love of the water." Her painting "The Long Stretch" will be on exhibit and for sale at the festival.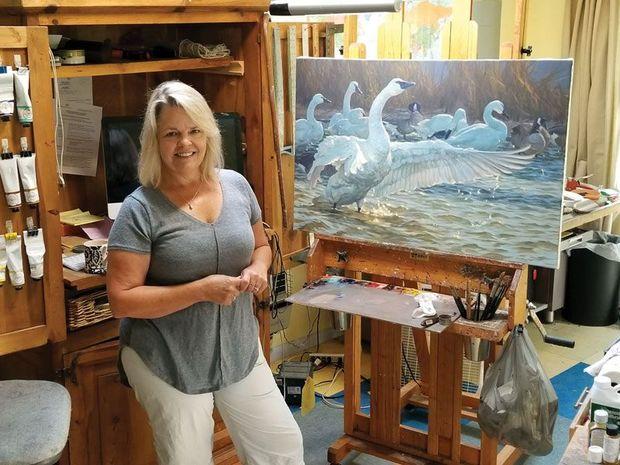 [wc_divider style="solid" line="single" margin_top="" margin_bottom="" class=""][/wc_divider]
Arriving by boat
Accessing Easton by powerboat is easy. But it takes a little planning. The Tred Avon River flows past the Easton Point Marina before reaching its headwaters two miles southeast of town. "There's good, deep water all the way from the Choptank," Easton Point Marina co-owner Tristan Price says. "And there are plenty of little creeks to explore along the way."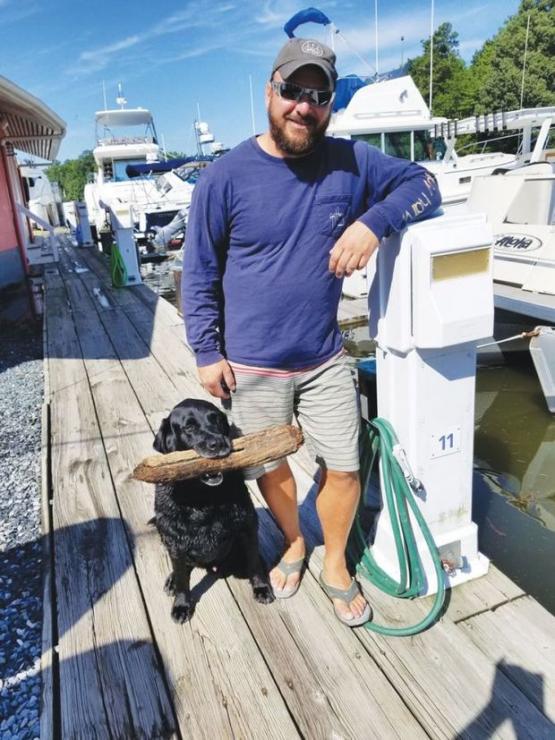 Price and two partners bought the failing marina four years ago and have spent considerable time and money enhancing the facilities. The marina boasts a modern shop, 22 slips, a boat ramp, a fuel dock, and a modest marine store. Price has plans to add an outdoor oyster and crab bar sometime next year. The marina rents kayaks, and Price says there are easy paddles close by that put you up close and personal with all kinds of flora and fauna. Price wants to make it easy for boaters to enjoy Easton. He will gladly arrange an Uber car or taxi to transport visiting boaters to town. "If you are planning to come to the Festival, give us a call plenty in advance. We will do our best to accommodate you either at a slip or anchored out." As one of the "three sisters" of Talbot County, Easton isn't as touristy as St. Michaels or as band-box quaint as Oxford. There isn't a T-shirt shop to be found, and kitschy tourist shops are few and far between. [wc_divider style="solid" line="single" margin_top="" margin_bottom="" class=""][/wc_divider]
To see and do…
The thriving town of 17,000 offers plenty to see and do for visitors coming by boat or by car. Start with a cup of coffee or a breakfast sandwich at Hills Soda Fountain Café, a downtown landmark just down the street from the renovated Avalon Theater. Stroll the tree-lined downtown and residential streets, taking in a host of colonial homes, some dating back to the 1700s. The iconic County Court House, built in 1794, features a controversial monument of the Talbot Boys, 84 locals who fought for the Confederacy during the Civil War, juxtaposed with a statue of abolitionist Frederick Douglass who was born just up the road. Take in the local art scene at the Academy Art Museum. Admission is only $3. Or just meander down the four-mile Rails to Trails path past Easton's now defunct Train Station. Stop for a bit of lunch at Sunflowers & Greens, the Washington Street Pub, or Out of the Fire. And leave room for dessert as you double back to Hills for an ice cream treat.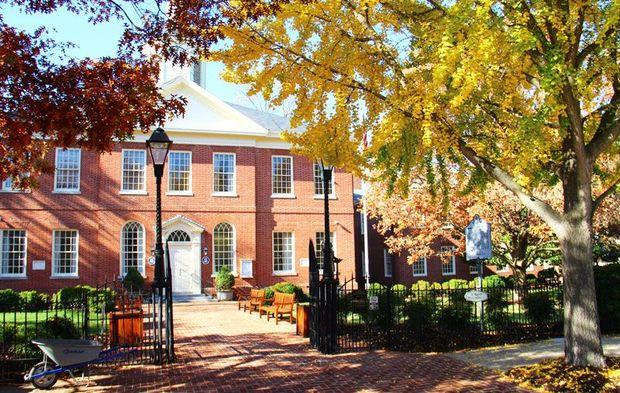 Then indulge your shopping urge with a visit to any of the upscale shops lining Goldsboro and Harrison Streets. For an unforgettable experience, book yourself into the Inn at 202 Dover. Innkeepers Ron and Shelby Mitchell will ply you with good food, good wine, and insightful conversation. The inn features four suites and one standard room. Prices start at $250 per night. The inn's restaurant, Peacock, is the only Michelin-recommended eatery on the Eastern Shore. Dinners are not to be missed. This reporter overdosed on cold cantaloupe soup garnished with lump crab and topped with a frozen lime granita, all washed down with a delightful 2010 Malbec. Breakfasts are a gourmand's delight. And the rooms come complete with a split of champagne for the romantically-inclined. Down the street, the Tidewater Inn offers more traditional accommodations. Its Hunter's Tavern serves a mean Eastern Shore crab roll and a mouth-watering snapping turtle soup. Check with the Inn for scheduled music offerings. If you're really into bed and breakfasts, for a cool $1.3 million you can buy the seven-bedroom, 12,000-square-foot Bartlett Pear B&B. That will guarantee you a place to sleep at next year's Festival! As Ron Mitchell says "Easton is a hidden gem that more and more people are discovering. It's genteel without being stuffy. It's a great counterpoint to St. Michaels and Oxford. Those strike me as great places to visit. Easton is a great place to live."
by Craig Ligibel