We recently had the opportunity to take a whiskey cruise with Baltimore Water Taxi and Sagamore Spirit on one of the latest water taxis to hit the water, Billie's Voice. This is the fourth of the new water taxis and she is named after Baltimore-born jazz singer Billie Holiday.
After Under Armour CEO and Sagamore Spirit founder Kevin Plank bought the company that operates Baltimore's Water Taxis, new boats have been added to the line. The new taxis are 55-foot Hooper's Island Draketails, custom-built by Baltimore-based Maritime Applied Physics Corp, and modeled after 1920s-era crabbing vessels. There will eventually be five boats, with Billie's Voice being the latest. The other taxis are named Key's Anthem, Cal's Streak, and Thurgood's Justice.
But apart from just offering taxi service, Baltimore Water Taxi now offers a selection of curated tours so guests can truly experience Charm City, whether you are a local or a visitor. PropTalk's editor opted for the whiskey cruise, which consisted of an extensive tour of the Sagamore Spirit distillery, followed by a whiskey tasting, and a sunset cruise around Fort McHenry. Water taxi service to Port Covington is only accessible through a private charter, or on this case a ticketed event, so it was a special treat to transit a different section of the Patapsco River. Onboard Billie's Voice, each guest was offered a Sagamore cocktail, the Black-Eyed Rye (made with Sagamore whiskey, ginger beer, lime juice, and blackberry). Upon arriving back at the docks, guests had the opportunity to sign their own bottle of Sagamore whiskey.
We had a blast on this tour and highly enjoyed both the on-land and on-water portions. For being a Baltimore-native, I had yet to visit the Sagamore distillery and still had not been on one of the new Baltimore water taxis. PropTalk highly recommends. The next tour dates are June 20, July 11, and July 25 at 6 p.m.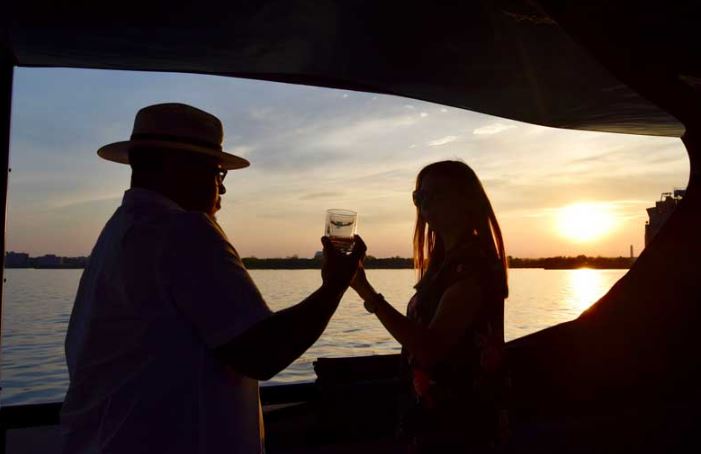 If whiskey isn't your speed, there are many other curated experiences available through Baltimore Water Taxi, though many are only available by arranging a private charter. Some of the options include the Ride and Fly, where guests take a cruise around the harbor and are then transported to Fly Charm City for a helicopter ride over Baltimore. There is also the Crabs and Crushes cruise, a Game Day cruise to an Oriole's game, as well as a custom history tour with a professional tour guide. The possibilities are endless and any experiences can be tailored.
For more information on pricing and private charter options, email [email protected]. If you're interested in one of the upcoming whiskey cruises, click here to purchase tickets. Many thanks to Baltimore Water Taxi and Sagamore Spirit for a top notch tour!