For many boaters, completing the 6000-mile Great Loop is a once-in-a-lifetime accomplishment, but once wasn't enough for Bill and Kellirae Adcock, who are halfway through their second trip around the famed Loop, which circumnavigates the eastern half of the U.S.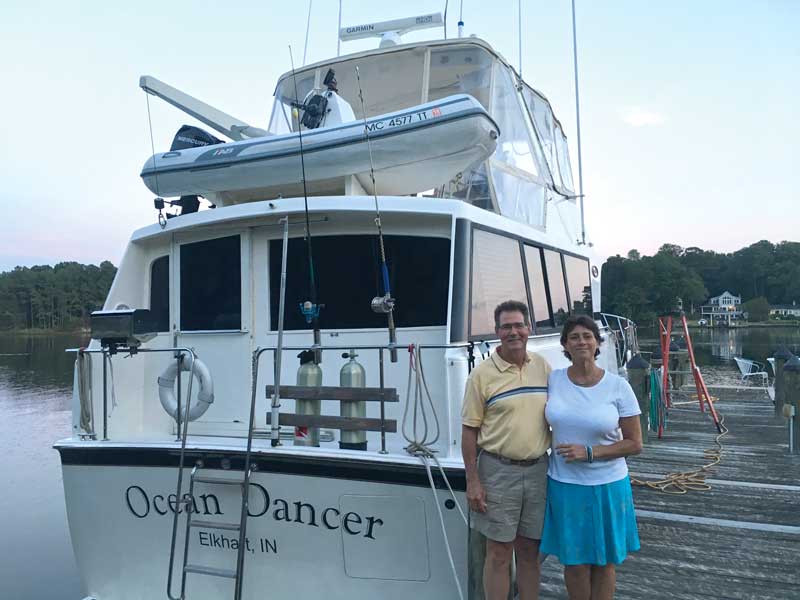 After completing the Loop, the couple, who are Michigan residents, was only home for about 30 days before they headed back to the boat and started out again. We caught up with them in July, while they were staying at Solomons Island Yacht Club (SIYC), while spending the summer exploring the Chesapeake Bay before attending a local wedding (Kellirae was raised in Baltimore and still has family in the area).
Bill explains how the dream began. "In the late 1980s I found a little, quarter-column write-up about the Great Loop," he recalls. "I tore out that little piece of paper, and I saved it. At the time, we owned a 26-foot Chris-Craft, a great boat, but not one for the Loop. Time passed, and eventually computers and Google made it easier to learn about the entire Great Loop route. With easier access to information, we began making a plan. 
"In 2004 we bought our current boat, a 48-foot Ocean Motor Yacht, for the purpose of doing the Loop. Downturns in the economy delayed us for a while, but finally, in September of 2015, we were ready to get underway. By that time we had been boating on Lake Michigan for 23 years and had accomplished several 450-mile trips from our homeport in Michigan City north to Mackinaw Island."
After attending a family wedding in Baltimore this October, the couple plans to head south on the Bay, then into the ICW or open ocean (depending on weather) and on to the Bahamas for the winter. After initially jumping off from the Florida Keys during their first trip around the Loop, they have found that they really love exploring the Bahamas while it's colder up north.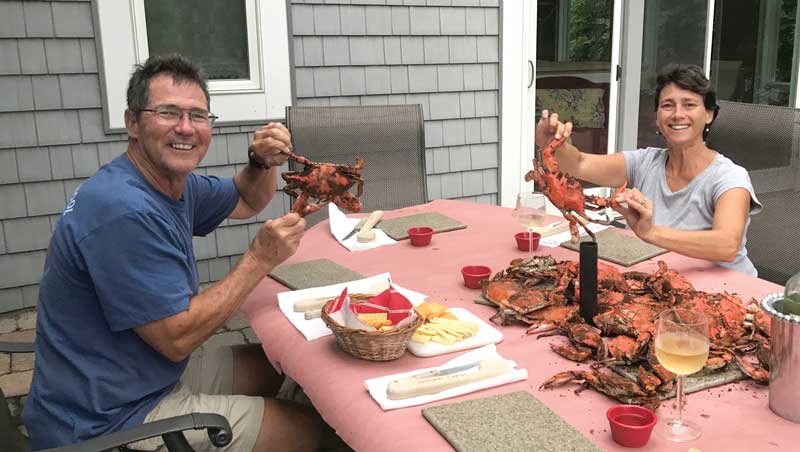 Before starting the Loop, the Adcocks joined the America's Great Loop Cruisers Association (AGLCA) and attended one of its seminars held in Chicago. "The AGLCA and Marine Trawler Owners Associations both have wonderful forums with all kinds of maintenance tips and advice on mechanical and electrical systems and engines," says Bill. "Some of the people offering advice are retired engineers and ship captains, with a wealth of information, which they share freely. In 10 minutes you can get five opinions."
To those considering the Loop, Bill says, "Get out as soon as you can! Many people are a little scared of the navigation, but it can be learned. I got my education from the U.S. Power Squadrons. Once you begin, take your time. Never make a time schedule, so you can adjust for the weather and the amazing scenery. It's indescribable what you'll see along the way. Your pictures will never do it justice. We have really enjoyed the company and attitudes of the many, happy, married couples that we have met and traveled with along the way. We've met hundreds, and nearly all of them seem to really enjoy one another's company."
Thanks to Solomons area AGLCA Harbor Host Doug Smith for connecting PropTalk with the Adcocks. Smith adds, "Bill and Kellirae are both musical performers and put on a small show while they were at SIYC. Just a few years ago Bill had a Bluegrass band and Kellirae had a country music band. She opened for big name performers several times. They performed five songs at the club, and they were great!"
For more information, visit the America's Great Loop Cruiser's Association.