Hurricane Florence was recently downgraded to a tropical storm but is expected to regain hurricane status as it moves towards the U.S. East Coast in the coming week. Florence is the first category four hurricane of the 2018 Atlantic Hurricane season.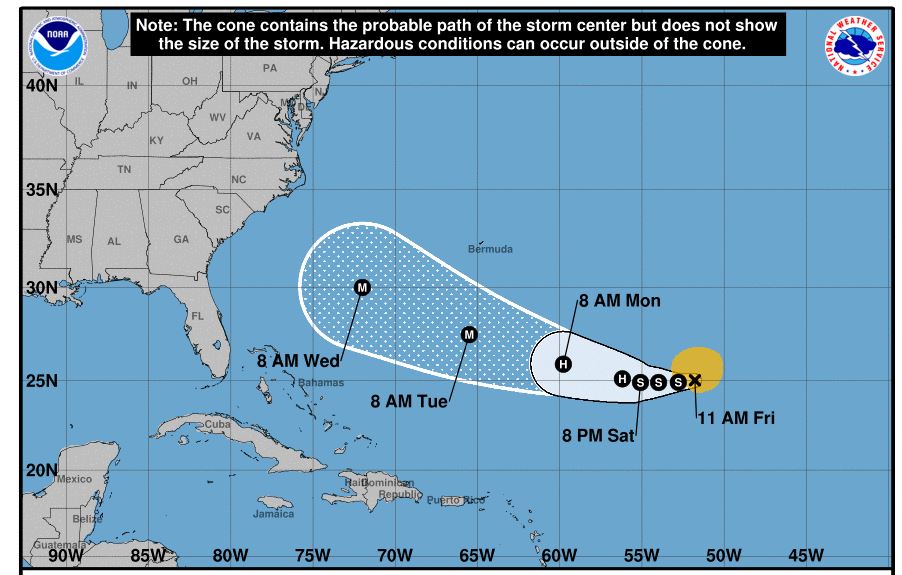 Florence is currently 1600 miles from the East Coast and moving towards Bermuda. However, Accuweather reports that the vast majority of tropical storms and hurricanes in Florence's position tend to curve away from the U.S. 
Despite the path it could take, the National Hurricane Center warns that large swells will begin to affect Bermuda today and the U.S. East Coast this weekend, which could results in "life-threatening surfs and rip currents." As it moves closer to the U.S. coastline, it is expected to regain category three hurricane status.
The forecast of Florence and the impact to the U.S. East Coast mid- to late-next week remains highly uncertain.
Here are the 11 AM AST Key Messages for Tropical Storm #Florence. High surf will begin to affect the U.S. East Coast this weekend. The risk of other direct impacts has increased, but it is too early to know the specifics of these impacts. https://t.co/xK9IcN4PqV pic.twitter.com/PwLwbN14s6

— National Hurricane Center (@NHC_Atlantic) September 7, 2018
The Weather Channel has highlighted three possible scenarios.
Scenario 1:
"If that high-pressure ridge is stronger and extends farther west, that would increase the chance of a hurricane landfall along the East Coast, particularly over some part of the Southeast or Mid-Atlantic coast mid- to late next week, with the remnant then driving inland.
Prognosis: Increasingly possible."
Scenario 2:
"If that high-pressure ridge is weaker and doesn't extend as far west, that would diminish but not eliminate the chance of a landfall. However, that could still bring Florence uncomfortably close to the East Coast, resembling a slow-moving nor'easter. Several days of damaging surf, coastal flooding and beach erosion would occur in this scenario along at least a portion of the East Coast. 
Prognosis: Possible."
Scenario 3:
"Florence may remain sufficiently far enough offshore to avoid even significant coastal flood impacts.
Prognosis: Diminishing potential."
But as this is a long-range forecast, there is still a large amount of uncertainty. The Weather Channel advises:
"All interests along the U.S. East Coast from Florida to New England should monitor closely the forecast of Florence. If you live in a hurricane-prone location, now is a good time to make sure you have a preparedness plan in place."
For timely updates from the National Hurricane Center, visit nhc.noaa.gov/#Florence.
Visit the BoatU.S. site for Hurricane Preparation Tips for Boaters.