Have you changed prop sizes on a Classic Chris-Craft? This boat owner did it on his boat. Why the prop change? Maybe looking for more top speed? No. A better trolling speed was the goal for his fishing gear. The best trolling prop after several tries for this boat is a 13- by 12-incher. Jim Schiller from Annapolis trolls at the best "fish catching" trolling speed with it, as opposed to other prop diameters (the first number) and pitches (the second number). He has storage room in the center of the boat for some 200 lures. So, getting the most success with this equipment was his goal.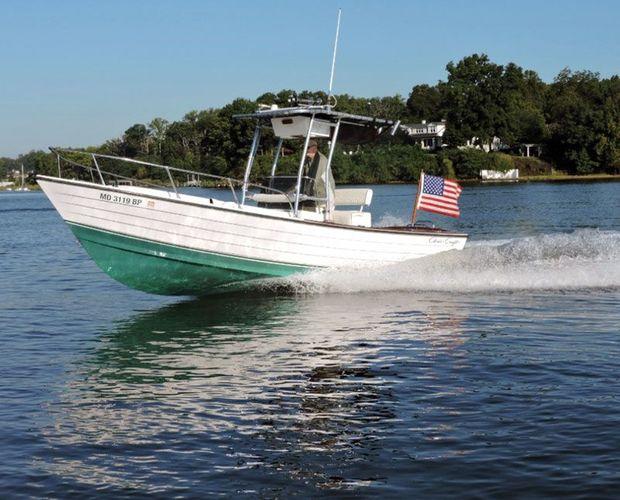 Jim loves to troll under the bridge on the Chesapeake Bay two to three times a week with his boat. He likes to catch and eat rockfish when in season and uses this classic 22-foot Tournament Fisherman/Sportsman/Cutlass hull to go fishing. I used all three terms as they came in different models, but today even the open boats are "nick-named" the Cutlass series.
Most of the 500 plus boats with this hull over the years were straight inboards, either as a center console or a raised helm small cuddy cabin model, but 34 were built as outboard-powered center consoles. The Bertram Moppie "style" higher helm and enclosed cabin space with 90 hulls made, is the proper and true Cutlass named model. All the boats have roughly a 1969 to mid/late1970 manufacturing date.
Either Boston Whaler or Aquasport are credited with inventing the center-console boat style based on conflicting stories back in the early 1960s and maybe depending on which brand one favors. Thus, this classic is an effective fishing boat. Propped, equipped, and fitted out ready to catch fish for her owner and his fishing buddies.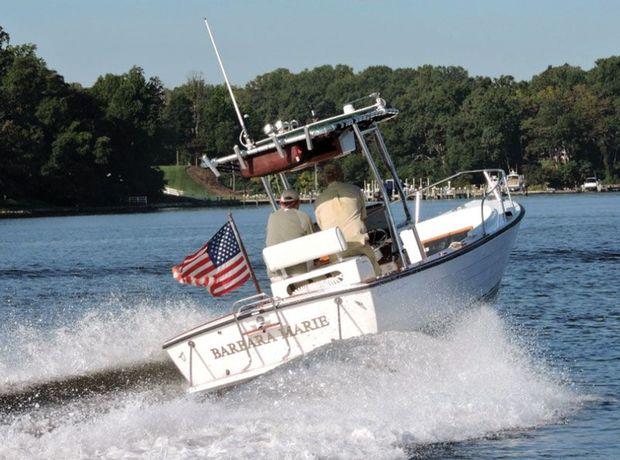 Classic boats are used for the same multi-purpose that brand-new boats are. This boat "cocktail cruises" eight or more and functions well as a way to get to a dinner restaurant on the water. By the way, a 14- by 14-inch prop delivers a 50-mph top speed, but trolls too fast for Jim.
Jim's boat is powered by a Ford 351 Windsor small block that was sold as a marine engine by Ford from the 1970s to the 1990s, but was used by Ford in trucks and autos from 1969 to 1996. This is a replacement engine that matched what was in the boat. One needs to know that there are also 351 "Cleveland" engines, which this is not (the Cleveland is a different Ford engine series).
She has a straight inboard shaft, prop under the boat hull, strut, shaft log, stuffing box, and reverse gear. This boat uses a Velvet Drive 71C at a one-to-one (direct) ratio reverse gear which with brass discs in place Jim considers "almost bullet proof."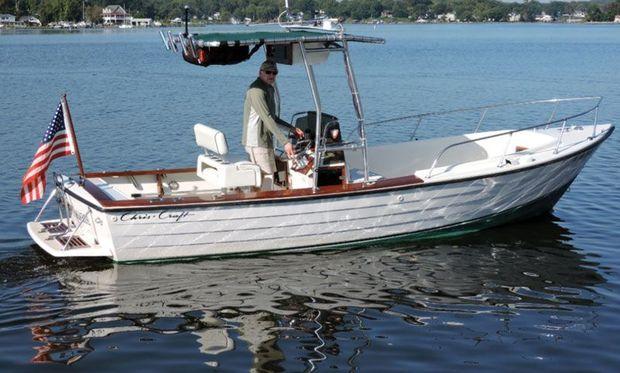 What else did this classic need to go fishing? He added a non-stock swim platform, some teak trim, used Awlgrip on the hull for a finish, and did Imron paint on the deck. Any wood got a three coat West System finish with eight to 12 coats of varnish on top of that for more protection. She shines!
Maintenance is easy. Any wood gets two recoats of varnish each spring, and both the Imron and Awlgrip finishes just get a wash down. The inboard engine and reverse gear need the same attention as any boat would. The shaft alignment needs to be checked with a feeler gauge as needed.
Jim likes this model classic Chris-Craft so much that he has another one under restoration which we used as a photo boat. The boat took the three of us onboard for a wake-strewed South River for a test and photo shoot. I loved this boat as a day boat, fish boat, or way to go for some food pierside.
by Chris "Seabuddy" Brown