If you missed having Passagemaker's TrawlerFest in Baltimore, now is your chance to enjoy the five-day event on the Chesapeake Bay in the Inner Harbor once again. Trawler enthusiasts will gather at the newly renovated Harbor East Marina September 25 to 29 for an extensive array of seminars, an in-water boat show (September 27 to 29), and social activities for like-minded boaters.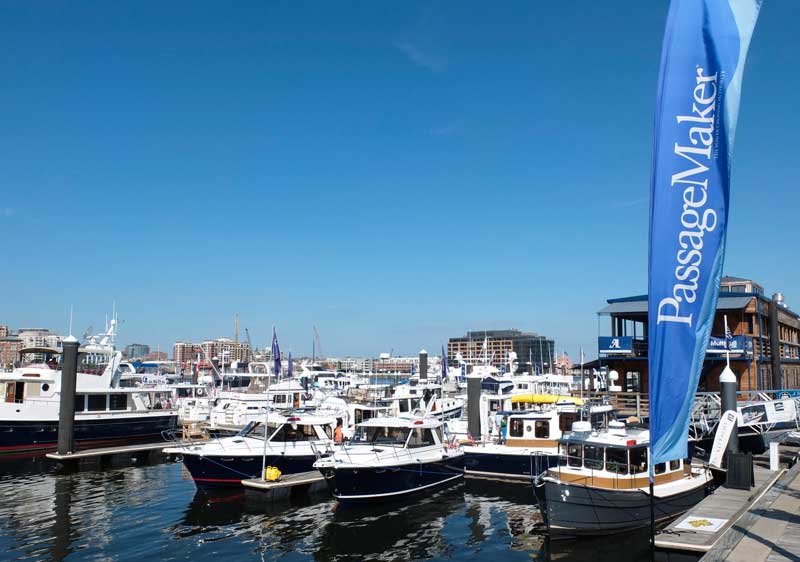 Details
Seminars: Tuesday, September 25 to Saturday, September 29
In-Water Boat Show: 10 a.m. to 5 p.m. Thursday, September 27 to Saturday, September 29
Location: Harbor East Marina, Baltimore
Sampling of Seminars
Although you can't beat a day at the boat show checking out new trawlers, the seminars are the meat of the event for those who are honing their cruising skills and eager to meet other boat owners. Find the full seminar schedule, detailed descriptions, and pricing at passagemaker.com. 
Everything You Need to Know About Diesel Engines, with Nigel Calder and Steve Zimmerman
Renowned author and researcher Calder and veteran boat-builder and yard operator Zimmerman are real-deal cruisers, who bring this perspective to the curriculum. This two-day session combines classroom time with hands-on engine time in the shop, as well as theory and practical troubleshooting instruction.
Practical Marine Weather, with Chris Parker
Weather router Parker's goal is to teach attendees the basics of what drives weather in the marine environment and how to predict it. He will discuss why weather happens, trade winds and other large-scale weather, basic concepts, barometers, air mass and synoptic-scale weather (high and low-pressure systems, etc.), severe weather, seas, computer-generated forecasts, and more. 
Medical Preparedness and First Aid for Boaters, with DAN Medical Services
Emergencies in remote places can have dire consequences unless you're sufficiently prepared. Join Dr. Jim Chimiak, DAN medical director, for an open discussion on boater safety resources and an approach to basic medical care, including case reviews that detail the initial steps in dealing with medical emergencies in remote locations. 
The Great Loop: How to Prepare, What to Expect, with Kim Russo and veteran loopers
Boaters who circumnavigate the East Coast, using the Hudson River, Erie Canal, Great Lakes, Mississippi River, and Intracoastal Waterway are called "Loopers" for having completed "The Great Loop." Kim Russo, executive director of the America's Great Loop Cruisers' Association, will give a detailed briefing with plenty of time to answer questions. She will also address which boats are most suitable and how to budget.  
Admirals Roundtable, with Alyse Caldwell, Becky Fickett, Alexandra Bruce, Katy McCaffrey, Mary Ann DeGraw, and Priscilla Travis
All the women on the panel have cruised but with distinctly different experiences. This seminar is for women who think they may want to go cruising or who have only recently entered into the cruising lifestyle and have a wide range of questions best answered by other women, without any men in the room.
Boat Buyer's Survival Guide, with Steve Zimmerman, Ken Fickett, Cary Wiener, Vin Petrella, and Dylan Bailey
An eight-hour seminar to arm buyers with the information they need to minimize frustration and unnecessary expense. There are six "team teach" instructors, with individual presentations and a group panel session at the end of each morning. The seminar will cover the decision-making process, insurance, boat construction, surveying, sales contracts, and taxes.
Cruising the Intracoastal Waterway, with captains Chris and Alyse Caldwell 
Heading south for the winter? Chris & Alyse Caldwell can help you plot your course along the ICW from the Chesapeake Bay through mile marker zero in Norfolk, VA, all the way to the Florida Keys. Learn tips to keep you in the deeper channel and off the sandbars from experienced cruisers and details such as tide, currents, and drawbridges that are specific to cruising the Atlantic coast. 
Many More Seminars…
Other seminars include Guns and Governments: Local Laws on the East Coast and Down Island; Happy Hookers: The Art of Anchoring; Safety and Navigation with Radar, Chartplotters and AIS; Care and Maintenance of the Cruising Powerboat; Integrating Solar Panels and New Tech Batteries; Troubleshooting Electronics; What to Look for Before You Call a Surveyor; and more.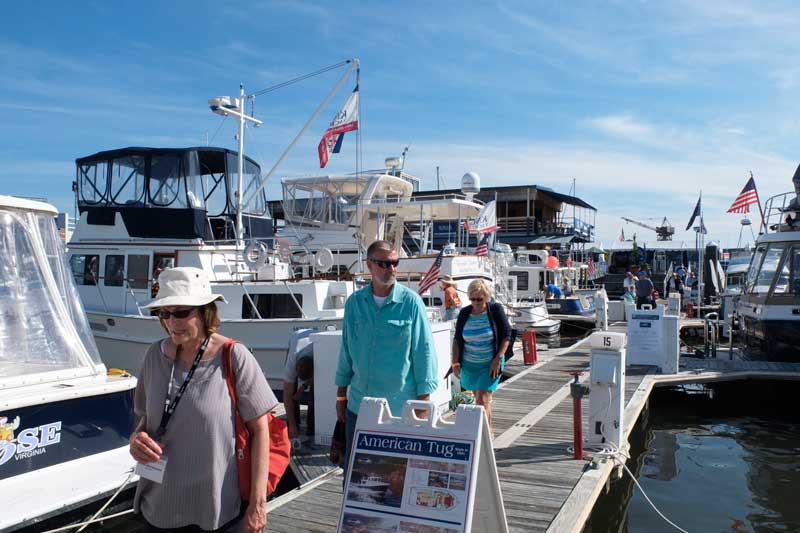 Tickets
Tickets for the in-water boat show cost $15 in advance and $18 on site. Children up to age 16 enter for free. VIP packages, which include seminars and social activities, begin at $449.