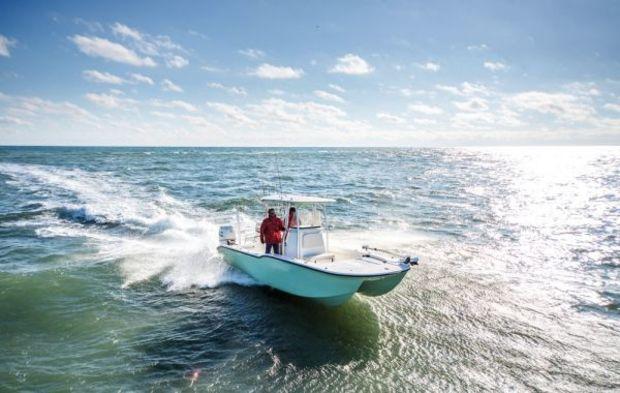 The company's tagline reads "Some people have two boats: one for offshore and one for inshore. And then some people just have a Tideline." It's pretty spot on from what I could tell after taking the Tideline 235 through its paces last fall. Truth be told, however, a bluebird autumn day with very light wind on North Carolina's Ablemarle Sound didn't present this cat hybrid much of an opportunity to really strut its rough-water stuff. But the weather is the weather, so those were the conditions when I met Michael Collins, vice president of Tideline Boats, Inc. at the shop in Edenton, NC.
Still, I was eager to see the Tideline 235 first hand, particularly since I've previously owned a power cat myself, a 20-footer that on occasion I ran as far as 50 miles off the beach. I've also fished on a few, including bobbing in six-foot rollers while casting under a fishing oil rig platform in the Gulf of Mexico, so I'm fairly familiar with what a quality cat in this class can do.
As we headed to the ramp, Collins explained that their boats are constructed of 100 percent composite materials—no wood, no rot—that use modern resins which are driven into the fiberglass using vacuum pressure. The result, Collins says, is a superior hull compared to the traditional hand-laid construction method.
Like many bay-style center consoles, the Tideline 235 has a relatively shallow draft and good tracking, and as expected, is a very stable fishing platform. Yet, where this 23-footer diverges from a comparable bay rig is in its offshore capabilities. Once on the water, I could confirm Collins wasn't just whistling Dixie regarding fit and finish, though I pined for a rough inlet to try out the 235. (But not too rough; I'm just about past my daredevil days.)
Our test boat was a cool pastel green color with twin 150-hp Suzuki four-stroke engines hanging off the transom. It was tricked out with more than a dozen features fishermen expect, including a hard T-Top with 10 rocket-launcher-style rod holders, eight flush-mounted rod holders, and four more places to stow your sticks, two under each gunwale. Standard to each 235 built are insulated fish boxes, LED under deck, courtesy and livewell lighting, and pop-up cleats. Tack on the custom leaning post with 30-gallon livewell, Power Pole, bow-mounted Minn Kota trolling motor, and many other options, and there's no doubt you're rigged for a full day of casting the Chesapeake Bay Bridge-Tunnel pilings or trolling on the Chicken Bone. Tideline Boats can customize how you want your rig to fish.
The holeshot and trim, tracking, backing down, and turns were about what I expected for a cat: steady though not spectacular. True, a monohulled center console usually gets the edge on those factors, yet if stability and wave handling is your preference, then a cat is hard to beat. I found the cruising sweet spot on this particular boat at about 3500 RPMs. I reached a top speed of about 54 miles per hour, though I'd expect your real-world cruising speed for optimum fuel efficacy could range somewhere between 30-35 mph, depending on sea conditions.
Collins notes that each Tideline Boat is "built to order and sold directly from the factory. The current lead time for a new Tideline Boat is approximately six months from the date the order is placed. All boats are built to each customer's specifications, and we are very flexible as to the options we can provide." Starting in spring 2017, they're also offering a custom built Tideline 360 Offshore, designed by renowned naval architect Robert Ullberg.
If you're interested in a dry-riding, trailerable center console that's sure to purr over almost any fishing grounds, check out the Tideline 235 hybrid cat. Find more at tidelineboats.com, or by emailing [email protected], or calling (252) 230-8566. MRSP ~$110K with trailer.
by Capt. Chris D. Dollar