Tiara isn't known for rolling out oodles and oodles of new models each and every year, but they do usually maintain a steady, reliable march forward. Two years ago they introduced the C 44 Coupe, and just a few months ago, they premiered a flybridge version of the same size boat. From the hard-top down these models are mirror images, but by adding a flybridge, Tiara gets to expand their offerings; and we boaters get more choices. It's a win-win. And, by the way, both of these boats are winners.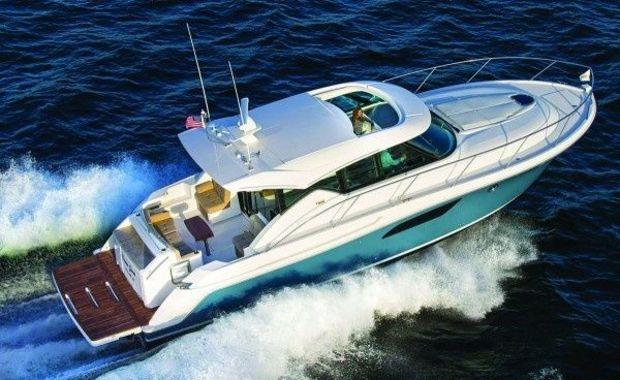 Like many modern cruisers, the most striking thing about the C 44 is just how open and airy it is in the saloon. You're surrounded by windows on all sides, a huge sunroof rolls back at the press of a button, and the aft bulkhead consists exclusively of glass doors and panes. Even when you go down below, there's plenty of natural light, thanks to the "atrium" open companionway design and lots of hullside ports and windows. That cave-like feeling of being in a cabin? Mercifully, it's a thing of the past.
But as we said, many modern cruisers have adapted this open-air attitude. So what sets the Tiara apart? For one thing, the boat's look. They call the hard top "levitating," and with good reason. The way the supports are integrated into the glass, at a glance it appears as though there aren't any. Another big difference between this boat and many others of its ilk is the fact that Tiara doesn't forget you're into boating because you enjoy the water. Instead of the usual two-foot-long swim platform bolted onto the transom, the C 44 has a 60-inch integrated platform with a recessed hot/cold freshwater shower and the option to get a hydraulic lift platform with or without an integrated dinghy chock system.
There are dual transom doors to the cockpit, rather than the one-sided entry most boats afford. And don't depart that swim platform too quickly. First, take note of the huge stowage "trunk" in the center of the transom, which houses an optional grill. Most other cruisers that have a grill locate it on the other side of the transom. Putting it back here is smart, though, because it keeps the mess, smells, and smoke of grilling away from the cabin entry. And since that platform is so huge, you have plenty of room to cook back there.
The staterooms and lower cabin are exactly what we've come to expect from a Tiara: teak and wenge interior wood, teak soles, Corian countertops, pedestal berths, and cedar-lined hanging lockers. Both the VIP and the master have their own heads, and lighting is LED throughout the cabin.
When it comes to the powerplants, however, be prepared for a bit of a surprise. Unlike most builders Tiara locates the iron horses a bit farther forward than usual, and jack-shafts them to pods located back near the transom. That shift in weight helps the boat maintain an ideal running attitude regardless of load. Yes, some space in the VIP mid-cabin gets sacrificed to move the diesels forward, but the enhancement in ride is noticeable. In fact, when I ran the C 44 on Lake Michigan, it blasted through tall boat wakes without any hesitation, vibrations, or pounding. Our test boat, powered by twin 435-hp Volvo Penta IPS600 drives, cruised at around 30 miles per hour and broke 35 mph at top end.
Does moving the engines forward and the pods aft have any effect on handling? Let's just say that docking and close-quarters maneuvering are a piece of cake. Tiara includes the Volvo/Garmin Glass Cockpit control system as a standard feature, and this allows you to steer either via the wheel or with a joystick. Push that joystick to port or starboard, and the boat walks sideways. Give it a twist, and the boat spins within its own length. Twist harder, and it spins faster. For those of us who grew up trying to crab a single-screw inboard up to a bulkhead in a breeze, it's a joy to behold.
What do you lose or gain by going with the F 44 flybridge model? You lose the sunroof in the saloon overhead and the port-side cockpit seat (which is replaced by the bridge stairs). However, you gain a surprisingly roomy flybridge with a dinette that seats five, an L-shaped lounge, and a double-wide helm seat. One other thing you gain is a bit of weight; the flybridge adds 2500 pounds to the C 44's 30,000-pound displacement. Yes, between the extra weight and wind resistance you do also lose a hair of speed, but it's just a hair. Although I couldn't run the F 44 when I inspected it (the boat was blocked in at the Fort Lauderdale boat show), Tiara claims the loss of speed is right around two miles per hour. And in my experience, their claims as to performance are 100 percent on target. That's just one more way that Tiara remains a reliable—and a winner.
The 44 Flybridge starts at $1,004,140 and the Coupe at $946,100.
Specifications:
LOA: 45'6"
Beam: 14'11"
Draft: 3'9"
Displacement: 30,000/32,500 LBS
Max HP: 1,100
Fuel Cap: 350 GAL.
by Lenny Rudow