On Thanksgiving Day in blustery conditions, local angler and hunter Josh Lowery launched a kayak into Prospect Bay in an attempt to retrieve his dog, which appeared in danger of drowning (the dog later made it back to shore on its own). Large waves rolled the kayak in 48-degree water and it became clear that a cold water rescue on Prospect Bay would be necessary.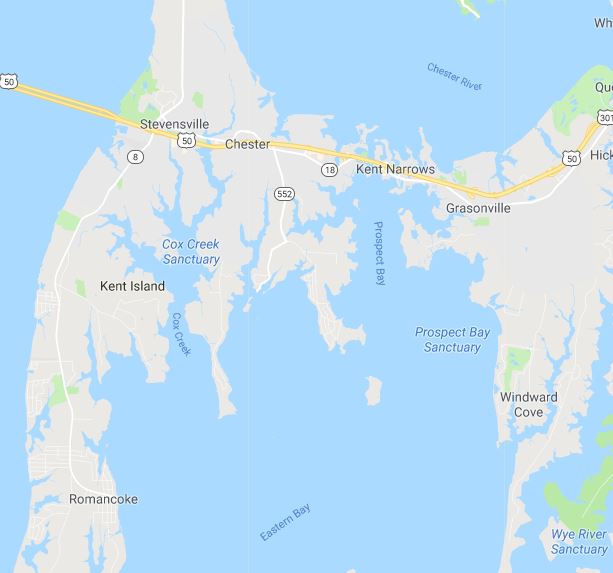 A call was placed to 911 immediately by Brian Lowery, who observed the situation from land, and Natural Resources Police dispatched a boat which, according to Josh Lowery, was within sight at one point but was unable to spot him.
Fortunately two other people on land, Kevin and Bill Legg, called the Grasonsville Volunteer Fire Department, which remained in constant communication.
They were able to direct the VFD rescue boat manned by Jeff Anthony, Matt Coursey, and Mike Balsoma to Lowery's approximate position where a successful water rescue was performed.
"Everyone definitely did their job that day," said VFD Chief Jason Anthony. "And while we hope we never have to use our training, we're really happy when it works. Bill Legg stayed on the phone and got the boat to where Josh had last been spotted, and the crew onboard immediately got his wet clothes off, wrapped him in blankets, and took him to the ambulance ASAP."
"There is a moment of disbelief when you realize that it's actually happening, that you are really going into the water," said Lowery. "When I realized I had reached that point of no return I tried to come to terms with it and made a checklist in my mind: where is the current taking me? What direction will boats come from? What's the most important thing to do? The kayak was beating me up as it got rolled by the waves, but I knew the number one thing I had to do, my only way to survive, was to hold onto it."
Cold-weather anglers hear about the dangers of boating during the winter months over and over again, but this rare event—the successful rescue of a person who had been in the water for over an hour in sub-50-degree water—leads us to believe a refresher is in order:
Wear your lifejacket during the winter months. Period.
File a float plan with a reliable friend or loved one, and stick to it.
When entering the water be aware of the cold-water gasp reflex, which can trigger hyperventilation. If necessary, inhale and hold your breath for several seconds at a time until you can control your breathing.
Always stay with the boat. Not only does it provide you with something to hold onto, it's a bigger visual target for rescuers to spot.
Use the HELP (Heat Escape Lessening Position) if possible, by wrapping your arms around your knees and tucking your legs up against your body. Lean back and allow your lifejacket to keep you afloat as you remain still to retain body heat.
By Lenny Rudow