It all began in 1982 when I decided to upgrade my 20-foot Grady White center console to a larger boat which would allow my son and me to fish the offshore waters of Ocean City, MD. We settled on a new 24-foot Hydra-Sport center console powered by a 175-hp Johnson outboard, which I purchased from Berlitz Marine in Deale, MD.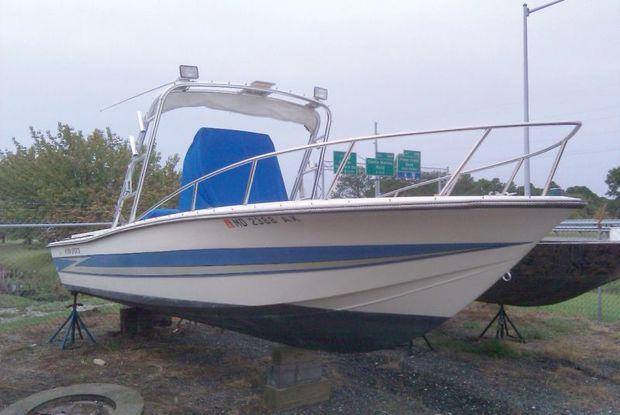 The boat had a deep-V hull and was made from Kevlar which provided a smooth, quiet ride in a moderate chop. Equipped with 150 gallons of fuel, we had enough range to fish all day and still have a sufficient reserve left over. With the new boat we ventured offshore, first to the Jackspot, and then further offshore to the Canyons. Early on, the boat was equipped with a Loran C along with a paper chart plotter and VHF radio. Over the years we added a radar arch, radar, GPS, along with an integrated leaning post and rocket launcher, giving the boat a semi-custom look.
An unusual sound…
After a few years, my son noticed an unusual sound emanating from the lower unit of the motor. After several mechanics unsuccessfully tried to resolve the problem, I decided to upgrade the motor to a new 220-hp Yamaha from Tri-State Marine. This was a new design from Yamaha, which was supposed to provide the boat with better performance and reliability. One day, while returning from the Canyons, the boat stopped suddenly in the water. The motor was running, but we were not moving. The quick diagnosis was a stripped gear in the lower unit. We called the Coast Guard and requested a tow back to port, some 40 miles.
While waiting for the Coast Guard to arrive, my son started throwing our leftover ballyhoo over the side. Soon we were surrounded by a school of mahi-mahi but with no bait. Try catching a mahi-mahi on roast beef and turkey!
Once we got back home, I called the dealer and explained the problem. It appeared the metal used in the gears had a defect which caused the premature wearing of the gears. Being such a new motor, there were no new parts readily available. In a pinch, in the middle of the prime fishing season, Tri-State Marine kindly agreed to swap out another lower unit from a motor in inventory. Within a week we were back in business.
We ran offshore only to have the same problem occur; the motor was running, but we were not moving. After another tow from the deep, my son proclaimed he would not go offshore without twin engines. I returned to Tri-State Marine and worked out a deal to trade the 220 Special Yamaha for a pair of new 115-hp Yamahas.
These new motors provided over 20 years of reliable service. Over the years we would try to make four to six trips offshore, weather permitting. We successfully released a number of white marlin, caught our share of tuna and mahi-mahi and even released a Mako shark.
The highlight of our Ocean City fishing experience occurred one day in the Washington Canyon. While trolling our typical spread of skirted ballyhoo, one reel started screaming. Then, another reel starting screaming. We looked back, and not one, but two blue marlin were greyhounding in the distance. In the ensuing excitement we backed off the throttles too quickly. Sadly, we ended up losing both fish. However, the action was caught on video, and the image still resonates in our minds.
The hunt for a rebuilt motor
About seven years ago, on the last day of the season when we were hauling the boat out for the winter, one of the motors started missing and would not turn up past 2500 rpms. We hauled the boat and trailered it to Hudson Marine to have it diagnosed. We had a blown powerhead. Given the age of the motors, we decided they were not worth rebuilding.
After being alarmed at the price of two new replacement motors, I started the hunt for a rebuilt motor. I located one in Florida which I purchased and had shipped up north. In the process of removing the old motors, Hudson Marine noticed that the transom had some weak spots. Further investigation revealed rotted wood which required a complete structural rebuild. At that point, I decided to cut my losses and move on. I traded the hull to Hudson Marine to offset the cost of the repairs incurred so far.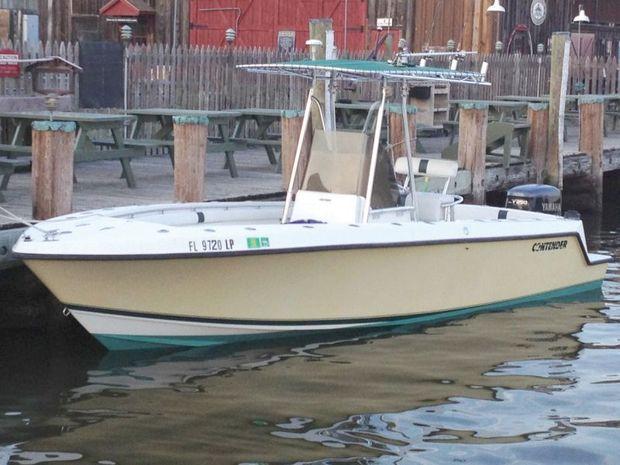 I was left with a rebuilt motor but no boat. I returned to Florida that fall and began the hunt for a suitable hull for the 250-hp OX66 Yamaha that I had purchased. I located a 23-foot Contender with a blown motor. I had the Yamaha motor shipped back to Florida and had it installed on the Contender. I had new batteries and shifting cables installed, and I updated the other running gear and fishing equipment. Soon, we were back out on the water.
The boat ran great. We used it around Fort Lauderdale for a number of years. In fact, after three unsuccessful charters in Miami, Palm Beach, and Islamorada in the Florida Keys, my son and I successfully guided my 11-year-old grandson to his first sailfish off the Contender. The sailfish hit a live goggle eye in 120 feet of water off Hillsboro Inlet.
Another crossroads
After a few years of limited use, I decided to relocate the Contender back up north to Annapolis. My son used the boat extensively, fishing from April to October for rockfish. After a few seasons, the motor started to have some mechanical problems, largely due to fuel related issues. It seemed that the alcohol in the fuel did not work well with the older motor.
I was at a crossroads again, with another blown motor—what was I to do? Faced with the prospect of spending $25,000 for a new motor, I opted for a rebuilt four-stroke Yamaha. Hudson Marine located one, and I had it installed. My son decided to purchase his own boat, a new 23-foot Parker center console from Tri-State Marine. So I decided it was time to sell the Contender.
Two boats and six motors later, the story ends. After nearly 35 years and countless hours of enjoyment, the story of my family's attachment to these two boats has concluded. Hopefully, the new owners enjoy many more years on the water.
by Lloyd Needle