Separated by the wide mouth of the Rappahannock River, two sets of aquaculture entrepreneurs employ radically different production practices in search of the perfect oyster.
On the south side of the Rappahannock sits the venerable Rappahannock Oyster Company, some say the quintessential example of the new breed of watermen who are changing the way oysters are grown and marketed. Five miles to the north lies the upstart White Stone Oyster Company, with its leased acreage tucked in and around the protective shores of Windmill Point. The two companies have lots in common.
The Rappahannock Oyster Company is owned by two cousins, Travis and Ryan Croxton, descendants of a long-line of Bay watermen. The two decided to revive the family's leased oyster ground in 2001 with the goal of "putting the native Bay oyster back on the map." Today, the duo presides over an ever-increasing empire that comprises 500 acres of leased bottom ground; a retail operation that sells more than nine million oysters to ostreaphiles (oyster lovers), distributors, and restaurants all over the United States; and a group of trendy oyster bars and restaurants soon to stretch from Washington, DC, to Los Angeles.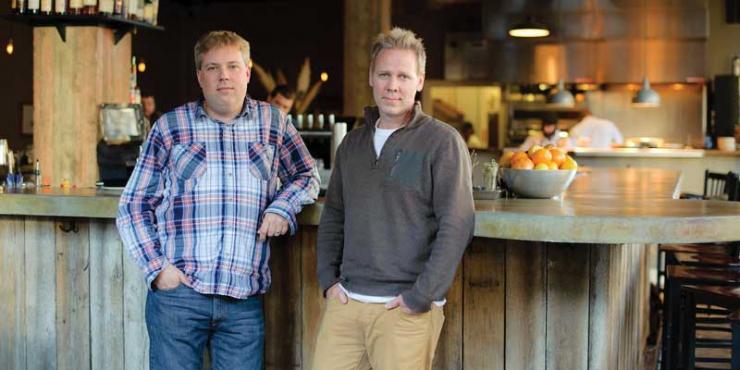 The White Stone Oyster Company is run by two twenty-something oyster farmers who bonded over beers in a Washington DC, restaurant while discussing their love of duck hunting. Both Tom Perry and Phil Valliant were "looking for the next big thing" at the time, and after they got to know one another better, they teamed up to form a company that today ships 120,000 to 200,000 oysters a month to upscale restaurants all up and down the East Coast. Shaggy haired and blue eyed, Perry, owner and president of the enterprise, looks more like a West Coast surfer than Chesapeake Bay waterman. Chief Liason officer Valliant lets Perry do most of the talking. Together, they make a formidable team.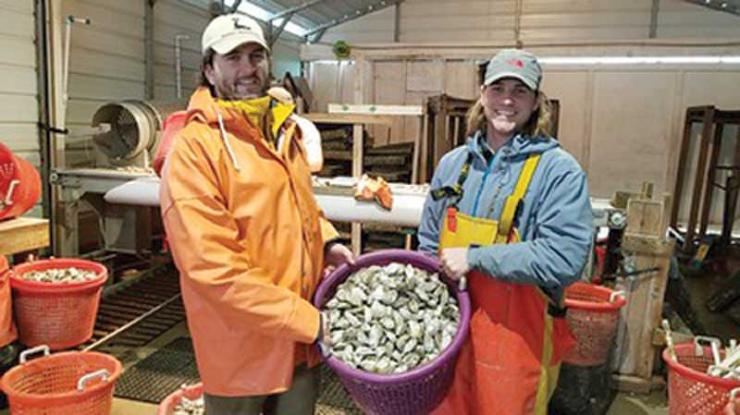 Both companies have employed some audacious marketing techniques to get their product in front of some of the most highly-regarded chefs in the nation. In 2004, for example, the Croxtons made a cold call to New York City's top-rated restaurant, Le Bernardin, which resulted in the fledgling company shipping over 200 oysters a week to the famed establishment.
Phil Valliant tells the White Stone story this way: "There has been a huge uptick in young chefs opening extremely creative restaurants in DC, which might not typically carry oysters. About two years ago I was splitting duties between working at The Dabney, which just got a Michelin star, and running events and sales for White Stone (at the time there were three employees). I had pounded a fair bit of pavement, but eventually had an inkling that this sort of clean, consistent oyster had a place on finer dining menus. Eventually I laid it out for the chef: how to shuck, how to handle, how to simply describe them; and it went from being a bar snack where they were selling maybe one to 200 a week, to a dish on the menu regularly going through 800 to 1000 a week."
Each company produces a buttery oyster with a hint of salinity nestled in a deep, well-formed cup. Oysters from both companies are the species known as Crasspostrea virginca. Even the most cultured of palates would be hard pressed to tell the difference between the most popular offerings of each company.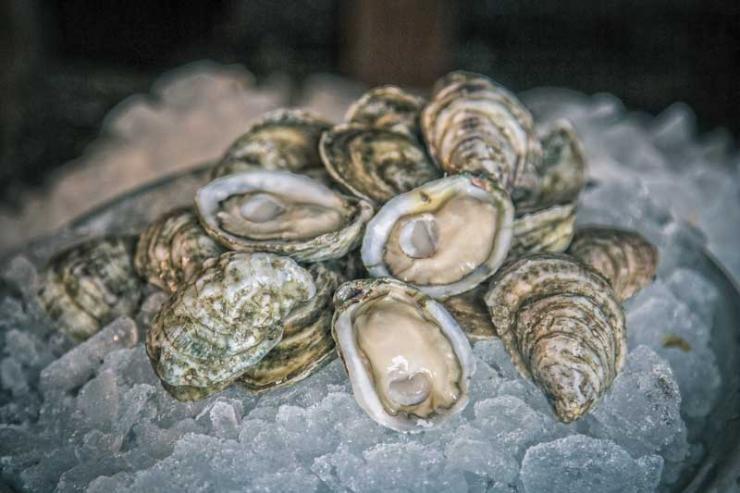 But there are some subtle differences.
The Rappahannock Oyster Company markets three distinctly different products: the delicate Rappahannocks with an understated saltiness; the Rochambeaus which are sweet and mildly briny with a clean, crisp finish; and the Olde Salts, with a bold seaside brininess and a smooth, clean follow-through. Each has its unique characteristic due to the various locations in which the oysters are grown.
Oysters are voracious feeders and filters. Mature oysters filter as much as 50 gallons of water each day. Their diet of plankton and algae, combined with the properties of the water in which they live, give oysters grown in different parts of the Bay their unique appearance and taste.
White Stone only markets one type of oyster: a distinctive one-and-a-half- to two-inch-long beauty, whose pure white shell is almost perfectly formed. It is largely bereft of an overhanging lip or bill, the absence of which results in a little deeper cup for the oyster to reside in.
Yet for all the two companies' similarities, there is one major difference which aquaculturalists will debate over bottles of beer from now until doomsday: Is it better to grow an oyster in a cage suspended a foot or so off the River's bottom (the primary method the Croxton boys have latched onto), or is it better to grow them in floating cages that rock gently with the waves, hanging a foot or so below the water's surface (the technique Perry and Valliant have adopted)?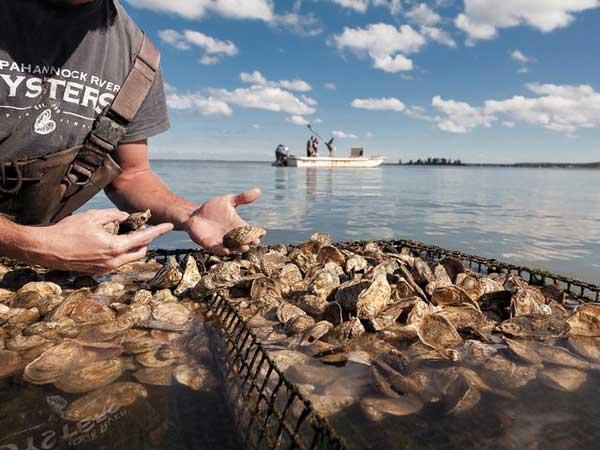 Each set of producers is vehement in the defense of their chosen method.
Here is how Rappahannock Oyster Company's chief operations officer Anthony Marchetti puts it: "We are predominately 'on-bottom' producers, but we do employ some surface culture. Our cages have legs that lift the oysters off the substrate about 12 inches so that water can better circulate around them. We leverage all kinds of techniques from cages to rack systems and broadcasting. Each technique fits a different situation. None is a silver bullet. Whatever process that leads to a healthier environment for the oysters is good for the oysters… and good for us."
Tom Perry has a different take on it. "Our farm is structured to keep our oysters in constant motion. This continuous tumbling stunts bill growth, resulting in a deep and polished shell. Forcing the oyster to hold closed in waves leaves a very 'fit,' healthy oyster. Moving oysters to the top of the water column gives them access to more abundant food sources, resulting in a healthier, cleaner oyster."
There's no easy answer as to how to grow the perfect oyster. Rappahannock's Marchetti sums it up this way, "I wish there was a secret to the perfect oyster production technique. It comes down to reading the signs of the health of the animals. Humility goes a long way. You're never as smart as you think you are. When you're trying to do more of what nature does best, you're better off listening rather than talking."
White Stone's Valliant gave this reporter a first-hand tour of the company's leased ground on a cold and blustery day in March. We headed out from the company's sorting shed and headquarters in a 27-foot, flat-bottomed skiff. The wind whipped bone-chilling spray over the two of us. Phil just grinned and pushed the throttle down harder. I sucked it up and tried not to shiver too much as I snapped pictures of the set of floats that were fast approaching our bow.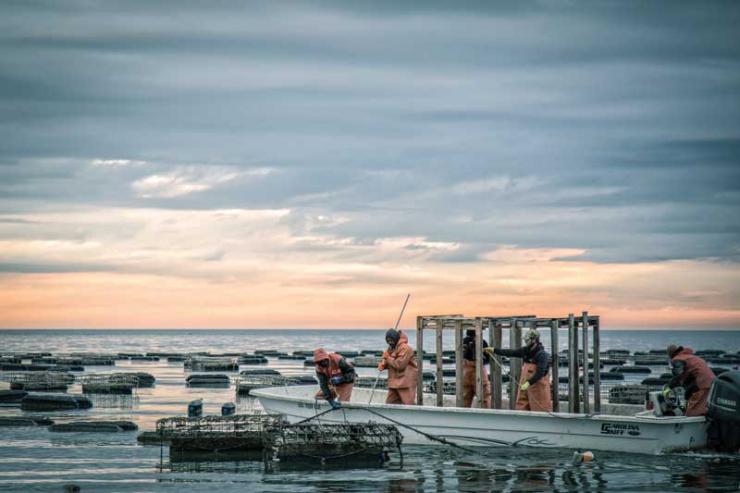 At any given time, the White Stone Oyster company has around two to three million oysters in the water at their four leased farms. The oysters are brought into the sorting shed when they are about 12-14 months old. There, they are sized and readied for shipment. Those oysters that are too small for sale are returned to the farm until they meet the minimum size of one inch.
The shed itself is a 25 by 50-foot metal building. The walls echo with the cacophony of heavy metal music combined with the clack, clack of a series of conveyor belts that move the oysters along the processing line. Conversation is difficult as each person on the sorting line attends to his job. The floor is wet and smells of the river. A well-ordered packing and shipping department sits off to one side. Phil Valliant tells me that they ship around 120-150,000 oysters a month. Prices start at $70 for a 50-count bag. Web-based customers in Maryland and Virginia are the beneficiaries of free shipping.
The future looks bright for both the Paxtons and Perry and Valliant. The amount of farm-raised oysters in Virginia is growing at an amazing rate. Last year, Virginia sold more than 40 million oysters from its eight oyster regions, producing the largest quantity of fresh, farm-raised oysters in the country. The Virginia Department of Agriculture says the dockside value of the oyster harvest was $35.8 million in 2016, up from $28 million in 2014.
And the state's Oyster Trail is doing its part in proclaiming that, "Virginia is for Oyster lovers."
But don't take my word for it. Visit either company's website and order some for yourself. Or head to the Rappahannock Oyster Company's tasting room, Merroir, on Locklie Creek near Deltaville, VA. Or track White Stones down at local eateries like Annapolis's Sailor Oyster Bar.
Try a taste test of your own. I'll wager once you've tried a Rappahannock or a White Stone oyster, you'll be hard pressed to slurp anything else.
By Craig Ligibel
To read about oyster aquaculturists on the South River, check out our article Novice Aquaculturists Form Great American Oyster Company on South River.
To learn more about oyster aquaculture in St. Mary's County, check out our spotlight on Hollywood Oyster Farm.