Tami and Terry Gaido had been searching for the perfect boat for years. Recently retired, they live on Smith Creek, close to the mouth of the St. Mary's River in Southern Maryland. Eventually their search led them to the Jeanneau NC 1095.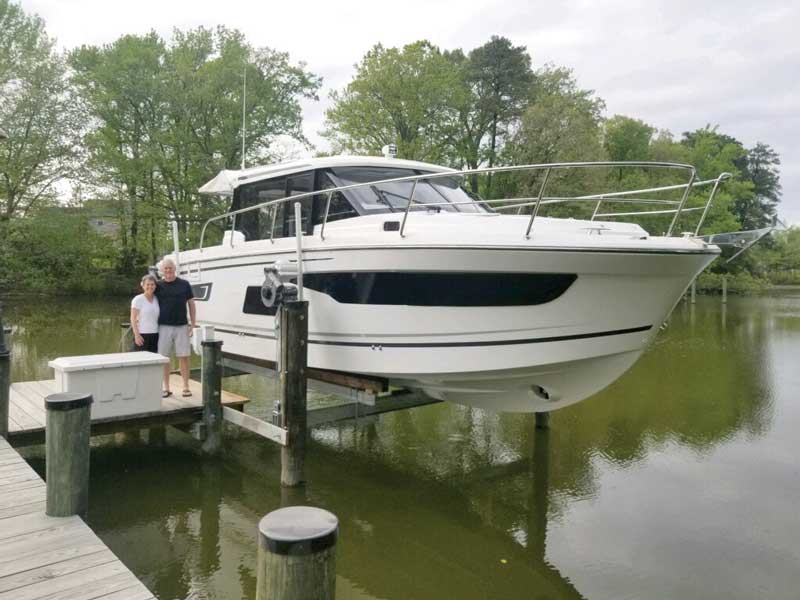 Originally from St. Louis, Terry worked as an engineer stationed at the Pax River Navy base, working on the F-18 flight test program. He ended up working for Tami's father, and because he was a "nice Catholic boy," her dad set them up on a blind date. The rest as they say is history. The two moved to St. Louis for a time before coming to back to their beloved Chesapeake to settle down and raise their four children. 
The couple currently owns an 18-foot Tidewater CC 180 but felt that they were ready for a smoother, dryer (and bigger) ride. They took their time searching for a new boat, taking into account things like "what can we afford for our lifestyle?" And "How much boat can we manage?" For three years they attended boat shows. For a time they were interested in trawlers, but what they really wanted was something with outboards that could easily navigate their narrow creek. Eventually their search led them to the NC 33 from Jeanneau, but it was an inboard. When they found out Jeanneau was coming out with an outboard version of the NC 33, they immediately jumped on it. 
At 35 feet, the NC 1095 with twin Yamaha 300-hp outboards, is billed as a family cruiser, ideal for day trips or weekends away. As the Gaidos began researching more, they learned that Rudy Marine was about to get one in stock: the first 1095 on the Chesapeake Bay.
Tami says she called up Rudy Marine as soon as they heard and told them "We'll be there right after it arrives, we want to buy it! They thought I was crazy," she adds, because they hadn't actually seen the 1095 yet. But after years of searching and researching, they knew this was the boat for them. "This boat amazingly checked off all our boxes," adds Terry.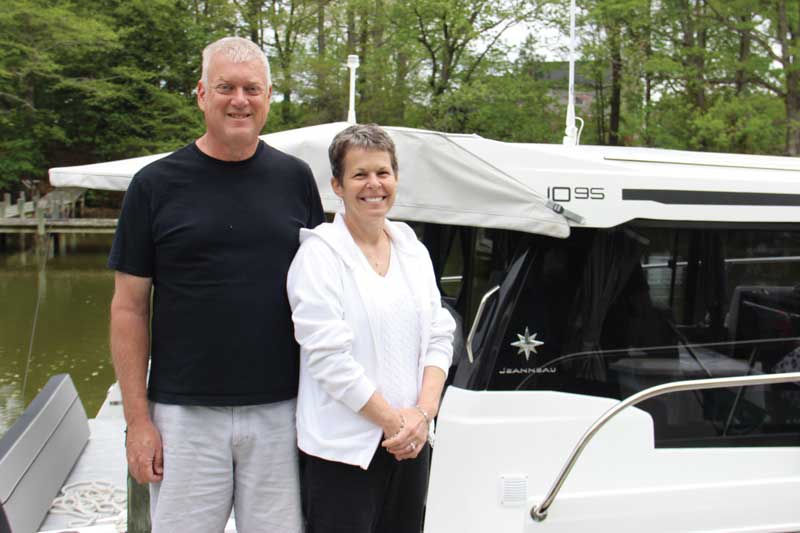 I asked Tom Rudy of Rudy Marine what he thought of their enthusiasm. He says the Gaidos "were very astute and had done quite a bit of research prior to seeing the boat. They zeroed in on the 1095," he adds. "After a few hours going over the boat at our Wilmington Store with our sales manager, Joe Hall, they confirmed it was the boat they wanted. We're thrilled they were so happy with the boat, and we're thrilled to be part of the Jeanneau family," says Rudy.
The only minor holdup in the whole process was they had to wait until after the Philadelphia Boat Show and the Bay Bridge Boat Show to take delivery. Tami says it was hard waiting, knowing all of those people at the show would get to step foot on their boat before them, but added, "we were just so excited to find what we were looking for," which made the waiting easier. They took delivery of the 1095 toward the end of April and had a new lift installed at their dock just minutes before the boat was to arrive. 
Because the Gaidos live on a small creek, they knew they needed something that wouldn't draw too much water, so they could safely get to and from their dock at varying tides, and a boat that would comfortably fit on a lift. Luckily, Terry explained, they "didn't have to make a lot of compromises with this boat." 
When asked about their plans, the Gaidos said they would love to do the ICW one day, and possibly even the Great Loop eventually, but for now they are looking forward to exploring the Chesapeake. Just how much do they want to explore? "All of it!" says Tami.
"Some people want to get in RVs and see the country or tour Europe, but that's never been high on our list," adds Terry. "There's so much right here we want to explore."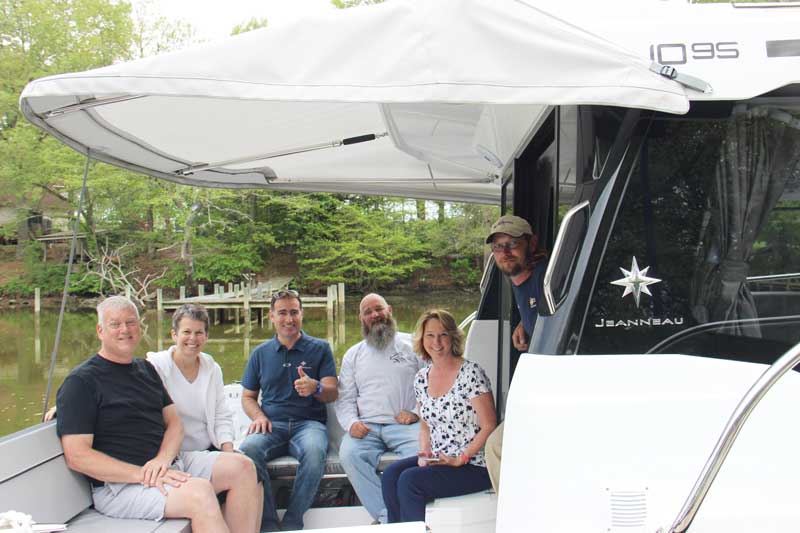 We were lucky enough to be on-hand and chat with the excited new owners, along with Nick Harvey, president of Jeanneau America, the morning their boat arrived. And it was quite the process to get the boat to their dock on Smith Creek safe and sound. First it was trailered from the Rudy Marine facility in Delaware to Deal Island, where it was then driven across the Bay by Matthew Leach and Captain Eric Shoaff of Rudy Marine.
When the Josie Mae arrived, already lettered and named after the couple's daughter (they have three sons and one daughter), the looks on their faces said it all. For years they had done their homework, and patiently waited. Now they could be confident that this was indeed the right boat for them. 
So what's next for the new boat owners? "Reading a lot of manuals and practice, practice, practice," chuckles Terry. Being so close to St. Mary's College of Maryland, they hope to cruise over and dock for the summer concert series and fireworks at the college for one of their first solo excursions. After that, they plan to start exploring the little creeks nearby and tuck in and anchor for the night.
After a little shakedown cruise, we asked both Tami and Terry what they thought—was it everything they had hoped it would be? The two could not stop smiling. "It's so exciting to think of all the things we can do, all the places we can now go," said Tami.
We wish the new owners the best of luck! For more information, visit jeanneauamerica.com and rudymarine.com. If you have a cruising story or your own boat-buying journey you would like to share, email [email protected].