It's the time of year for jumping into frigid bodies of water. If you're not afraid of a little cold water, consider one of these polar bear plunges, which all support local good causes.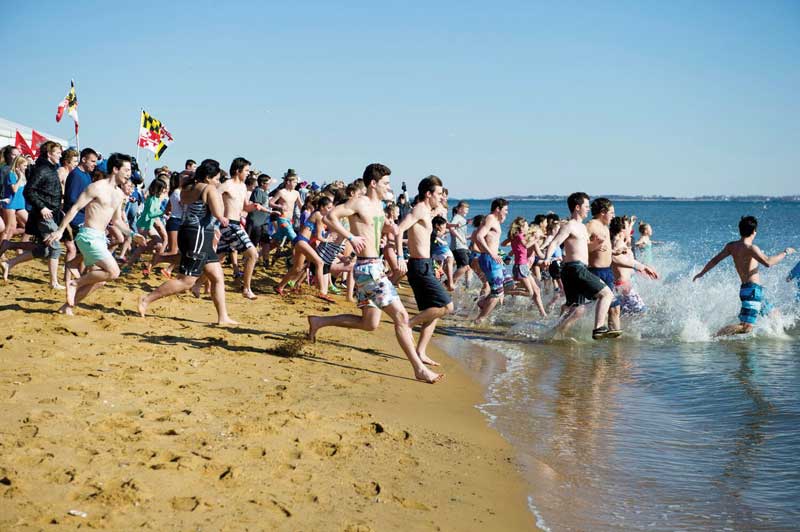 North Beach, MD
You may start off 2020 with a chilly dip in the Bay January 1 at 1 p.m. at the Town of North Beach, MD. This is a free event, but if you choose to pay, you'll receive a tee shirt. Proceeds benefit a local charity chosen by the Town of North Beach. This year's beneficiary is St. Anthony's Catholic Church Ladies of Charity. 
Annapolis, MD
The biggest plunge into the Bay is the Maryland State Police (MSP) Polar Bear Plunge at Sandy Point State Park, which will take place January 23-25. This plunge includes four categories: cool schools, police plunge, corporate plunge, and the Maryland plunge January 25 (for your average plunger). Proceeds support more than 8000 Maryland Special Olympians. This year's fundraising goal is $3 million. 
Nick Clark, who enjoys boating with family and friends and taking customers on fishing trips, has participated for five years in the corporate plunge, with a team from M&T Bank. "Typically we have 20-plus people plunge and another dozen that come to support us. We have a little bet within our work group on who will get out to high-five the officers standing in the water, who will go fully under, and who will take a second dip in the water. Being able to give back and do something creative to support Special Olympics is fantastic." 
Virginia Beach, VA
In Virginia, plungers run right into the ocean at the Virginia Beach Polar Plunge, which takes place February 8, at the Hilton Oceanfront Hotel in Virginia Beach. In addition to charging into the Atlantic Ocean, attendees may enjoy beachfront races, costume contests, an artisan market, live music, craft brews, and delicious food. Like it's Maryland counterpart, proceeds benefit Special Olympics.
Middle River, MD
The Middle River Penguin Plunge takes place February 22 at Sunset Cove in Middle River, MD. Tickets are $40 per adults 16 and older, $25 per child (ages 6-15) and ages five and under are free. With your ticket, plungers a T-shirt, full dinner buffet, heated tent with DJ, and free entry to the belly flop contest for a chance to win a $100 gift card to Sunset Cove. Appetizer buffet runs 11 a.m. to 1 p.m. and dinner buffet starts at 1:30 p.m. Registration and check in begins at 11 a.m. and the plunge kicks off at 1 p.m. This event raises money and awareness for Baltimore County's homeless youth. 
If you know of other plunges around the Chesapeake region, let us know by emailing [email protected].