S.S. John W. Brown, the last surviving World War II Liberty Ship on the U.S. East Coast, celebrates the 30th anniversary of its restoration to operating status, on August 4 with a seven hour cruise from Baltimore across the Chesapeake Bay to Cambridge.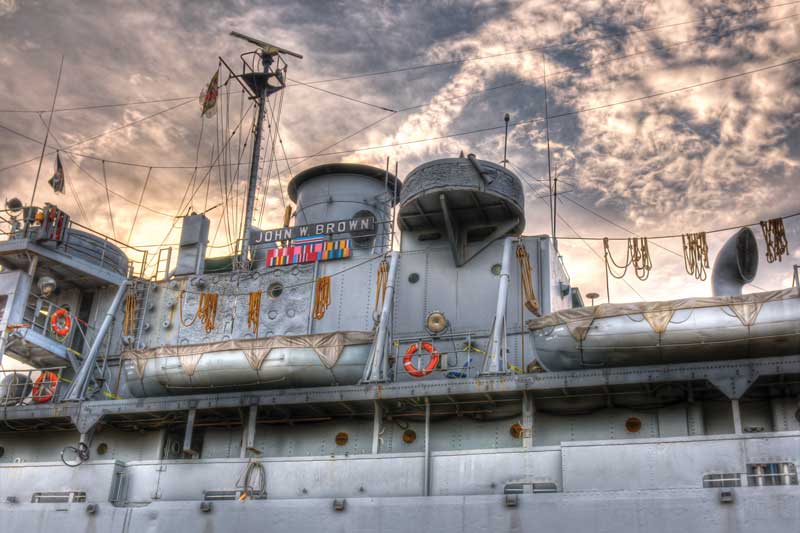 The voyage will kick off a one-week visit to Sailwinds Park in Cambridge, where the ship will be on hand for the Cambridge Seafood Festival and participate in events during the week. We will be Honoring Veterans with free admission to tour the ship.
The ticket deadline for the August 4 cruise has already passed, but don't fret because there will still be plenty of options for the public to tour the ship in Cambridge.
Cambridge will also be the ship's 30th port of call since her restoration and start of her career as a museum ship. She has conducted visits at all the East Coast ports where Liberty Ships were built during World War II, and steamed more than 23,000 miles as a living history museum.
While at Cambridge August 5-11, the Brown will be open to the public each day. Sunday, August 5, will be "Live Steam Day" from 10 a.m. to 4 p.m.: visitors will be able to watch the engine in operation. Shipboard events are being planned during the week, and visitors will be able to watch the sunset from the Brown's decks on Monday and Tuesday. The Cambridge Seafood Festival will be held on Saturday, August 11. There will be a "wave goodbye" when the ship leaves on August 12.
Tour Times
August 5: Live Steam Day - 10 a.m. to 4 p.m.
August 6: 1 to 4 p.m. and 6 to 8:30 p.m.
August 7: 1 to 4 p.m. and 6 to 8:30 p.m.
August 8: 10 a.m. to 3 p.m.
August 9: 10 a.m. to 3 p.m.
August 10: 1 to 4 p.m. and 6 to 8:30 p.m.
August 11: Cambridge Seafood Festival - 12 to 7:30 p.m.
Check ssjohnwbrown.org for updated information as these times may change.
History of the Ship
Built in Baltimore in 1942 at the Bethlehem Steel Fairfield shipyard, the ship is operated by Project Liberty Ship, Inc., a 501(c)3 non-profit, all-volunteer organization engaged in preservation of the historic ship, which observed its 75th anniversary in 2017.
The organization's primary mission is to educate people of all ages about the vital role of the American Merchant Marine, U.S. Navy armed guard, and shipbuilders, three largely unheralded groups that were instrumental not only in World War II, but in sealift operations in the Korean and Vietnam wars and Middle East military operations as well. The aim of the organization is to honor the legacy of all American veterans.
The ship is one of only two Liberty Ships still sailing today, out of a total of 2710 built. She made 13 voyages transporting troops and war cargo during and following the war, and then served for 36 years as a maritime trade high school in New York City. She returned to Baltimore in 1988, where she was restored to her 1944 state by Project Liberty Ship volunteers. The ship still serves as a training platform for Sea Cadets and maritime professionals. The ship is open for tours on Wednesdays and Saturdays from 9am to 2pm. at Pier 1, South Clinton St in Baltimore.