The 107th Cambridge Classic roars into Cambridge, MD, May 13 and 14 with close to 75 boats expected. The Cambridge Power Boat Racing Association (CPBRA) is always working to ensure that race dates allow for the most number of racers and the most number of spectators, so the dates for this race have varied over the years. This year, the CPBRA is excited to have the Hydroplane Racing League from Canada participate. And hometown hero and club commodore Tom Thompson will also be in attendance, most likely racing in the Grand Prix Hydroplanes class.
Vice commodore Allen Nelson informs us that it "should be quite a show for the spectators." Nelson continues, "You can come in and stay all day or stay for an hour and still see great racing. We've really worked to make this an event for families." Concessions will be reasonably priced and a local brewery, RAR Brewing, will debut its new Cambridge Classic Rooster Tail Ale. All six classes of boats will be racing both Saturday and Sunday, with elimination rounds and finals each day: Grand Prix Hydroplanes, H350 Hydroplanes, Formula 2500 Hydroplanes, 2.5 Liter Hydroplanes, 1 Liter Hydroplanes, and Jersey Speed Skiffs. Here are some things to keep in mind to prepare for an awesome weekend of racing in one of our favorite Eastern Shore towns.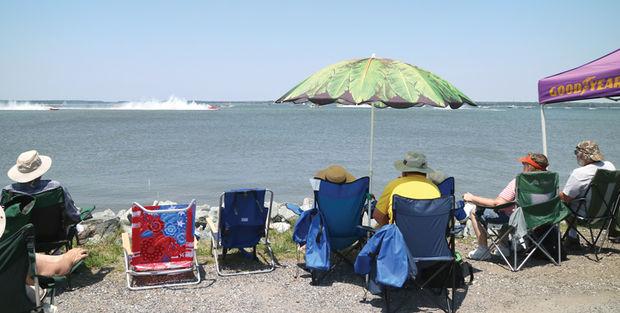 Time: Racing will begin at 10 a.m. each day and start wrapping up between 4 and 5 p.m.
Location: Great Marsh Park, 1 Somerset Ave., Cambridge, MD. The race course will be in Hambrooks Bay, just off Great Marsh Park.
Admission to the event is free. Parking costs $5 per car.
Seating: There will be bleacher seating, as well as room for lawn chairs and pop-up tents.
There is a large boat spectator fleet each year. The area will be very clearly marked with out-of-bounds buoys, and the U.S. Coast Guard will be helping to enforce a no wake zone from Howell Point to the Choptank River Bridge. The spectator fleet will have a great vantage point from the back side of the course in Hambrooks Bay. One of the biggest dangers to racers is outside boat wake. Make sure to follow the no wake zone signs and stay out of the out of bounds areas.
Bring cash for food and drinks from local eateries, as well as souvenir T-shirts. No outside coolers are allowed. Don't worry, we've been ensured that concessions will be very reasonably priced.
Pit Tours: This year there will be more boats, with the majority being staged on the blacktop, so for safety reasons fewer boats will be available for pit tours. But don't fret, show-goers can still walk around the cold pit area and take pictures of both boats and drivers so definitely bring a camera.
Docking:
The Cambridge Municipal Yacht Basin is offering free transient slip rentals on Friday and Saturday evenings during the month of May. Watch the race from the water and then spend the evening in Cambridge!
The Hyatt Regency Chesapeake Bay Golf Resort, Spa and Marina in Cambridge is also offering a special deal: dock two nights and get the third night free!
Cambridge Yacht Club is offering free transient slip rentals for boaters on Friday and Saturday nights of race weekend, as well as weekend nights for the rest of the month.
For more info on things to see and do around Cambridge, make sure to read our recent See the Bay article: proptalk.com/visit-cambridge.