This short story was composed aboard an old mid 60s, 17-foot wood console Boston Whaler after the author was marooned on a mud bar on the Choptank River, three or four miles south of Denton. In writing this, the castaway author assumed the story is all that would be left of him when eventually found. Being in the midst of colonial country and old colonial waters the author was moved to channel an older fashion of writing.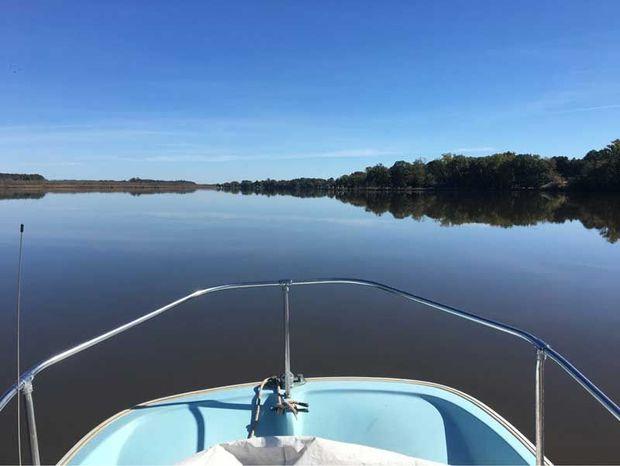 Saturday, October 7th in the 2017th year of our Lord
No better a cruise was had by any other man, deserving or not, than the cruise I was upon. My able and proud vessel was moving as if flying over the placid river waters, as smooth and glassy as a mirror.
On both shores, the trees were showing first rust on the leaves that would soon ripen into autumn's reds, yellows, and oranges.
I was reveling in the confident whine of the 31-year-old Mercury, proud to be aboard this noble craft; handsome, brave, and lively. The idyllic Choptank of history and legend was ours to skim and to delight upon. Then cruel misadventure launched its quick, sure, and enslaving assault.
I had eyes upon the depth finder as the eternal muck played its slippery hand: 19 inches… 12 inches… four inches… three inches… one!
The water was running away as fast as if Moses himself was commanding it gone. I sensed the grip of the muddy foe slowing my speed faster than slacking the throttle should have done.
The Tiber now so shallow, and I raising my Mercury ever higher as the bottom rose, I saw that my speed-full friend would soon be deprived of cooling flow, so I had to shut fair Mercury down.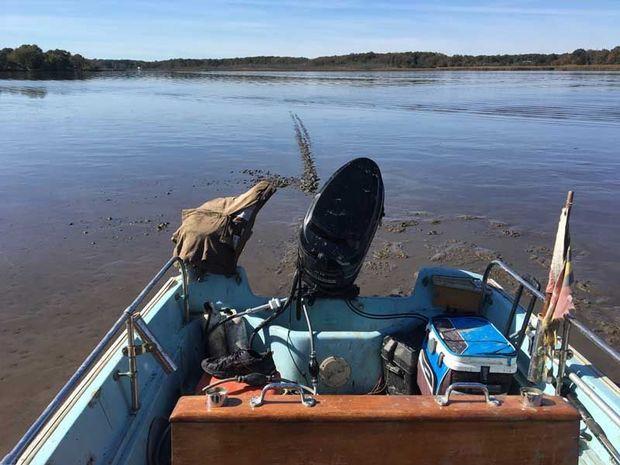 My world gone wrong, I was in a moment, still and dead. Alas, there was some small bit of Choptank's essence holding us just a bit free of muck's full grasp. Just a rocking float versus joyous floating freedom.
Stunned by the sudden shift in fortune, I was gone so fast from being nature's own blessed and beloved one to a castaway.
I looked upon the evil one all around me now. He burbled bubbles of rot and made licking wet noises from where I could not see. Despite his black and brown oozing continence, I thought perchance there might be a bottom of some firmness that would hold up former fair Mariner, now tricked and trapped by duplicitous Ganges.
I shucked my pockets clean of valuables and eased myself over the side. Oh bottomless and heartless demon, gone now from being just an impediment to joy, you hunger for my very life!
No bottom to be found, I extracted myself wisely and saw that I was not only halted from captaining, I was in grave maroon with sure death encircling me all about.
Still, the odious concession to river low came to mind. I must wait the tide! But when moon-cast rescuer will you bring my freedom and return me to happy frolic and manly travels?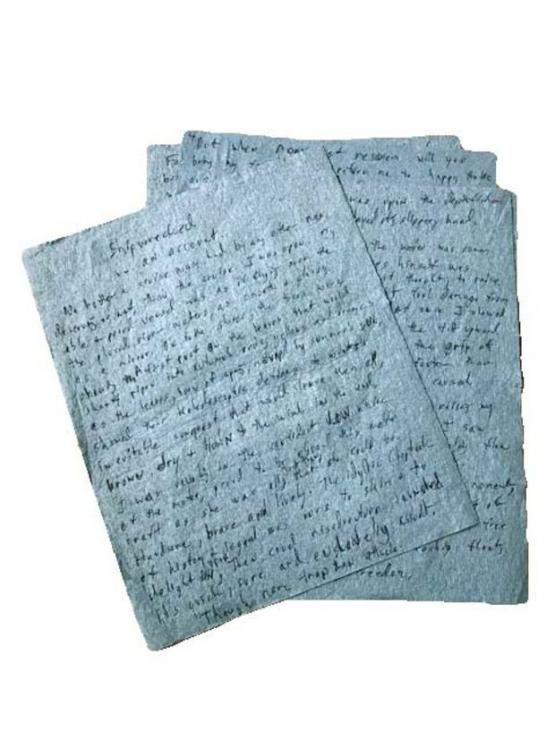 There are four tides… each then must be eight, no six hours in cycle. Worry shot through my mind… could now be high tide? No hope for relief, only to watch all wetness withdraw, doubling the certainty of my ruin!
Wait good Mariner, you know the tide. Was more than half gone when first I departed? Warm blood of good thought and reassurance flooded into my mind.
The tide will fall some more; he is close to done, and his fair and good twin, rising tide, shall bring my rescue! Again, the lightning of fear… how long? Let's see. One hour, no two to the lowest. Sometime for slack, then steady comes the rise.
Two and a half hours I think. No, more. Yes, surely two more than that will raise my ark.
Now what to do for this quarter of the day… An eternity!
I know, I shall write of my disaster on these blue paper towels here with this trusty small pen I have here with me.
I shall call it, "Shipwrecked, an Account."
by Tracy Beer